The Best Stargazing This Winter Is in Utah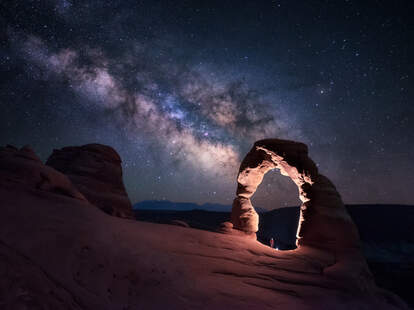 Five of the 61 national parks in America are in Utah: Arches, Canyonlands, Capitol Reef, Zion, and Bryce Canyon. You know Bryce Canyon? The national park that is not actually a canyon, but dusty, natural red-rock amphitheaters full of all those fantastical towering hoodoos that make you feel like you're on Mars? This one:
Bryce Canyon National Park, Utah

| LordRunar/E+/Getty Images
In August, Bryce Canyon was certified an International Dark Sky Park, which makes it the 15th such park in the state of Utah. A few weeks before that, Arches National Park became a certified Dark Sky Park. Canyonlands is certified, too. Utah could have 20 of these by 2020 -- national parks, state parks, national monuments, county parks -- more than any other state in the country.
MORE: The best destinations for stargazing -- and star parties -- around the US
International Dark Sky Sites are only certified after a rigorous evaluation process that takes into consideration the darkness of the site in question's night sky, of course, but also the steps park custodians have taken to install "night-sky friendly" lighting that's environmentally sustainable and also cuts down on glare.
Summer, of course, is the most popular time of year for visiting national parks. And many of our national parks do look their best in the fall. But the best time of year for stargazing in Utah's national parks is the winter. In the months ahead, the dry desert air above Utah's Dark Sky parks will hold even less moisture than it does the rest of the year, which makes stars easier to see with the naked eye, and also easier to photograph.
MORE:How seven travel photographers and influencers get their perfect shot
Arches National Park, Utah

| Adventure_Photo/E+/Getty Images
There's a long history of dark sky conservation in Utah. Half a century ago, Bryce Canyon became one of the first national parks to offer astronomy programs -- today, the park offers around 100 of these ranger-led programs every year. You can look up ranger-led stargazing programs in Arches, Canyonlands, and other NPS sites in southeastern Utah here. Try Sunrise Point and Sunset Point if you're in Bryce Canyon, and Balanced Rock and The Windows if you're in Arches. Quick tip: You can pick up a flashlight (or a headlamp) that uses red light, or you can just take whatever white light you already have and cover it with red-tinted cellophane. Get out there under those dark, dark skies.
MORE: The Southwestern desert that's straight out of a Dr. Seuss book