Giving new meaning to the phrase "asleep at the wheel", the V8's a 34-room German hotel dedicated to all things car that boasts a vintage auto museum, elaborately themed rooms tricked out with original parts/ memorabilia, and its own brew pub.
Located 20min outside of Stuttgart, this petrol-head's paradise is housed in the former terminal/control tower at Böblingen Airport, which was built in 1915, used by the military after WWII, and fell into disrepair in the '90s. One half is the hotel while...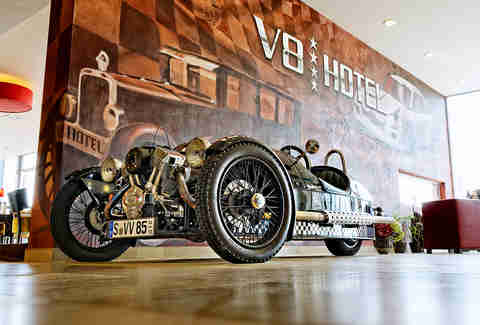 ...the other comprises MOTORWORLD, an auto museum featuring a rare collection of classic, vintage and collector cars.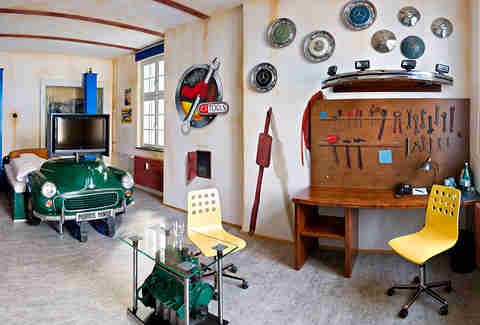 Ten of the 34 rooms are decked out in automotive themes like Route 66, a retro Drive-in, and this mechanic's garage, complete with engine coffee table and Morris Minor (a British cult classic that debuted in the late '40s) bed frame. The room sleeps three -- four if you count the dude working under the car.
Rocking a replica 1963 Volkswagen Beetle from the movie Herbie: Fully Loaded, this gas station bedchamber boasts a melange of vintage 1920s Shell memorabilia, the crown jewel being an authentic gas pump.
Get to second base (finally) in the back of this Cadillac Coupe DeVille, which anchors this 1950s retro, drive-in cinema room with glow-in-the-dark star ceiling, old ticket booth closet, and a kinda-creepy pirate (?) waiter.

Assuming your spot atop the podium (or at least in second place) is easy in this room full of Formula 1 flair, as it's built into the bed frame. Check out that table too -- made from authentic tires.

The four-floor suite is built into the airport's old control tower and comes with its own sauna, kitchen, and private roof deck featuring 360-degree views of the airfields.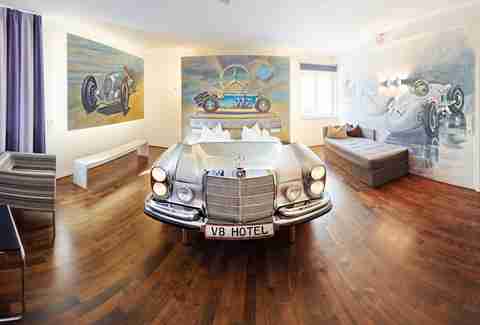 Inside said control tower suite, you'll find a room that pays homage to the Mercedes-Benz factory, which is located across the street and cranks out about 2,500 cars a day.
No need to worry about tripping on your way to the toilet in the middle of the night, as the scrap yard room includes a bed frame with working headlights.

Not only does the V8 maintain a breakfast cafe and American-style steakhouse, but there's also an onsite brewpub where you can take down a hearty plate of schnitzel and a few liters of of their homebrews, which include a "tangy golden brown pilsner" and 16.5% ABV Winter Bock.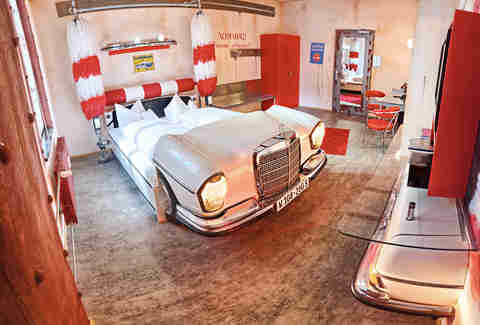 Finally, inspired by an automated American carwash from the '70s, this room fittingly features a rain shower head and whole-body dryer.
Rooms run from $186 to $643 a night, and you can book your gearhead getaway (or just peruse a ton of more sweet pics) here.
Sophie-Claire Hoeller is from the promised land of BMW, Audi, and Mercedes... and yet she is the worst driver this side of the Rhine. Follow her walking places @Sohostyle.