If you've ever been draped across the couch binge-watching The Amazing Race (the 24th season of which just debuted) and showering the contestants with insults about their lack of physical prowess, here's your chance to step up, tough guy. But without the cameras in your face.
Like said race of amazement -- but for less crazy people -- Competitours is a 10-day mystery adventure romp across Western Europe (complete with daily challenges) that pits 12 teams of two against one another for the chance to pocket a cool $7,200 in cash.
While challenges vary in physical difficulty, most require creativity and resourcefulness -- not speed or fitness. So free free to put the P90X DVD back in the case and grab another bag of chips.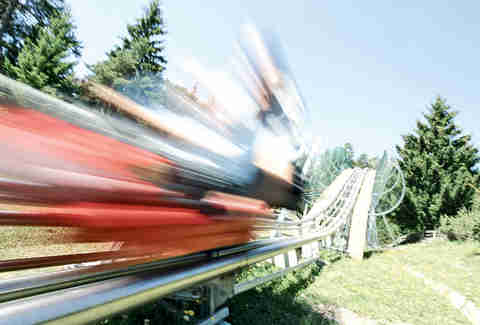 This Alpine Coaster, for example, is on the itinerary and propels you down the mountain so fast you'll barely be able to recognize the scenic Alps. Ok, that's probably an exaggeration. It does reach speeds of 40mph, though!

Or the "Beer SATs", in which Competitours team up with a suds expert and take a beer exam that covers everything from beer history and the brewing process, to taste tests and proper glassware.
To prove that you and the Lemonheads have nothing in common, you'll get outside and climb the three-peak Braunwald Via ferrata in Switzerland. Ok, this one may be optional.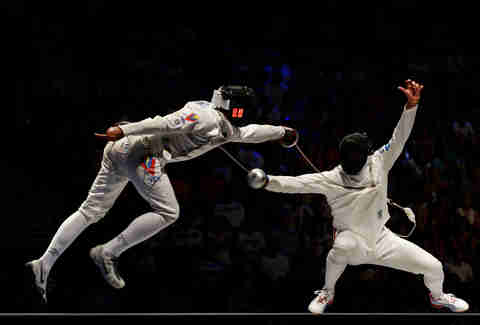 Or, you can throw down the gauntlet Euro-style, in a round robin fencing tourney after lessons with a world champion. It's all fun and games until someone gets an épée in the eye.

Seriously, competitions can include everything from mask-making in Venice, to Iron Chef-like cook-offs in Italy, to running Harry Potter-style through a massive, mind-bending maze in the Netherlands -- each activity's designed to pull you out of your comfort zone and into the local culture.

Sophie-Claire Hoeller is Thrillist's associate travel editor and has a fierce competitive spirit. Unless she might actually lose, then she doesn't like it one bit. Follow her on Twitter @Sohostyle