10 of the most epic real-life vacation disasters ever
There are certain travel "disasters" that everyone encounters: cancelled flights, inclement weather, sitting next to one of these people on your flight. All of which can be endured with a stiff drink or a day on the beach (preferably both).
And then there are these 10 real-life misfortunes, which are so catastrophic that they're certain to make you rethink your annual mid-Summer getaway to Santa Claus, Indiana's Splashin' Safari.
10. Amputation by taxi cab -- New York City
New Yorkers are all too familiar with the danger posed by reckless cab drivers, but we usually only worry when we're inside the car. Last year, however, a cab swerved onto the sidewalk and hit a British tourist, severing her foot from her leg and bringing a swift end to any vacation climb up the Empire State Building.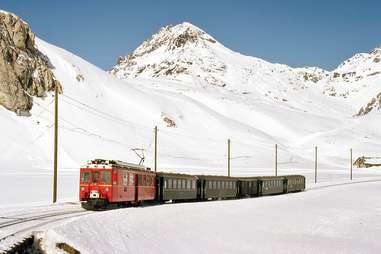 9. Train-crushing boulders -- Annot, France
If you've ever driven through the mountains then you're familiar with those signs warning you of falling rocks. As it turns out, one big rock might be the greater concern -- last month, a boulder the size of a car smashed into a tourist train in the French Alps, killing two passengers and injuring nine more.
8. Kidnapping under the cover of a sandstorm -- Mali-Niger Border
While returning to Niger from a festival in Mali, a group of European tourists found themselves driving through a sandstorm, during which a group of armed men shot out one of the car's tires and took three people hostage into the desert.
7. Seemingly harmless fauna -- Lochailort, United Kingdom
In the realm of wild animals, deer are rarely more than a garden-eating nuisance. But give even the most docile of creatures a rack of antlers and anything goes. Case in point: Dr. Kate Stone was headed to a friend's home during her vacation in the Scottish Highlands when she was gored in the neck by a surprised stag.
6. Chasing the perfect shot, right off a cliff -- Cape Douglas, Australia
Everyone with an iPhone has done something unwise at least once to get the perfect picture, from standing in the middle of road to taunting zoo animals. One such incident ended tragically, when an Australian woman vacationing on the coast fell to her death while trying to take a photo from the top of a sea cliff.
5. Surprise pirate attack -- Lamu, Kenya
While pirates are a menace we expect more on water (on a boat, on a boat), sometimes these marauders of the sea have other ideas -- like attacking a British couple whilst they vacation at a beach resort in Kenya; the pirates shot the husband and abducted his wife, who was then held captive in Somalia for six months.
4. Murder most foul, island style -- Fatu Hiva, French Polynesia
When a German tourist was found dead on the French Polynesian island of Fatu Hiva, the foreign press rushed to report it as a case of cannibalism. Not so fast, cannibal haters. Turns out, he was killed by his local guide while on a goat hunting expedition, for reasons that remain unclear. The guide went back to lure the guy's girlfriend into the jungle and attack her as well, before evading the authorities for weeks thanks to help from other islanders.
3. Bug-repellent cocktails -- Ko Phi Phi Don, Thailand
Thailand's Phi Phi Islands are famous for two things: their beaches and their parties. Unfortunately, one of the island's stronger cocktails, a hallucinogenic brew of Kratom tea, Coca Cola, and other random substances, might do more than just loosen you up -- two Canadian sisters allegedly died after consuming the drink, thanks to the inclusion of DEET, more commonly known as the alarmingly effective active ingredient in most bug repellents.
2. Crocodile attack -- Havelock Island, India
While vacationing on India's Havelock Island, an American couple went snorkeling only to run into a giant saltwater crocodile -- which, much like its freshwater lake counterpart, will kill you dead. The croc attacked the woman and dragged her into the jungle. When her companion alerted authorities, they didn't believe his story and instead went all Fugitive on him, suspecting that he was responsible for her disappearance; that is, until they recovered a video camera which confirmed his account of the attack.
1. Mistaken identities -- Acapulco, Mexico
A standard case of mistaken identity usually involves someone running up to you and yelling "Jenny! Jenny! It's so good to see you" while you blankly stare at them. But for twenty Mexican tourists who were misidentified during their trip to Acapulco, the consequences were considerably more dire. Cartel boss Carlo Montemayor admitted that a faction of his gang kidnapped and murdered the group of tourists, mostly mechanics from the city of Morelia, after mistaking them for members of a rival cartel.