For every Lost In Translation or Easy Rider, which inspire us to pack our bags and hit the open road (or at least order Japanese whisky at the hotel bar), there are countless other movies that motivate us to shred our passport and never leave the apartment again… ever. Movies that remind us that travel isn't always mojitos and mile-high clubs.
Which films should you avoid watching before taking off on that big vacation? Here are 15 classics certain to crush the adventurous spirit in the most intrepid of jet setter.
15. From Justin to Kelly -- Is there anything worse than watching two cheerful strangers come together through the power of song? What if said strangers are Kelly Clarkson and Justin Guarini? Yea, that's what we thought.
14. Turistas -- If you're a sexy teen with above-average kidneys and a penchant for not have them harvested, perhaps you consider a stay-cation?
13. Cast Away -- One minute you're killing at life, on the corporate fast track, and about to marry your decently hot (if not chill) girlfriend, and the next you're rocking a weird perm mullet and talking to an emotionally distant volleyball.

12. Gravity -- If you're one of those free spirits who thinks the idea of space travel sounds like fun, after watching this movie you'll never even want to get in an elevator again.
11. Snakes On a Plane -- Everybody knows that flying coach is a miserable experience and nothing quite drives that home like this opus, which was actually intended to be a critique about the airline industry's exploitation of its customers, introducing the snakes as an allusion to Original Sin in the Garden of Eden. JK, it's just Samuel L. Jackson being badass and shooting reptiles on a plane.
10. Planes, Trains & Automobiles -- One of the first movies to instill in us the idea that, maybe, we really should just keep to ourselves when traveling.

9. Into the Wild -- If there was ever a movie to drive home the fact that camping sucks and you should probably spring for a hotel, this is it. Also, don't hike into the woods without a map. Just don't.
8. The Hills Have Eyes -- Sure, your annual family vacation might be a total drag; but are you spending it eluding a clan of deformed cannibals who are hunting you down/ trying to steal your baby? No? Well, keep that in mind next time you complain about the long line at the omelet bar.
7. What Happens in Vegas -- A Vegas trip is always a rip-roaring good time, right? Right?! Vegas, baby! Watch this movie and let us know if you still agree. Much like The Fighter did for the town of Lowell, MA, this movie was single-handedly responsible for decimating Las Vegas tourism.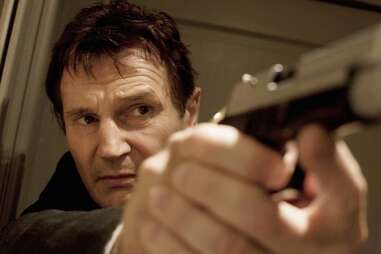 6. Taken -- A European backpacking trip sounds like it could be an exciting, eye-opening adventure. The chance of being sold into sex slavery, however, kind of puts a damper on things. Or does it?
5. RV -- Can you imagine the abject horror of being stuck in an RV for days with Robin Williams? Now what if he was doings voiceovers for one of those AWFUL iPad commercials?
4. Cabin Fever -- The only thing worse than having a deadly disease eat your flesh off is to have it happen whilst trapped in a remote, dank cabin in the middle of the woods -- without any Calamine lotion on hand!

3. Open Water -- If you think a scuba diving vacation with your GF will cure to your ailing relationship, maybe you deserve to be stranded at sea. And if you thought making a sequel to this movie was a good idea, then you DEFINITELY do.
2. Midnight Express -- Think smuggling hashish out of Turkey's a good idea? It's not, unless you enjoy someone pummeling the soles of your feet with a stick. Or, actually, even if you do. Maybe stay out of Turkey altogether.
1. Deliverance -- Bro time will never be the same after watching one of your friends get violated by a sadistic redneck. Ever. Maybe stick to a couple beers at a local bar instead?