Vacations to North Korea exist, and you can go on one!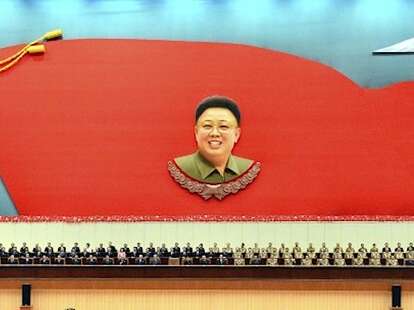 Young Pioneer Tours
Young Pioneer Tours
For some reason, people just take it for granted that nobody goes to North Korea on vacation. While it might not be the most glamorous location, the locals certainly can't complain... and, thanks to the folks at Young Pioneer Tours, you can see why for yourself!
The majority of YP's offerings are guided group tours, both starting & ending in Beijing. Accommodations & some food/drink are included, as is the all-important acquiring of NK tourist visas.
Young Pioneer reckons they've got the first-ever North Korea fishing tour, and they'll take you to all the honey holes around Pyongyang, Sijung Lagoon, and Wonsan.

When you're not reeling in alpine bullheads and Korean lampreys, you'll be doing stuff like drinking at beer bars like Taedonggang, hitting the Meari Shooting Range, and checking out the Revolutionary Martyr's Cemetery (hopefully not as a result of your time at the shooting range).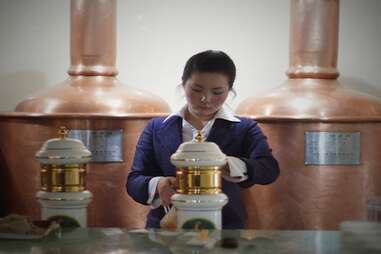 Turns out DPRK is loaded with solid booze, and one of the specialty tours Young Pioneer offers is all about that fact. You'll hit Sinuiju Micro-Brewery, Raekwon Beer Bar, something called "Bar Street", Pyongyang's only nightclub, and a casino -- in addition to partaking in a five-bar Pyongyang pub crawl.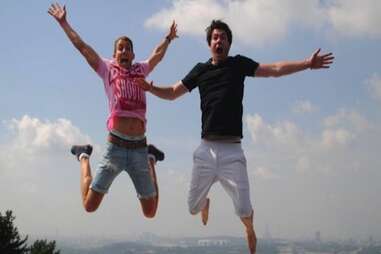 YP even offers a China to North Korea parkour (that's basically freestyle walking, for those not in the know) tour in which they say you'll get to "practice parkour on the Great Wall", as well as in downtown Pyongyang. (NOTE: Attempting to parkour during any of their other tours -- even the booze one -- may result in immediate imprisonment.)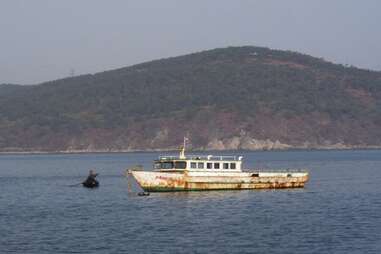 Because having the balls to spend your vacation in North Korea is apparently not adventurous enough, Young Pioneer's "most adventurous" tour takes peeps on a culinary odyssey to Mount Paektu, where in addition to eating your face off, you'll visit the birthplace of Kim Jong Il, visit Rimyongsu Waterfall, and go to a hot mineral spa in Kyonsong, all before hitting the Taedonggang Diplomats Club -- the only place in North Korea where you can "party into the small hours".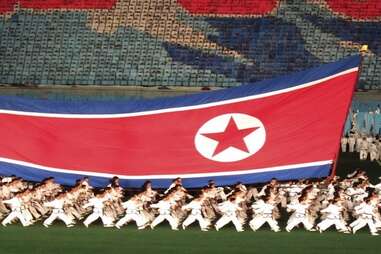 So, North Korea has this thing called the Mass Games. According to Wikipedia, they "can basically be described as a synchronized socialist-realist spectacular, featuring over 100,000 participants in a 90min display of gymnastics, dance, acrobatics, and dramatic performance, accompanied by music and other effects, all wrapped in a highly politicized package".

Luckily, there's also a YP tour that culminates in seeing them live, after an itinerary that also includes visiting the USS Pueblo (the only US Naval ship still held captive by another nation), and a basically-mandatory-for-visitors visit to Mansudae Grand Monument to pay respects to President Kim Il Sung.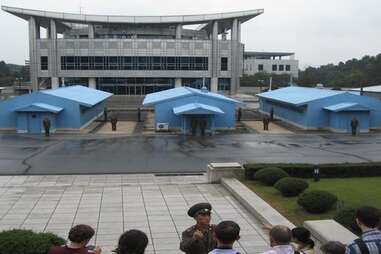 Mass Games not political enough for you? Should what you are most curious about in North Korea be what a tyrannical communist dictatorship looks like from the inside how their political system works, the Political Interest Tour goes as inside as a group of Westerners can.

Stops include tours of the Korean Revolution Museum, and driving to the top of the concrete wall separating the nations to hear a DPRK General talk about their view on South Korean relations, the war, and how he wishes they had a little Seoul.