You are forgiven for not having visited Vermilion Cliffs, or perhaps not having heard of the place at all. The name encompasses Vermilion Cliffs National Monument, which sits in northern Arizona, and the Paria Canyon-Vermilion Cliffs Wilderness, which stretches up and over Utah's southern border. There's a lot of local competition for your hard-earned vacation days around here -- we're just about spitting distance from the Grand Canyon, Arches, Zion, Bryce, Petrified National Forest, and Lake Powell. Those are all incredible. But Vermilion Cliffs gives you every bit of the feeling that you've been swept into a Dr. Seuss illustration. Also, there are dinosaur tracks.
Known for red and white swirls of intricately layered Navajo sandstone from the Jurassic period, Vermilion Cliffs gets its distinct aesthetic from iron-rich oxide pigments within the rock, which over time have been exposed by erosion, and also dinosaurs. It'll put you in mind of the Badlands -- just more Mars-like, and accessorized with endangered California condors. Vermilion Cliffs might not have benefitted from as much PR as its neighbors, but as breathtaking vistas go it absolutely holds its own. See for yourself.
Recommended Video
Debatable: It's Fine To Recline Your Seat On a Plane
Coyote Buttes North
Vermilion Cliffs National Monument is divided into a few main regions, some of which overlap. Coyote Buttes North is right along the Arizona/Utah border, and the Bureau of Land Management limits the number of visitors in order to protect the fragile ecosystem. Keep an eye out for more than 1,000 dinosaur footprints -- dating back 190 million years -- imprinted into the sediment. You can apply for a hiking permit here, and you absolutely should -- because of the dinos, but also because Coyote Buttes North contains what is objectively the Vermilion Cliffs' biggest draw …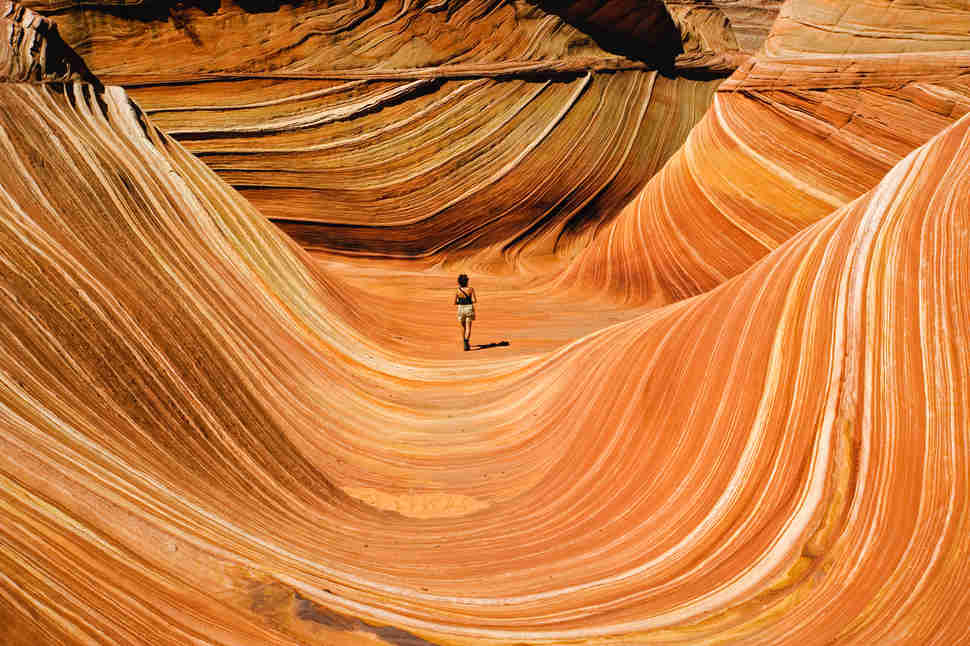 The Wave
If you've seen any photos of Vermilion Cliffs before, you almost certainly saw photos of the Wave. Sitting juuuust south of the Utah border, this is the moneymaker, so to speak. The thing people hike in from far and wide to marvel at, or at the very least to Instagram. Best of all, the limit on the number of hikers allowed in at once means that this isn't one of those tourist attractions you'll arrive at only to be boxed out by a menacing throng of selfie sticks -- you can indeed have the Wave to yourself.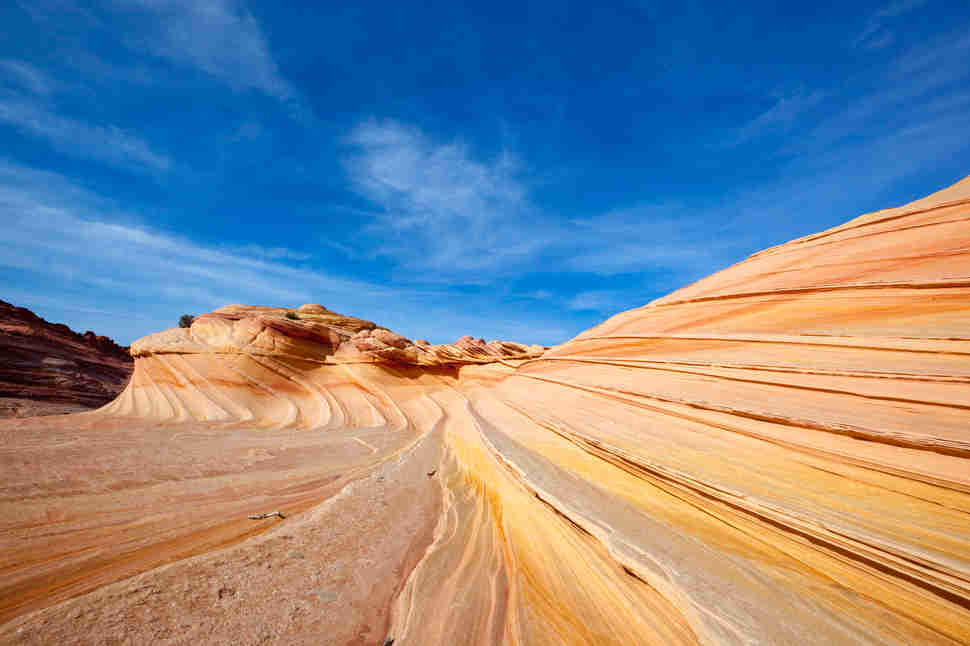 The Second Wave
You heard me.
The Alcove
Another icon in the same Coyote Buttes North area, the Alcove lies just 20 feet or so below Melody Arch, but you'd never know it from above. If you find it, congratulations, because not everyone does. To access it, find Melody Arch first -- then eyeball about 100 feet southeast and aim there. If you hike in from Wire Pass, you can complete an 8-mile loop that'll take you through the Wave, Second Wave, Melody Arch, and the Alcove. Keep an eye out for those dino tracks.
Coyote Buttes South
Wanna hike through here? You should, yes -- if you're at least reasonably confident in your fitness and ability to read a map, as this region facilitates exceptional hiking but contains no actual hiking trails. You'll need a permit for this area as well, so don't sleep on that application. The BLM allows 20 people to hike through each day; you can check out their guide to crossing the region here. You'll need to bring your own water.
White Pocket
The group of sandstone domes known as White Pocket is the most iconic feature of the Paria Plateau, a few miles southeast of Coyote Buttes North and The Wave. It encompasses about 1 square mile, and stands apart because the rocks here are not Vermilion -- they're a shining whitish gray. You don't need a permit to hike in, but there are no marked trails here, either.
Paria Canyon
This famed slot canyon runs through the northern section of Vermilion Cliffs National Monument -- inside Coyote Buttes South. Paria is Paiute Indian for "muddy water," and Paria Canyon follows the Paria River. Petroglyphs abound -- make sure not to touch or otherwise deface in any way. Major geological formations within the canyon are Moenkopi Formation, Chinle Formation, Moenave Formation, Kayenta Formation, and Carmel Formation. You'll need a permit for overnight trips. If you're ready to double down on your Vermilion Cliffs adventure, you can extend your Paria Canyon hike right into ...
Buckskin Gulch
In southern Utah, to the North of Coyote Buttes North, lies Buckskin Gulch. It is the deepest slot canyon in the American Southwest and, at around 15 miles, is conceivably the longest slot canyon anywhere in the world. Can it be hiked? It can, and you'll need to apply for a permit to do so, and also probably bring some rope for a couple of the tricky spots. Buckskin Gulch should only be hiked by those who understand flash floods and take them seriously. If it's gonna rain, don't risk it. Look how much other stuff you wouldn't get to see. 
MORE: Skip Santorini: Greece's under-the-radar island destinations
Toadstool Hoodoos
Technically this spot is juuuust over the border into Grand Staircase-Escalante National Monument, but it's literally right there and too fun not to mention. You can tackle it in an easy 1.5-mile hike.