You are forgiven for not having visited Vermilion Cliffs, or perhaps not having heard of the place at all. The name encompasses Vermilion Cliffs National Monument, which sits in northern Arizona, and the Paria Canyon-Vermilion Cliffs Wilderness, which stretches up and over Utah's southern border.
There's a lot of local competition for your hard-earned vacation days around here—we're just about spitting distance from the Grand Canyon, Arches, Zion, Bryce Canyon, Petrified National Forest, and Lake Powell. Those are all incredible. But Vermilion Cliffs gives you every bit of the feeling that you've been swept into a Dr. Seuss illustration. Also, there are dinosaur tracks.
Known for red and white swirls of intricately layered Navajo sandstone from the Jurassic period, Vermilion Cliffs gets its distinct aesthetic from iron-rich oxide pigments within the rock, which over time have been exposed by erosion, and also dinosaurs. It'll put you in mind of the Badlands—just more Mars-like, and accessorized with endangered California condors. Vermilion Cliffs might not have benefitted from as much PR as its neighbors, but as breathtaking vistas go, it absolutely holds its own.
"We tend to think of these very dry desert places as being without any life, but one thing I've become interested in is how these actually do record evidence of quite a bit of life," said Dr. Marjorie A. Chan, Distinguished Professor at the University of Utah's Department of Geology & Geophysics. "If dinosaurs are present, they're at the top of the food chain, so there has to be a host of other organisms beneath them."
See for yourself.
How to get to Vermilion Cliffs
Another reason you may not have heard of Vermillion Cliffs is that it takes a hop, skip, jump, and bumpy ride in a seriously sturdy car to get there. The national monument is pretty remote—there are no visitors centers, designated campsites, or paved roads inside the entire 293,689-acre area.
The nearest towns are Page, Arizona, and Kanab, Utah, so get your supply of food, gas, and water in one or the other before you head out. From Page, you'll want to take Highway 89 south to Route 89A, then head north and cross the Navajo Bridge to enter. From Kanab, you can head straight south on Route 89A to enter from the west. Alternatively, if you're headed up from Flagstaff, it's a two-hour straight shot; take Highway 89 north 'til you hit Bitter Springs, then continue on Route 89A until you reach the national monument. (Pro-tip: A pre-downloaded Google Maps route will be your best friend.)
First and foremost: The landscape in Vermillion Cliffs is super fragile, so entry to regions like Coyote Buttes North/The Wave is limited. You'll need a separate permit for each area you want to visit! Permits become available up to four months in advance; if you can't snag one ahead of time, you can also try your luck with the day-of lotteries.
It bears repeating that there are no paved roads in Vermillion Cliffs, and the land is rough: rocky in some places, deep and sandy in others. You'll want a high-clearance vehicle for this excursion. If you can't get your mitts on a solid rental (you wouldn't be alone), consider joining a tour group like the Kanab Tour Company or Grand Staircase Discovery instead. Much better to risk having other people in the background of your pictures than getting stranded in the blazing-hot desert with a busted-up ride.
Vermillion Cliffs is a hiker's paradise, so bring your sturdiest shoes since many of the most iconic sights—including The Wave—are only accessible on foot. And as usual, when it comes to traversing any desert plain, don't head out without stocking up on way more food, water, gas, and sunscreen than you expect you'll need.
Coyote Buttes North
Vermilion Cliffs National Monument is divided into a few main regions, some of which overlap. Coyote Buttes North is right along the Arizona/Utah border, and the Bureau of Land Management limits the number of visitors in order to protect the fragile ecosystem. Keep an eye out for more than 1,000—perhaps several thousand—dinosaur tracks imprinted into the sediment, dating back 190 million years to the Jurassic Period.
Just a hair over the border into Arizona is where, a decade ago, Chan and some of her colleagues found "one particular surface that seemed to have potholes in it. It was a little bit enigmatic. I thought probably there was some biological influence on that surface, but it was so obscured."
They returned to look at it again and found what were definitely dinosaur footprints. "Some of them you can actually see the three toes—they look almost kind of like bird prints, going up over the dunes."
Some of these pothole-looking tracks are more than a foot long, but for the most part, you'll see three-toed prints no more than three or four inches long. Look for them on the way to The Wave when you approach from the North. "Most people would probably walk right by it if they weren't looking for it," Chan said. "I probably wouldn't even recognize it if I had to find it again."
You can apply for a hiking permit here, and you absolutely should—because of the dinos, but also because Coyote Buttes North contains...
The Wave
This is objectively Vermilion Cliffs' biggest draw. If you've seen any photos of Vermilion Cliffs before, you almost certainly saw photos of the Wave. Sitting juuuust south of the Utah border, this is the moneymaker, so to speak. The thing people hike in from far and wide to marvel at, or at the very least to Instagram. Best of all, the limit on the number of hikers allowed in at once means that this isn't one of those tourist attractions you'll arrive at only to be boxed out by a menacing throng of selfie sticks—you can indeed have the Wave to yourself.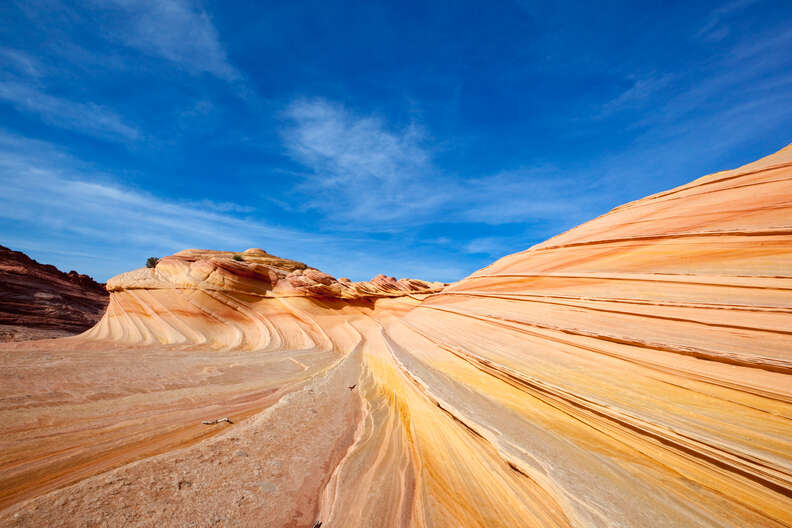 The Second Wave
You heard me.
Melody Arch and the Grotto
Like the Wave and the Second Wave, this site is located within Coyote Buttes North. Melody Arch and the Grotto sounds a bit like an indie folk band, but the arch itself in fact named for Melody Thomas, the photographer responsible for popularizing it.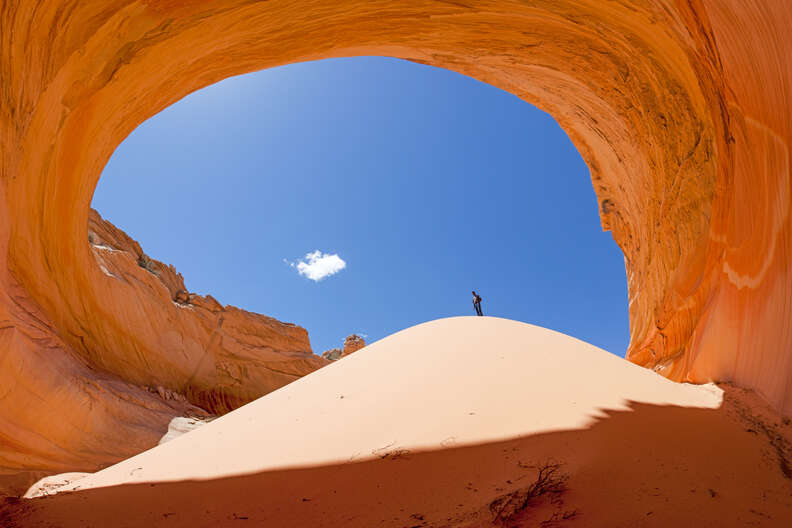 The Alcove
Another icon in the same Coyote Buttes North area, the Alcove lies just 20 feet or so below Melody Arch, but you'd never know it from above. If you find it, congratulations, because not everyone does. To access it, find Melody Arch first—then eyeball about 100 feet southeast and aim there. If you hike in from Wire Pass, you can complete an 8-mile loop that'll take you through the Wave, Second Wave, Melody Arch, and the Alcove. Keep an eye out for those dino tracks!
And when you're walking around, if you've got a sharp eye you might also spot remnants of ancient plant life at the base of various sand dunes. "When people are looking [for tracks], most living things will have been preserved toward the bottom of the dune, where it starts to get flatter," Chan said. "You can kind of think of a sand dune as a field. Let's say it starts raining, and water starts accumulating in the low areas; so those low areas are typically where there was more moisture, and therefore more organisms, and there's not much sand moving directly on top of it."
Coyote Buttes South
Wanna hike through here? You should, yes—if you're at least reasonably confident in your fitness and ability to read a map, as this region facilitates exceptional hiking but contains no actual hiking trails. You'll need a permit for this area as well, so don't sleep on that application. The BLM allows 20 people to hike through each day; you can check out their guide to crossing the region here. You'll need to bring your own water.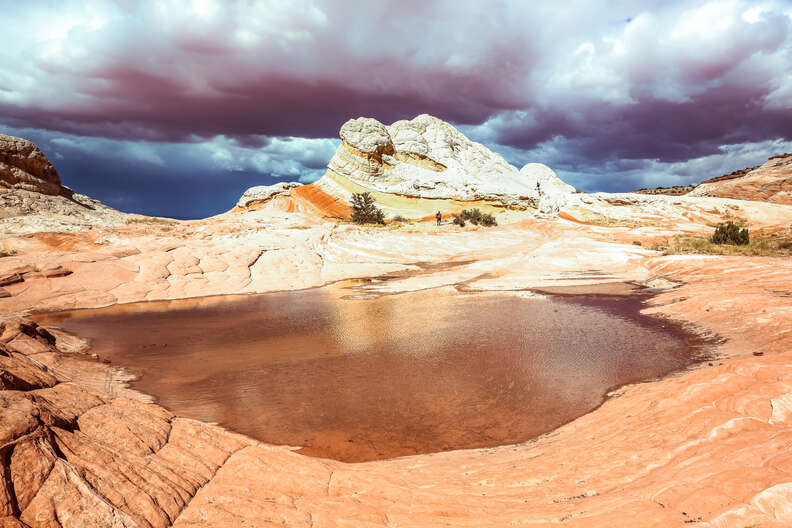 White Pocket
The group of sandstone domes known as White Pocket is the most iconic feature of the Paria Plateau, a few miles southeast of Coyote Buttes North and The Wave. It encompasses about 1 square mile, and stands apart because the rocks here are not Vermilion—they're a shining whitish gray. You don't need a permit to hike in, but there are no marked trails here, either.
Paria Canyon
This famed slot canyon runs through the northern section of Vermilion Cliffs National Monument—inside Coyote Buttes South. Paria is Paiute for "muddy water," and Paria Canyon follows the Paria River. Petroglyphs abound—make sure not to touch or otherwise deface in any way. Major geological formations within the canyon are Moenkopi Formation, Chinle Formation, Moenave Formation, Kayenta Formation, and Carmel Formation. You'll need a permit for overnight trips. If you're ready to double down on your Vermilion Cliffs adventure, you can extend your Paria Canyon hike right into...
Buckskin Gulch
In southern Utah, to the North of Coyote Buttes North, lies Buckskin Gulch. It is the deepest slot canyon in the American Southwest and, at around 15 miles, is conceivably the longest slot canyon anywhere in the world. Can it be hiked? It can, and you'll need to apply for a permit to do so, and also probably bring some rope for a couple of the tricky spots. Buckskin Gulch should only be hiked by those who understand flash floods and take them seriously. If it's gonna rain, don't risk it. Look how much other stuff you wouldn't get to see.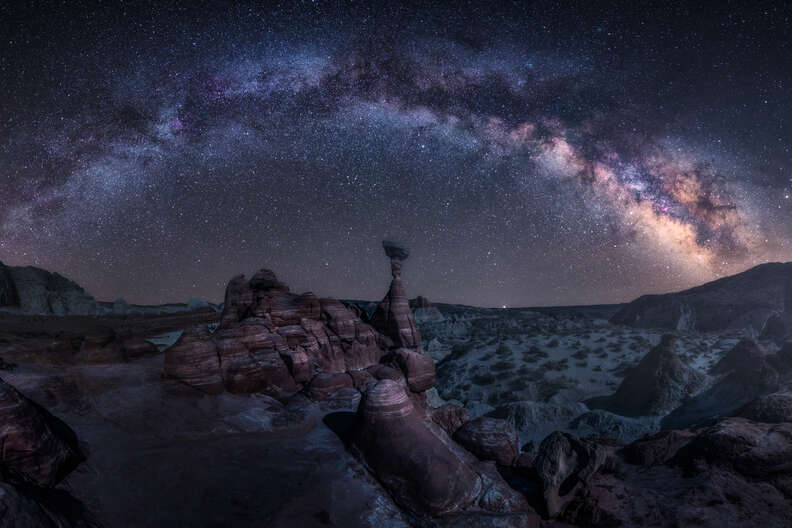 Toadstool Hoodoos
Technically this spot is slightly over the border into Grand Staircase-Escalante National Monument, but it's literally right there and too fun not to mention. You can tackle the hoodoos in an easy 1.5-mile hike. And throughout your Vermilion Cliffs exploration, allow yourself the joy of getting excited about exploring—in a responsible, non-destructive way—your unmarked surroundings.
"There's this serendipity of exploring, maybe stumbling on things that indicate evidence of past life. It might be anything—root structures, small little burrows of organisms, kind of wormy-looking," Chan said. "You get that sense of discovery, that sense of wonder."