The 10 Most Livable Cities in Europe, According to Mercer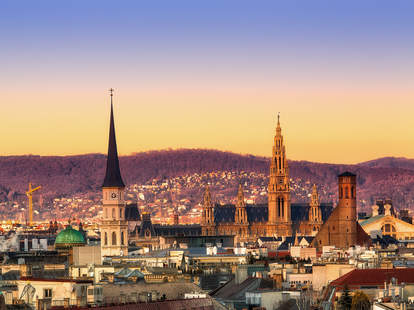 Plenty of people dream of packing up and moving to a picturesque small town or a bustling metropolis in Europe. But, well, not all European cities are created the same. Which one is the absolute best? According to one new report, that'd be Vienna, Austria.
Yep, the land of decadent buildings, coffee served on silver trays, and Before Sunrise is the most livable city on the continent.  
Mercer's Quality of Living Index 2015 collected data for more than 440 cities worldwide, analyzing the political and economic environment, social life, healthcare, education, housing, transportation, and recreational activities, finding Vienna had the best quality of life on the continent.
Zurich, Switzerland was named the second most livable metropolis in Europe. Chocolate, skiing, and fancy watches have that effect. The birthplace of Oktoberfest, Munich, Germany, took third place.
Germany had the most livable cities in the top 10, with Dusseldorf (no. 4), Frankfurt (no. 5), and Berlin (no. 10) ranking highly. Switzerland had three itself with Zurich, Geneva (no. 6), and Bern (no. 9).
As for the places you DON'T wanna move to, avoid Belfast, Northern Ireland, and Athens, Greece in Western Europe, and skip Kiev, Ukraine, Tirana, Albania, and Minsk, Belarus in Eastern Europe. Emphasis on Kiev since, well, Ukraine hasn't exactly had a great year.
Before you pack up to join the opera and gobble wienerschnitzel, here are the 10 most livable cities in Europe:
10. Berlin, Germany
9. Bern, Switzerland
8. Amsterdam, The Netherlands
7. Copenhagen, Denmark
6. Geneva, Switzerland
5. Frankfurt, Germany
4. Dusseldorf, Germany
3. Munich, Germany
2. Zurich, Switzerland
1. Vienna, Austria

Chloe Pantazi is an editorial assistant on Thrillist's travel team. She's been wanting to go to Vienna ever since she watched Before Sunrise. Follow her on Twitter at @ChloePantazi