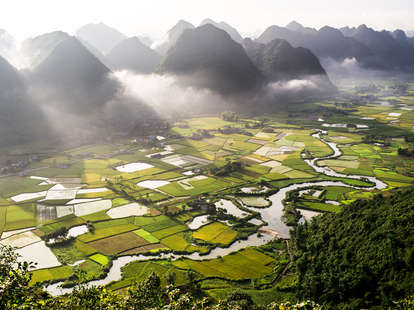 Vietnamese Rice Field

| gnomeandi/shutterstock
Vietnamese Rice Field

| gnomeandi/shutterstock
The Stunning, Fast-Rising Asian Country You Should Visit Before It's Too Popular
Let's say you want an off-the-beaten-path destination, a country where you'll find an adventure without a lot of hand-holding. Vietnam may very well be your jam. But, wait, you'd rather find a developed country where visitors will feel comfortably taken care of? Again, I'd like to recommend my good friend and colleague Vietnam.
And therein lies the appeal of this spindly southeast Asian country that unspools more than 2,000 miles of coastline. My partner and I chose it for a big trip, figuring we'd get to try stellar pho, maybe crash some jungles and beaches and jungly beaches. We arrived to find more beauty and complexity than we bargained for. It's officially communist, yet overrun by what feels like unfettered capitalism. It's packed -- 92 million people stacked in a land area the size of New Mexico -- yet somehow still serene. And if anything, the food was even better than we'd imagined.
Tourists have definitely picked up the scent. The number of foreign arrivals to Vietnam has averaged double-digit growth for the past decade, with 2017 projected to be the biggest year for visitors yet. It's a mixed blessing. Many of the thousands of tourist boats that traverse Ha Long Bay each day dump untreated sewage into its beautiful waters. Starbucks locations are out-muscling traditional Vietnamese cafes.
It's not as overrun as other regional destinations like Thailand, yet. But with incredible cuisine -- and stunning scenery like this -- that's not likely to last.
Sapa, Northwest Vietnam
A stone's throw from the border with China, Sapa is a tourist town run amok. Loose building codes and booming development give large portions of the town the feel of a poorly marked construction site. But once you step out into the countryside -- best done with the help of a guide -- the plunging valleys and terraced rice hills will seduce you with serene scenery. Be forewarned: No hiking path, however remote, is safe from motorbikes.
Hoan Kiem Lake in Hanoi
Hoan Kiem offers a rare window of space and peace in the heart of Hanoi's hive-like old town. The name translates as "lake of the returned sword," which comes from a legend about a Vietnamese emperor who vanquished the Chinese with a magic blade and then returned it to a turtle god who lived in this lake.
Ha Long Bay, Quang Ninh Province
The 1,600 limestone karsts of Ha Long Bay are a unique sight on Earth. The waters of the Gulf of Tonkin, the sharp edges of the rock, and the lush vegetation that crowns each island all combine to create a sense of beauty which is barely finite. The sides of the karsts rise so steeply from the water that they've been mostly uninhabited, and thus unspoiled, for most of recorded history. Pollution caused by tourism is a serious concern, but conscientious ecotours are beginning to pop up.
Hoi An ancient city, central Vietnam
Hoi An was a major trade hub for most of its history, attracting merchants from across Asia. That changed in the late 18th century when political strife and a silted-up river suddenly made marine access impossible. The city turned into a backwater, which had the happy side-effect of making it a non-target for the many armies which trampled up and down Vietnam in the 20th century. Hoi An's charming, cosmopolitan mix of historic architecture today attracts visitors from around the world. The cooking classes and tailoring are also excellent.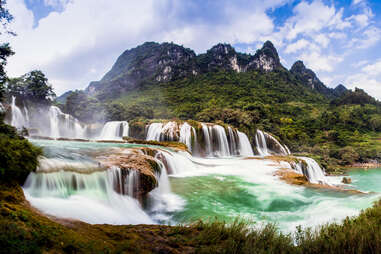 Ban Gioc waterfall, Cao Bang province
These falls plummet a mere 100 feet; barely two-thirds of Niagara. But Ban Gioc spreads almost 1,000 feet and straddle the border with China, making it the widest -- and perhaps most politically significant -- waterfall in the country.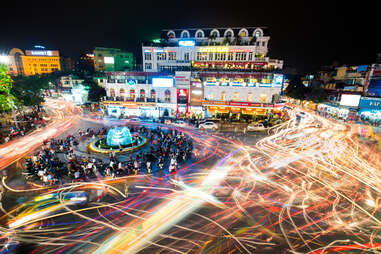 Hanoi's old city, Hanoi
Rambling, cramped, and bursting with life, the historic quarter of Vietnam's capital turns walking down the street into a full-contact sport. If you can dodge the ubiquitous scooters, which respect no curb or traffic light, you'll find countless charming vignettes of everyday life and some of the best street food in Asia.
An Bang Beach, Quang Nam province
Looking anywhere in Vietnam without seeing a building, a boat, a person, or a motorbike is a real challenge. That's what makes beaches like An Bang special. The East Vietnam Sea scrolls off into infinity, providing just the right atmosphere for a languorous swim or beachside nap.
Hue Imperial enclosure, Hue
The last emperors of Vietnam moved their seat to Hue in the 19th century in an effort to foster national unity. Though they ultimately failed to quell French colonialism, the pad they lived in during that effort was pretty fly. Large portions were destroyed in the Battle of Hue in 1968, but what survived and what's been rebuilt offers a fascinating look at the digs of the rich and famous circa 1802.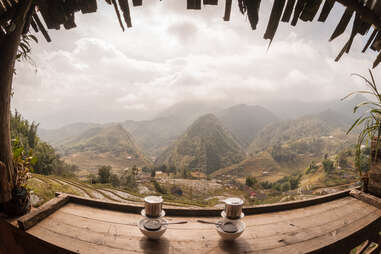 Coffee
French colonialism brought coffee to Vietnam, but in the years since, the country has put its own indelible stamp on the drink. Brewed strong and dark, with an intense chicory flavor, Vietnamese coffee is traditionally enjoyed with sweetened, condensed milk. More exciting versions incorporate yogurt, fruit, or even egg in unique fashion. It's a wonder that Western coffee is invading Vietnam instead of the other way around.
Tomb of Tu Duc near Hue
Built in the hills around the old imperial city of Hue, the tombs of the Nguyen emperors are equal parts feast for the eye and sobering monument to vain ambition. Emperor Tu Duc levied such heavy taxes to pay for the construction of his tomb that it led to a rebellion against his rule. After this was defeated, he began living in his tomb. Ironically, he's not even buried here, rather resting in a unknown location somewhere nearby. To keep the burial spot secret, the 200 workers who built Tu Duc's actual tomb were killed after they finished their work.
Thien Mu temple near Hue
The seven-story tower inside this temple is called "the Pagoda of the Celestial Lady." The surrounding grounds and complex offer a wonderful collection of bonsai trees, while the temple's location provides striking views of the Perfume River.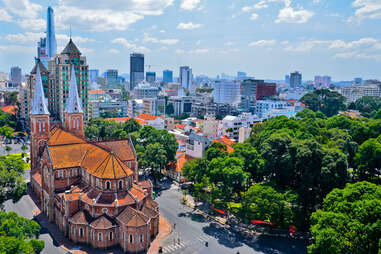 Notre-Dame Cathedral Basilica of Saigon, Ho Chi Minh City
The colonial legacy of Catholicism, unlike coffee, has largely withered in independent Vietnam. Charming cathedrals like this one might be its most enduring contribution to the country. Built from imported French brick, the Saigon cathedral adds a note of grace and calm to the intense hustle of the streets of Ho Chi Minh City.
Sign up here for our daily Thrillist email and subscribe here for our YouTube channel to get your fix of the best in food/drink/fun.