Paid Content For
How Virgin Voyages Is Bringing Fitness to Cruising
Paid Content For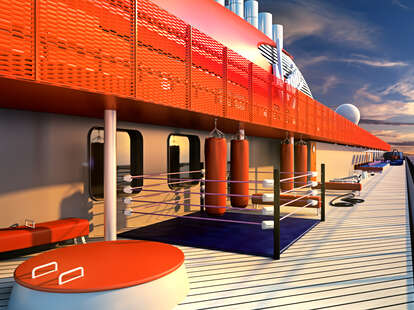 Courtesy of Virgin Voyages
You might not expect a cruise ship to be a prime spot for pumping iron or breaking a sweat in a boxing class. But Virgin Voyages, the new cruise line from Richard Branson launching in April 2020, wanted to create an experience where sailors can do just that, so that fitness goals don't have to fall by the wayside just because you're sailing the high seas.
And we're not just talking subterranean elliptical machines. The ship's Vitamin Sea wellbeing program takes a balanced approach to fitness that caters to both gym junkies and shall we say, more "aspirational" exercisers. "It's about creating moments where you are exercising and you actually don't really know it 'cause you're having so much fun," says Christopher Stubbs, Virgin Voyages' senior director of sailor experience. "What people don't always know is that [activities like] going out for a lovely kayak around an island or going on a walking tour along the ocean is being active and it fuels you."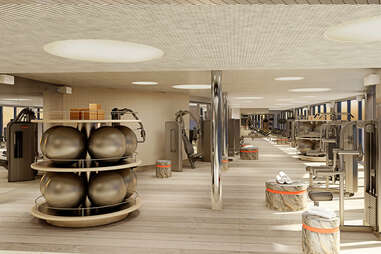 If you're out to crush your fitness goals, the ship offers plenty of options: There's the outdoor yoga space on a secluded sundeck featuring both sunrise and sunset classes, as well as "The Runway," a track where sailors can run, walk, or rollerskate under the Carribean sun. Keeping things sun-drenched, there's also an outdoor training zone complete with a boxing ring, strength and gymnastics equipment, games, and, most importantly (depending on who you ask), cabanas for relaxation.
Indoors (still boasting those all-important ocean views), there's the ship's B-Complex, which features dedicated rooms titled Build, Burn, Bike, and Balance. Both the Build and Burn gyms are equipped with Technogym Artis-brand cardio and strength equipment. Plus, there's a basketball court on board if you're in the mood to get your LeBron on.
And then there are the workout classes, all of which are free. "We know people are motivated by boot camp in their local cities but equally we know that cycling is huge," Stubbs says. "But many people miss out on sculpting and yoga, and stretching classes and meditation classes to calm the mind needed to be in there." For those unaccustomed to or wary of the demands of a boot camp-style class, he suggests yoga as a good beginner's activity. "If you do morning yoga on the perch," he says, "which is the very top of our ship on Deck 17, you've got the most mesmerizing views of the ocean."
But maybe the best motivator for getting in a sweat on the high seas is that you can do it almost any time of day. Classes start as early as 6am daily and run through late evening. "Our aim is that there's pretty much something [fitness-related] every hour somewhere on the ship for you to take part in," Stubbs says.
Of course, all this work earns you a prolonged cooldown afterward. For that, there's the Well-being Pool for a quick soak, or Redemption, the ship's spa, which offers a hydrotherapy pool, mud room, salt room, cold plunge pools, quartz beds, and rejuvenating treatments.
So whether you want to pump some iron, run like the wind, improve the stability of your tree pose, or kick it up a notch in a boot camp class, Virgin Voyage's Vitamin Sea program has no shortage of options. Just don't forget your sunscreen.