8 Virginia Beach Hikes To Get You Through Winter
With its flatter coastal terrain, located on the shores of the Atlantic Ocean and the Chesapeake Bay, Virginia Beach may not seem like an obvious destination for hiking. To dismiss it for a lack of elevation would be a mistake, though -- the value in this beach city's trails is all about what you'll see along the way. A temperate climate in the shoulder season makes fall and winter a fitting time to experience the area's still-active wildlife, view its stunning beaches, and soak up a little of its history, too. Whether you're looking for a quick walk or an all-day retreat, we've rounded up the best trails for hiking (or biking) beautiful Virginia Beach. Don't forget your boots.
Lake Lawson/Lake Smith Natural Area
Distance/Time: The 42-acre Lake Lawson/Lake Smith Natural Area includes 1.5 miles of curved hiking paths welcoming walkers and bikers. The trail loop can be hiked in 30 minutes to an hour at a steady pace.
Admission: Free
What to expect: This has become the Bayside borough's new scenic spot for witnessing changing foliage in the fall, as trees light up in a canvas of colors lining the two lakes. Though the city of Norfolk owns the water, Virginia Beach has developed the natural area surrounding it with a pedestrian bridge connecting the north and south peninsulas and paths that take you through the woods and beside beds of English ivy and bald cypress knees. From various overlook platforms, you can gaze into the twin lakes and spot largemouth bass, white catfish, and bluegills -- or cast your eyes across the water for a glimpse of Sajo Farm manor house, a multimillion-dollar Georgian-style estate built in the 1930s by local tycoon Sam Jones.
Back Bay National Wildlife Refuge
Distance/Time: The massive, 9,200-acre Back Bay National Wildlife Refuge closes its longer East and West Dike Trails for wildlife protection from November through March, but the shorter Kuralt, Bay, Seaside, and Dune trails remain open in winter for half-mile to one-mile round-trip hikes from the parking area. If you don't mind getting a little sandy, there's also access to 3 miles of beachfront hiking down to the neighboring False Cape State Park.
Admission: Free, November-March
What to expect: Established by the US Fish and Wildlife Service as a protective habitat in 1938, Back Bay is a secluded destination for encountering nature, away from distractions of modern technology. (Well, besides maybe your phone -- you're gonna want a way to capture all the interesting animals you'll spot.) Its oceanfront beaches, woodland forests, and fertile marshes serve as a migratory location for thousands of varieties of Atlantic waterfowl during the winter, and beached seals have also been known to make appearances. While a rampant wild hog population once caused a stir within the refuge, its numbers have since dwindled due to coyotes that scamper through the area. The refuge is also the setting for spellbinding sunrises over the Atlantic Ocean and sunsets over Back Bay and its barrier islands.
Courtesy of Visit Virginia Beach
False Cape State Park
Distance/Time: During the colder months, False Cape State Park can only be accessed by hiking, biking, or taking small boats along 3.5 miles of beach from the Back Bay Visitor's Center. (That or hopping aboard the park's Terra-Gator beach transporter, a massive rover that looks like it could navigate the surface of the moon. Operated on weekends only in the off-season, rides are $8 per person and require reservations and a minimum of 10 passengers.) While its interior trails close for winter, there are nearly 6 miles of hikeable beachfront within the park's 4,321 acres. Make sure to give yourself at least a few hours due to the remote location and intermediate-level, sandy trails.
Admission: Free, November-March (enter through Back Bay National Wildlife Refuge)
What to expect: There is a certain charm to the lore surrounding False Cape. Hundreds of years ago, seafarers mistook the area for nearby Cape Henry, causing shallow-water shipwrecks whose castaways founded Wash Woods, a small seaside community that was abandoned in the 1930s. While that may seem like the eerie premise for any number of bad horror movies, the state park is actually the perfect escape for history-buff hikers. In addition to dolphins and waterfowl, which are commonly seen from the park's beaches, at low tide you can also spot the skeleton of the shipwreck Clythia, which sank in 1894 with a cargo full of Italian marble.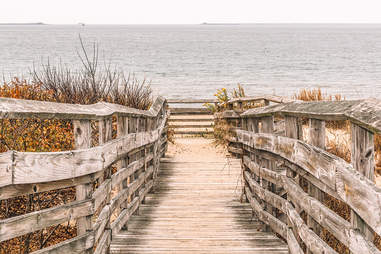 Sherry V Smith / Shutterstock
First Landing State Park
Distance/Time: First Landing offers 10 trails covering 19 miles in its 2,888-acre park; its longest, the Cape Henry Trail, acts as a 6-mile pathway for bikes and pedestrians. Hikes can take anywhere from 30 minutes on the smaller, connecting trails to several hours on the longer, intermediate-level trips.
Admission: $5–$7
What to expect: The most visited state park in Virginia, First Landing marks the site where English settlers first stepped foot in the New World in 1607, hence its name (although you'll still hear locals call the park by its former moniker, Seashore). And there's no shortage of historic figures who have left their tracks in the park's paths: Blackbeard and his fellow pirates are rumored to have made a hideout in the Narrows, which is now a popular beachgoers' inlet. Nowadays, explorers can make their way through seven different ecosystems full of natural treasures, including sweeping dunes, serene swamps, trees veiled in Spanish moss, and dazzling views of the Chesapeake Bay. During the cooler months of the fall and winter you can spot great blue herons, great horned owls, foxes, and, in rare instances, bobcats.
Mount Trashmore Park
Distance/Time: Three miles of walking and biking paths scale the man-made mountains and lakes at the 165-acre Mount Trashmore Park. Shorter trails can be completed in 30 minutes, while longer walks may take over an hour.
Admission: Free
What to expect: What was once somebody else's trash, is now someone else's park. The site of a former city landfill, Mount Trashmore repurposed the landscape by compacting layers of waste and clean soil into a 60-foot mountain with two lakes, a garden, skate park, children's playground, and multi-use trails. Take a pleasant stroll or bike while noting the area wildlife, including freshwater fish, ducks, and geese, or gawk at the daredevil boarders riding at Mount Trashmore's skate park. (Tony Hawk is one of several pro skaters who have made appearances over the years.) On clear days, the mountain top offers birds-eye views of area high-rises, such as the Westin Virginia Beach Town Center, the tallest building in the commonwealth.
Courtesy of Visit Virginia Beach
Pleasure House Point Natural Area
Distance/Time: The Pleasure House Point Natural Area sprawls over 118 acres with a network of three sandy trails winding over a mile among marshland and maritime forest to the beach. In its entirety, hikers can handle trails at an easy pace in an hour to two hour's time.
Admission: Free
What to expect: Located where the ebb of the Lynnhaven River reaches the mouth of the Chesapeake Bay, this natural sanctuary was saved from property development in 2012 thanks to the efforts of community preservation groups. The area is also home to the Brock Environmental Center, recognized as one of the most eco-friendly buildings in the world for its ability to produce more energy than it uses. (Tours are offered several times a month.) While wandering the trails of Pleasure House Point during the fall and winter, you can spot Nelson's sparrows, yellow-rumped warblers, and even the national bird, bald eagles, take flight and nest among the treetops.
Sherry V Smith / Shutterstock
Stumpy Lake Natural Area
Distance/Time: Stumpy Lake Natural Area has 1.65 miles of soft-trail, shared-use paths situated within its 1,422 acres of property. The two loops can be conquered in one hour or less, depending on whether you're walking or cycling.
Admission: Free
What to expect: Based at the head of Gum Swamp, Stumpy Lake is an isolated getaway located in southern Virginia Beach. The wetland forest is spotted with stumps of tree trunks and cypress trees, and a morning mist makes this quiet and shaded hike all the more mysterious. Look out for some of the crooked trees dancing along the trail ways, as they strangely twist upward. (Have a gloating, science-nerd moment by educating your fellow hikers that the trees get their shape from bending around heavy, obstructing deadwood as they rise toward the sun in a process called phototropism.) This natural area also makes a delightful place for birdwatching in the late fall, as egrets, bald eagles, and more native birds hunt for fish and other prey.
Whitehurst-Buffington House Foundation
West Neck Creek Natural Area
Distance/Time: West Neck Creek Natural Area has 217 acres of wooded land with 2.5 miles of soft trails and 0.3 miles of paved paths in its three loops. Each trail loop can take 30 minutes to an hour to hike.
Admission: Free
What to expect: One of the area's best-kept secrets for walks, West Neck Creek is a quiet, lesser-known forest retreat that borders Virginia Beach's Municipal Center. While hiking its woodlands, you can spot great horned owls and other birds, while its wetlands provide shelter for box turtles and other reptiles and amphibians that remain active until winter. While there, scout out the Whitehurst-Buffington House, built in 1793 and considered one of the 50 most historically significant structures in Virginia Beach. It's preserved as an example of farmhouse living in the 18th and 19th centuries, and its inviting property is a choice spot for afternoon picnics -- after all, you're gonna want to fuel up for the hike back.