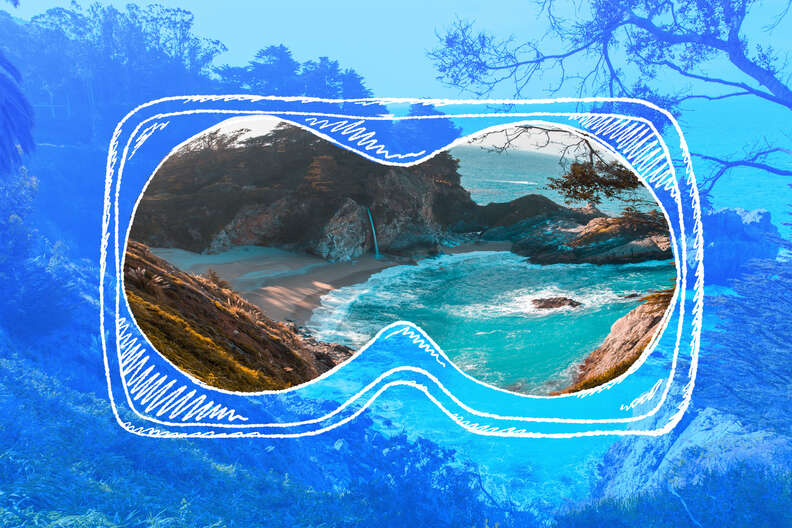 Emily Carpenter/Thrillist
Emily Carpenter/Thrillist
Dreaming of the beach during the doldrums of winter has been a pastime for generations. But right now, we're extra grateful for advances in 3D and VR technology: They're the only thing helping us take our white-sand fantasies to the next level and preventing us from actively hating our friend who scored a visa to work remotely in Jamaica.
Most of us can't physically sprawl out on the sand right now, but anyone with Wi-Fi and a little imagination can virtually globe-trot to some of the world's most stunning coasts. Most of these international digital tours offer fully immersive 360-degree views that, if you don VR gear or watch from your bathtub, offer up a completely transformative experience. So put on "The Girl from Ipanema) and order up some delivery mai tais: This season, the beach is coming to you.
French Polynesia
In a 3D 360 experience that takes a surreal turn, this short-but-sweet VR experience begins with a surface view of a pristine French Polynesian beach surrounded by mountains. Move the camera around and you'll find yourself surrounded by stingrays and friendly sharks as the POV pans up to a panoramic view to take it all in. For a while there, you almost feel like you're in the water (especially if you spilled your drink in your lap). Pair it with a 3D tour of overwater bungalow Le Taha'a and you'll find yourself strongly tempted by the private-island resort's booking page… especially if that drink you spilled was your fourth mai tai.
Ipanema Beach, Rio de Janeiro, Brazil
Rio de Janeiro, Brazil
While hitting a very crowded beach seems bonkers to all but the most denialist Orange County retiree, doing so in the comfort of high-def VR can get you close enough to the action to almost smell the sunscreen. This long-form on-rails tour or Rio's most vibrantly chaotic beach feels like somebody grabbed your hand and guided you through the crowd. You'll see speedos, distant islands, volleyball games, speedos, food vendors, sunshine, speedos, and beachside showers. Every now and again, somebody will even wave at you, all while narration fills you in on what to expect when you finally make it down here. (Hint, it involves speedos).
Thailand
Choosing the right Thai beach can be daunting, if only because you can't rightfully go to them all. This 6k tour goes beach-hopping among some of the most sparklingly beautiful patches of sand in South Asia, among them Koh Tao, Koh Samui, and Koh Phangan. The travelogue-style tour will put you at resort tables towering above the jungle, at beachside bars, and next to roaring waterfalls, culminating in a stunning sunset. There's even helpful narration courtesy of an on-camera tour guide who, thanks to VR, feels like the best/only friend you've made since the pandemic started.
Myrtos Beach, Kefalonia, Greece
Kefalonia, Greece
Close your eyes and imagine you're laid out on a white sandy beach as deep turquoise waves tickle your feet. Or open your eyes and actually see and hear the waves yourself. Greece's coastline is full of brilliant beaches, and Myrtos Beach is one of the absolute best. In this virtual reality video, you can alter your view to gaze at the horizonless waters and practically feel the sun warming your skin. Located in the northwest area of Kefalonia Island, Myrtos sits between mountains Kalon Oros and Agia Dynati, which you can get a clear view of. The only way to make it feel more real would be grab an octopus from the grocery store and smack it against your stoop.
Amilla Fushi Resort in the Maldives
South Asia
The Maldives is basically vacation goals personified. But visiting the resort-packed and endlessly opulent paradise is also prohibitively expensive. With this virtual experience, you can get a taste of all the luxury without selling a kidney. You'll be taken on a scenic tour around the Amilla Fushi resort in the Baa Atoll of the Maldives. With emerald waters so clear you can literally see the sea sponges and aquatic life beneath you, you may forget that you're not actually sipping on cocktails in front of the villas. The best part? Aside from a few stragglers here and there, you'll have the resort mostly to yourself.
Mallorca, Spain
Dust off your swimsuits and turn on the full screen for an immersive virtual experience on Cala Millor Beach in Mallorca, the largest island in the Mediterranean Balearic Islands. Whether you're buried in a good book in front of the TV or looking for new relaxation techniques, being accompanied by the sound of gentle waves crashing against the fine sandy shores of Cala Millor will certainly become your favorite pastime. Show some love to the restaurant industries of the world by checking out this 360 of Restaurante Bonanza and just imagine you're waiting for your server to bring out your plate of fresh filet steak.
Australia
The Great Barrier Reef is home to many Australian islands and beaches, such as Lizard Island, Lady Elliot Island & Heron Island. But it's also home to Fitzroy Island, a smaller island packed with picturesque views, restaurants, and a resort that if you were to visit, you probably wouldn't want to leave. It's quite literally surrounded by coral reefs, so snorkeling is the favorite thing to do here. But with the world's current climate, it's safer to experience what Fitzroy has to offer through virtual reality. Stand on top of the world—or at the peak of the island, called the Summit —and get a full scope of Nudey Beach, the lighthouse that was built in 1973, and of course the Great Barrier Reef.
Kristen Adaway is a travel and local editorial assistant at Thrillist who is currently daydreaming about being on the beach. Follow her on Twitter.
Thrillist senior editor Andy Kryza contributed to this story.