I Tried One of the World's First Virtual-Reality Cinemas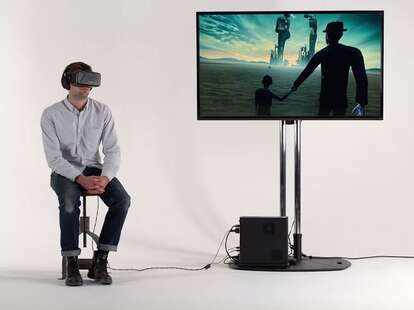 Virtual reality promises to upend digital life as we know it. Gaming, shopping, teleconferencing, education, actual human screwing -- in the next 10 years, VR is going to transform them all. (Heck, maybe even in just five.) First, though, it's trying to change one of our most basic entertainment experiences, namely, how we sit in a dark room and watch movies together.
When I heard the world's first permanent VR cinemas had opened in Amsterdam and Berlin, I was instantly curious. Would it be a lifelike, immersive experience in 360 degrees? Or are early adopters destined to be guinea pigs for a still-fledgling technology?
With VR cinemas set to open soon in London, Paris, Barcelona, and a few US IMAX locations, I went to the Berlin location to find out whether the future of moviegoing is already here.
It's still underground
Berlin's VR cinema is tucked inside an unlikely location: Germany's former state mint, now home to a famous photographer's studio and a nightclub that hosts art-porn parties.
For a venue destined to be a tourist attraction, the old factory itself wasn't touristy -- almost to a fault though, as if it weren't for the cinema's signs, I never would've found it through a courtyard, past dumpsters, and up a dark stairwell wrapped in flaking paint.
Underground and industrial chic is so Berlin, though, so I wasn't shocked to see the massive space did look like a typical theatre lobby -- except for A) lots of dangly disco balls, and B) the fact that it was totally empty, save for three of of the most millennial "ticket takers" ever, behind the snacks counter, clacking away on laptops.
So my boyfriend and I bought beers (as one does at the movies in Germany, which itself is cause to go to the movies in Germany) and went in.
It's a little awkward
The theatre looked more like a living room than what you'd expect from a cinema. Its white walls were covered in vintage movie posters and lots of warm sunlight. Instead of stadium seating, about 45 swivel chairs dotted the room, each with a Samsung Gear VR headset and headphones.
You'd think that all this sounds cozy, but it takes some getting used to. Normal cinemas get you prepped with low lights, cheesy commercials, and those familiar chairs, which have held your butt through moments emotional, hilarious, and horrifying. You don't realize how much nostalgia arrives with the whole experience until you find the future is made of swivel chairs.
Likewise in a normal theatre, the fewer people there, the more exclusive it feels. At this cinema, all seats are truly equal -- but you do want to have a few more people in the room just to create a buzzy atmosphere. We were definitely missing that, as it was an early showing, and my boyfriend and I were alone except for another woman.
There are motion pictures, but not major ones
The cinema offers different viewing packages to choose from, each 35 minutes long. Soon enough, I was taking five-minute trips through a Salvador Dali painting, a cutesy Japanese cartoon, a satire about the refugee crisis, and a glam-rock music video. Sitting in the swivel chair let me pivot left and right to catch the action.
Some of these vignettes were well made, but they lacked a common thread. If you're looking for an exhilarating high-budget blockbuster, we're not there yet. It can be a bit of a drag if your expectations are amped up by some of the more tricked-out ads for the tech -- pro surfers barreling through Tahitian waves, motocross riders blasting across sand dunes, and other general badassery.
But if VR is a bit gimmicky, it does offer a unique dimension to watching movies. You can spin around and check out action from any angle, a fun novelty. I found myself swiveling around expecting to catch a glitch, but never did. It was flawlessly immersive, which, from a movie geek's perspective, is kind of amazing (VR is filmed using crazy 3D cameras like this).
Whenever you turn there's a different aspect to the action, whether it's different band members rocking out in the music video or some cartoon character observing the action along with you. In this way, it drops you into another world.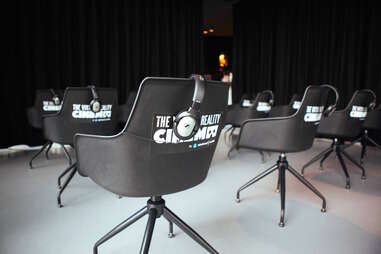 But the tech just isn't quite there -- yet
The biggest drawback: it's still frustratingly low-resolution, which apparently is normal, but I was really surprised to find out (those tricked-out ads probably have something to do with raising expectations).
A lot of scenes were grainy and unclear, and I fiddled around with the focus a lot, because I just couldn't believe I was really at max quality. It was annoying, especially when I compensated by focusing my eyes so hard, which made the experience jarring, even bordering into headache territory. It was like that feeling you get after staring at a computer or mobile screen for too long, multiplied because it's right in front of your retinas.
There are some "operational" problems
A few more kinks need to be ironed out -- in my swiveling, I nearly spilled my beer bottle. Without being able to see my hands, I couldn't have even imagined the mayhem that would've occurred with a popcorn bag (but I'm also a total klutz).
A room packed with swiveling, snacking, laughing, shrieking fellow theatre-goers could turn into a circus in a hurry. You could be all relaxed, riding a trippy Dali elephant, while the kid in front of you is guffawing away at a cartoon or a group of teens is screaming at some horror short. VR cinemas expect the utmost respect from moviegoers. Good luck with that.
It's immersive, but not immersive enough
How much you get out of this experience depends on what you want from an afternoon at the movies. If anything, the cinema works as a sort of showroom for VR headsets. After all, you're perfectly capable of buying and using the technology -- in the exact same way -- at home.
But look for VR cinemas to get more sophisticated. IMAX just announced its game plan to make VR theatres with a "superior and social experience" to outshine your living room. Oculus is developing touch-sensitive handheld controllers to incorporate more body movement into the experience. So far, though, VR's a nascent technology, not yet the utterly convincing dreamscape you're hoping for.
So is it worth your time and money while visiting Berlin? You could certainly do worse at a lot of tourist traps. A VR cinema showing costs €12.50 (about $14) for a 35-minute show. To put that into perspective, for another $5 you can go to the city's 3D IMAX theatre with its 500-square-metre screen, laser sound, and Hollywood features. (And it too serves beer!)
VR will rise above its early adoption for porn and business meetings. It has potential to revolutionize the cinema -- but it's nowhere near prime time yet. Go ahead and catch a show in its early phases so you can bore your grandkids with the story one day. But no rush. VR will be around for a while, and has a lot of improvements to make.
Sign up here for our daily Thrillist email, and get your fix of the best in food/drink/fun.