The Virtual St. Patrick's Day Fest Actually Sounds Pretty Cool
Supernatural folklore! Celtic costumes! Cool accents!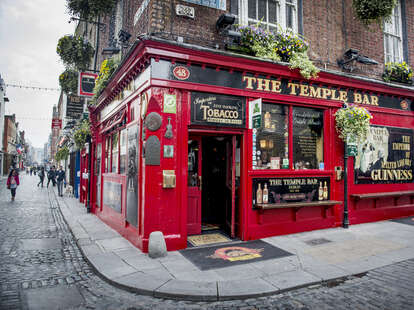 Here in the States, St. Patrick's Day usually involves consuming inadvisable quantities of whisky, Guinness, and/or corned beef, dying a river green, getting pinched and, for many, making a clear point of staying home.
And sure, that's all part of it. But it seems to us that celebrating a country of such staggering artistic, literary, and musical heritage should involve some, you know, actual culture. From Oscar Wilde to U2, Irish steppers to politically-incorrect leprechauns, there's a lot we can credit to the Irish.
Which is why we're excited about the upcoming St. Patrick's Day festival, which for the second year in a row and for obvious reasons, will be virtual. In lieu of the blowout parade that typically draws crowds of over 500,000 to Dublin, the fest has been reimagined into a dynamic six day extravaganza from March 12-17 with over 100 virtual events—all of them totally free, and all of them something we'd actually want to check out.
There's storytelling with Eddie Lenihan who, besides having a glorious beard, is what's known as a seanchaithe—one of the few traditional Irish lore-keepers remaining in Ireland. The author and cultural preservationist is really into folk tales, fallen angels, and supernatural beings but really, Eddie down for anything, and that's why he's often called a national treasure.
You can take a virtual walking tour of Oscar Wilde's Dublin, which includes readings of his works, or learn willow weaving in the traditional manner of the Aran Islands, the three rocky islands in western Ireland's Galway Bay. No willow to be found around your home? Find some stiff wool, or just sit back and enjoy the brogue.
There's Irish food history, comedy by up-and-comers, socially-conscious dance, and poetry. Plus a "Dodgy History of Ireland," an animated series on famous Irish people and historical events including pirate queen Grace O'Malley, gambler Buck Whaley, and the man of the hour, St. Patrick. Most intriguing is the story of St. Brigid, whose hits include changing bathwater into beer for a leper colony, and providing enough beer for 18 churches from just one barrel—a miracle which earned her consideration as one of the patron saints of beer.
And there will still be a parade, although virtual. To participate, you can learn costume-making and choreography from professionals, hear from artists and engineers about the art of pageantry, make a cool eagle mask or Celtic headpiece, then put it all together, take a picture and hashtag it so everyone can admire your handiwork.
It all caps off with the Barróg Lá Fhéile Phádraig—the St. Patrick's Hug—on the night of March 17th, gathering the best of Irish traditional players and singers for a cozy fire-lit evening of music, pre-recorded in Dublin's famous pub venue Whelan's. The evening would definitely pair well with a glass of Irish whiskey.