This isn't even the best part...

| Brian Baril Photography/Moment/Getty Images
This isn't even the best part...

| Brian Baril Photography/Moment/Getty Images
People Can't Stop Photographing This Otherworldly American Canyon
Antelope Canyon is a slot canyon on unceded Navajo land in Page, Arizona, just below the state's northern border with Utah. You have absolutely seen it on Pinterest, or as a screensaver, or on a calendar in your dentist's office. The narrow chasm between walls of undulating red rock is the most-photographed slot canyon in the world, thanks to ethereal-looking sunbeams that stream in to create halos of light that reach all the way to the canyon's sandy floor.
Antelope Canyon is only accessible via tour, and you'll definitely want to book in advance. You can choose from a few different operators managed by the Navajo Nation. You'll see pretty quickly what all the hype's about.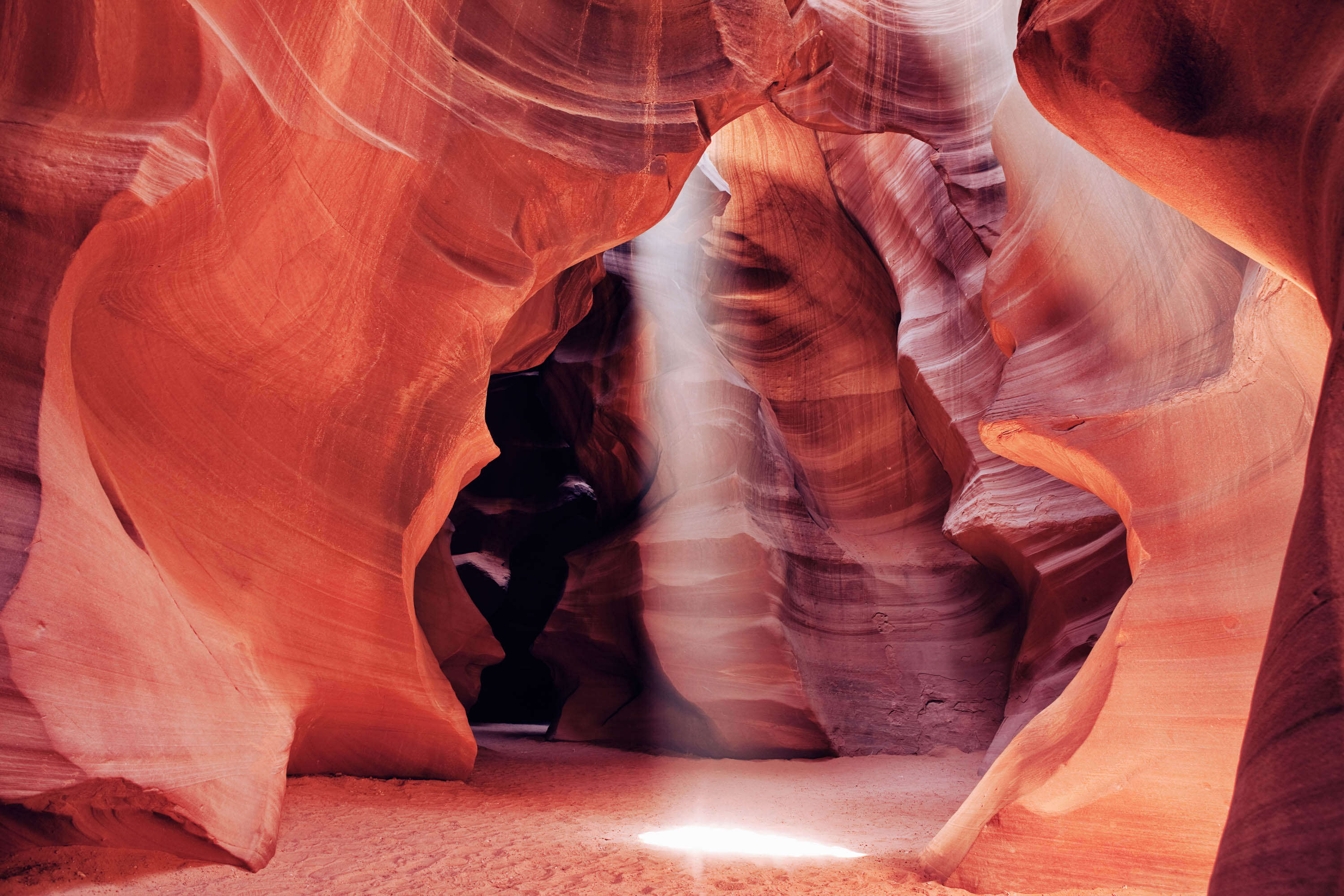 Where to go in Antelope Canyon
The biggest decision you'll need to make is whether you want to visit the upper or lower canyon (or both). Upper Antelope Canyon is the bigger draw -- being the site of the most coveted sunbeams -- but that means it's also more expensive (prices for both vary depending on operator and type of tour; new deluxe tours were rolled out for 2020) and usually more crowded. The upper canyon is only 100 yards long, so tour groups can sometimes pile up while your guides bring people forward a few at a time to make sure everyone gets their moment* (*photo) with no one else in the way.
MORE: How 7 travel photographers and influencers get their perfect shot
Lower Antelope Canyon is not quite as famous, but it's a blessing if battling throngs of tourists is not for you. (For accessibility purposes, note that the lower canyon involves descending a narrow metal staircase -- the upper does not -- and overall demands a bit more physical agility.) The sunbeams might be lesser, but the shapes of the rocks themselves are no less fantastical.
MORE: The best places in Zion National Park aren't where you think they are
When to visit the canyon
Remember that your tour is ultimately at the whims of the weather. You might not get that coveted photo if the sky is overcast that day. Your start time might be delayed if it looks like rain -- flash floods have killed tourists here in years past, and so weather warnings are treated with the utmost seriousness.
Most of you probably want to go between March and October. Try to book your tour at midday or as close to it as possible -- you want the sun overhead to create those famous sunbeams. But if photos aren't your main goal, consider visiting in the wintertime -- you might not get the sunbeams in their full effect (they'll be there, just in a more muted way) but you're also gonna miss the crowds, which in the summer months especially can evoke the feeling of being on a conveyor belt as guides try to accommodate as many tours as possible. You can also opt for a night tour; clear skies mean stargazing like you've never experienced it.
MORE: The best stargazing this winter is in Utah