Photo by Barry Murphy, courtesy of Ballynahinch Castle
Photo by Barry Murphy, courtesy of Ballynahinch Castle
Spend the Night in the Ancestral Home of a Legendary Pirate Queen
Ireland's Ballynahinch Castle has history—and views for days.
Many visitors to Ireland may not make it to the remote region of Connemara. But venture far west of Dublin to find an eerily beautiful pocket of countryside, where history and tradition have an almost tangible presence. A heady combination of lakes and rivers meet meadows and woodlands, with dramatic mountains in view from every angle. Along the coastline,sandy beaches unspool as far as the eye can see. Ancient stone walls ramble across the terrain, some dating back thousands of years. In many ways, the present landscape is not so different from how it appeared in the 1500s, when so-called pirate queen Grace O'Malley ruled in western Ireland. Visitors to Ballynahinch Castle on the site of O'Malley's former home—now a luxury hotel with open fireplaces and flagstone floors—would be hard-pressed to avoid the uncanny feeling of stepping back in time.
O'Malley was born to a seafaring clan in 1530, and according to historian and 36-year Ballynahinch employee Des Lally, she was a member of the Irish chieftain class, which had its own egalitarian society outside of English laws. "She was well educated," explains Lally. "She had access to books and had a world view. She also had a very powerful and independent personality." Furthermore, says Lally, "She was very conscious of her own lineage and power, but also of what she needed to do to control the purse strings which came to fore with her marriage at 16, to Donal O'Flaherty, whose family ruled Ballynahinch and the surrounds at the time."
The love story between Grace and Donal is a tale as old as time itself. You know how it goes: Girl meets boy. They get married and in the process unite two warring clans. Girl and boy go on to become the most powerful rulers of the kingdom before boy's untimely death. As the newly anointed head of the clan, girl seeks to expand her empire by roaming land and sea as a pirate, her thirst for power never quite sated. A timeless classic.
In the wake of Donal's death, O'Malley spent her time raiding ships traveling along Ireland's coast, levying tolls on passers by, and plundering any vessel foolish enough to sail without protection—thus earning her storied reputation as a pirate queen. Many years later, O'Malley's tale is intertwined into the fabric of Irish history. Some of the accounts you might hear are mildly embellished, but most are rooted in truth.
"It's a bit like Joan of Arc," says Lally. "There is little known about her, but her aura, that female power and presence, pervades the place. And I think, in Ballynahinch, that aura of what is right and proper, what is true in familial love, what is worth fighting for, that pervades the place to this day."
It's true that there's a lingering presence in Ballynahinch Castle. It's not a ghost or a spirit, so much as a feeling. You can almost picture the pirate queen gazing out at the rugged landscape in rural Galway, ready to fight for her family and clan.
The building that houses the hotel today was added to the estate in 1796, and has been called home by a diverse range of characters since the days Grace and Donal roamed the land. Politicians, landowners, and even the angling-inclined maharaja Prince Ranji of Nawanagar, India, better known for his skill as a cricket player, have laid their weary heads at Ballynahinch. Today, the bar within the hotel is known as the Fisherman's Pub & Ranji Room to honor one eminent past proprietor.
While the property's more colorful characters may be long gone, Ballynahinch Castle still exudes the ambiance of yore. There is nothing ostentatious about Ballynahinch, though it's the bonafide real deal. The reception area with its open fires, subtle lamplight, stone floors, and leather armchairs dotted throughout is a homey, welcoming space with zero stuffiness. The ground floor library with its book-lined walls, crackling fire, and flickering candles is the perfect place to read more about the history of the estate—or even a trashy novel—in peace.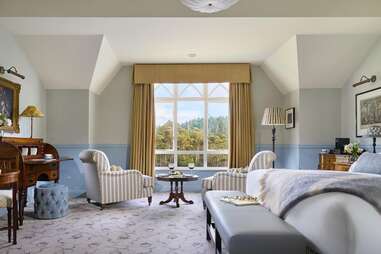 The bedrooms here are just as memorable. Floral wall coverings, wood panelling, and heavy drapes make the rooms feel cosy and intimate, while Irish wool blankets protect from the fickle Irish elements. The overall vibe is country chic, without the chintzy overtones. The luxury rooms in particular are generous in size, with transcendent views across the river and woodlands. Many have vast four poster beds, which, as I discovered, are perfect for enjoying the view from a horizontal position. They also boast walk-through dressing rooms, a separate bath and shower, and a spacious seating area overlooking the river. If you request a ground floor room, you'll be rewarded with access to the riverside gardens through French doors.
Needless to say, all the bathrooms are equally luxurious, some with freestanding baths and spa-reminiscent bath products.
If you do manage to drag yourself away from the comfort of the hotel, the grounds at Ballynahinch offer a delightful range of outdoor activities. Slip into your wellies (kindly provided by the hotel), and spend the day exploring the estate, which extends to over 700 acres. The walled garden is perfect for picnicking or toasting marshmallows over the fire while sipping an Irish coffee, and anglers will be spoiled for choice with 68 square miles of lakes and rivers offering some of the best fishing Ireland has to offer. There are walking trails, cycling routes, photo opportunities like no other, and even clay pigeon shooting. Off property, it's worth taking some time to explore the Connemara region of the Wild Atlantic Way. Along this route, the Galway coastline offers some thoroughly dramatic scenery, from the Sky Road in Clifden and mountain-lined Killary Fjord to the stunning Dog's Bay near neighboring Roundstone village.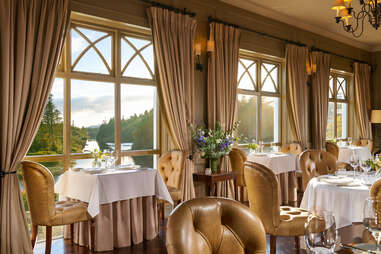 For less outdoorsy types, there's also the option to relax and soak up the ambiance. Lunch in the Fisherman's Pub & Ranji Room is a real treat, where locals and visitors alike gather to enjoy a pint of "the black stuff" by the turf fire while grazing on local delicacies such as smoked salmon, oysters and mussels. Dinner in Ballynahinch's more formal Owenmore Restaurant showcases the best of local Connemara produce, and its window tables offer a great view over the grounds
Whatever you do at Ballynahinch Castle, you'll find it hard to leave. In Lally's words, "it always was a welcoming house, and a lucky one." Staying at Ballynahinch is sure to make you feel welcomed and lucky indeed.