There are three volcanoes to hike around this national park.

| Photo by Kikerodry/Shutterstock
There are three volcanoes to hike around this national park.

| Photo by Kikerodry/Shutterstock
Trek the Volcano Trilogy Around This Central American National Park
Plus a lake that changes color, a flower route of cute towns, and delicious pupusas along the way.
Welcome to
(Inter)National Parks: Adventures in the Global Outdoors
, where we transport you to the world's most incredible protected lands, nature reserves, and marine sanctuaries, from the slopes of Western Canada to the vast grasslands of Botswana to the fjords of New Zealand. For more on these far-flung natural wonders—plus travel tips and expert interviews—check out the rest of our coverage
here
.
Imagine a national park wrapped into a conical shape, like a carpet of trees spun into an upward spiral. Cerro Verde is not just a volcano within a national park; this volcano is the national park itself. This treasure of Central America is like a jungle playground along slanted slopes—and it's not the only lava-filled mountain in sight. Known as the Volcano Complex, three volcanoes sit next to each other in this part of El Salvador, all overlooking a shimmering blue lake.
Cerro Verde National Park is located about 90 minutes from the capital city of San Salvador, and it's not your typical volcano experience. For starters, it doesn't look like what most people expect from a volcano. Meaning "green hill," Cerro Verde is lavishly lush, completely covered in trees, bushes, flowers, and other plants, so it's bright green from top to bottom. That means you don't just get to the top and look down into a crater, you can also hike through the forest that's grown onto the volcano.
Of course, you can have plenty of more traditional volcano sights, too, like the greenish-blue crater lake of nearby Santa Ana volcano or the black-sand slopes and smoldering hole at the top of Izalco (one of the youngest volcanoes in the world). While most visitors only tackle trails on a single volcano in one day, ambitious hikers can strive to hike all three in one day, known as "the trilogy."
Whenever you finish exploring, you can spend the night on the volcano. It's not every day that you can stay at an incredible national park hotel that is both on a volcano and overlooks other surrounding volcanoes. Talk about a volcano lover's dream.
All this natural wonder is situated next to a trail of charming towns called Ruta de los Flores, or The Flower Route, that you'll want to spend some time making your way through. Throw in adventures on Lake Coatepeque (that mysteriously changes colors from turquoise to cerulean) and some delicious pupusas, and you've got yourself a packed itinerary. Here's everything to do in and around Cerro Verde National Park.
When to go to Cerro Verde and what to bring
Like most national parks (and pretty much any attraction in the world), Cerro Verde tends to be busiest on the weekends, since many locals head to the park for picnics, playgrounds, and perambulation. To avoid these crowds, visit during the week. To avoid the rain, come during the dry season, which runs from October to May.
To reach the park, you have several options. El Salvador's roads are in excellent condition, there's great signage along the highways, and Google Maps works pretty well, so in general, renting a car is a good idea. Driving yourself to the park (and then on to your next adventure) is the easiest and most popular option, but you can also hire a private taxi to bring you to the park, which costs about $100 roundtrip from San Salvador. If you'd like to hire a driver, check out these transportation providers or speak to your hotel to coordinate a ride. If you want to get there by public transportation, catch a bus from San Salvador to either Santa Ana or El Congo, where you can connect to another bus that will take you to Cerro Verde. Buses are safe and cheap, but, of course, they require more time and patience.
Whether you'll be hiking or birding, bring some water and snacks to maintain your hydration and energy, but save room for the street food that's sold along the park roads and in the main parking lot. Pupusas are El Salvador's national dish and these hot griddled corn cakes stuffed with cheese, meat, beans, and vegetables are the perfect pre- or post-hike snack.
Since the weather gets cooler the higher you head up on the volcano, be sure to bring a jacket or windbreaker to stay warm. Also, don't be fooled by the cool air, as you're close to the sun's strong rays, so it's wise to bring along some sunscreen as well.
Hike El Cerro Verde and neighboring Santa Ana Volcano
Because trails are prized and protected in Cerro Verde National Park, the only way to hike is to go with a local guide, who holds the keys to unlock these gated trails. Even if you hired a licensed guide for a multi-day trip around El Salvador (not necessary, but very helpful), you would still need to hire the local tour guide in the national park. These guides cost $5 (El Salvador's official currency is the US dollar, how convenient!) and you can find one at the main entry to the park by the large parking lot.
There is only one main trail within Cerro Verde National Park, a relatively relaxed 0.5-mile route (1 mile round trip) that takes you into the crater and which takes about 45 minutes to complete. As the park is also a bird sanctuary with over 120 avian species (including woodpeckers, quetzals, and hummingbirds), it wouldn't hurt to bring some binoculars. From Cerro Verde, you can also hike to neighboring Ilamatepec (also called the Santa Ana volcano), which is most popular on the weekends, when there are more organized tours to join.
Because hiking in Cerro Verde is pretty easy compared to the other two volcanos, many travelers are attracted to the more strenuous trails on neighboring Izalco and Santa Ana, but then head to Cerro Verde for food and lodging with spectacular views. Note that while licensed guides are required for Cerro Verde (the easiest) and for Izalco (the most difficult), you can summit Santa Ana on your own without too much trouble.
The 4.5-mile roundtrip hike (which has about 1,600 feet of elevation gain) on Santa Ana takes most people three to five hours to complete. Aside from a couple vendors selling ice cream toward the top, there's no food or drink available along the hike, and much of the route is fully exposed to the sun, so be sure to bring snacks and water. At the top, you're treated to a dazzling view of the turquoise waters at the base of the crater and a 360-degree view of the entire Volcano Complex area.
Sleep on a volcano
While day trips to the park are both possible and practical, there's quite a few spectacular overnight accommodation options. The most luxurious option is the Casa 1800 Cerro Verde, which is the only hotel that sits right on the volcano within the national park. Here, you'll find spacious rooms with large foliage-filled patios overlooking the Santa Ana volcano. Even if you don't sleep here, the hotel has an excellent restaurant with incredible views, so it's also a popular lunch spot for nature lovers who lodge elsewhere. The menu is a mix of Salvadorian classics (hearty chicken soup and pupusas) and American favorites (pizza and burgers), but if you want the best of both worlds, go with their popular pupizza, an enormous pupusa stuffed with your favorite pizza toppings.
At the base of the volcano complex, you can overnight in rustic cabins at Casa Cristal or in individual "igloo" suites at Hotel Finca Campo Bello. Both offer stunning views of the surrounding volcanoes. The boutique Campo Bello is more upscale and it's also located on a specialty coffee farm with its own trail network. Should you manage to pull yourself away from the fantastic views from your room's private patio, you'll have plenty to do right on the property.
Play or relax on Lake Coatepeque
One of the main draws of the Volcano Complex area is nearby Lake Coatepeque. Initially formed after two volcano eruptions collapsed the mountain peak, this lapis-colored lake is best known for its water sports. Swim, fish, jet ski, water ski, kayak, canoe, scuba dive, or take a boat ride across this three-by-four mile lake, or just sit along the shore enjoying the views. Lakefront cabin rentals are also available, should you want to lounge on a beautifully-landscaped lawn or swim in a private pool while overlooking the water.
Speaking of the water, Lake Coatepeque is unique in that it actually changes colors from blue to turquoise. The cyclical phenomenon doesn't have any established pattern, but the change sometimes happens annually and sometimes won't happen again for another five or six years.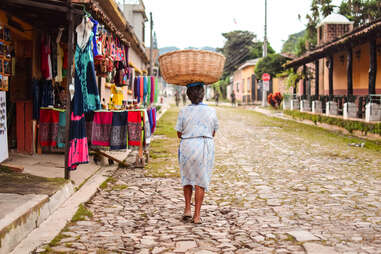 Road trip to cute towns along the Ruta de las Flores
About an hour southwest of Cerro Verde is Nahuizalco, the first of five colonial towns that make up the Ruta de las Flores. These "flower route" villages span about 20 miles and are known for their historical churches, walkable town squares, lively produce markets, and traditional handicraft shops—as well as incredible food.
The town of Juayua, which is right in the middle of la Ruta de las Flores, is especially well-known for its weekend food festival and waterfalls, Chorros de la Calera. The last town on the route is Ataco, known for its street murals, great coffee, and nearby hot springs. While you could hit all five towns in one day by popping into each for a quick walk or a snack, you could easily spend a day exploring just one or two to really get a feel for the local vibe and culture.
Ready to hit the park? Check out our tool kit to get started:
Cassandra Brooklyn is a freelance writer, guidebook author, and the founder of the boutique travel company, EscapingNY. She specializes in all things outdoors and her work can be found in
National Geographic
,
The Daily Beast
, and
Lonely Planet
. Follow her on IG at @escapingny.