The Earth's Biggest Elephant Population Is in This Magnificent National Park
Botswana is The Elephant Capital of the World, with an estimated 130,000 of the giant creatures.
Welcome to
(Inter)National Parks: Adventures in the Global Outdoors
, where we transport you to the world's most incredible protected lands, nature reserves, and marine sanctuaries, from the slopes of Western Canada to the vast grasslands of Botswana to the fjords of New Zealand. For more on these far-flung natural wonders—plus travel tips and expert interviews—check out the rest of our coverage
here
.
Any fan of The Lion King surely knows there's drama to be had in the animal kingdom. And anyone who's been on safari knows the excitement of seeing that play out. After all, wildlife is best experienced not through screens, not behind bars, but in real life. On the African continent, there are several places to go on safari—South Africa's Kruger National Park, Kenya's Masai Mara National Park, and Tanzania's Serengeti, to name some well-known choices—but Botswana's Chobe National Park is where to go for elephants.
Botswana is known as the "Elephant Capital of the World." About 130,000 of the giant creatures roam here, which is more than any other African country and an astounding number considering the count in elephant-hyped Thailand is less than 4,000. The reason for this is because Botswana has long been a haven for the trunked pachyderms, when poaching and trophy hunting by foreigners was rampant in the surrounding countries.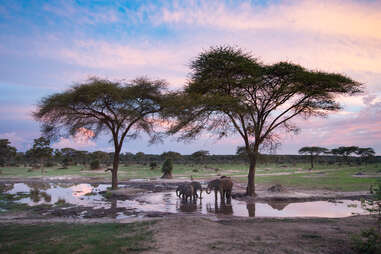 The situation has improved during the pandemic years, which is much needed, since the creatures normally roam freely between neighbors Botswana, Zambia, Namibia, Angola, and Zimbabwe—not that they recognize political boundaries. Keeping tabs on the herds is the aptly-named nonprofit Elephants Without Borders, a Botswana-based organization that's led the conservation efforts of the African elephant in conjunction with local governments.
In Chobe—Botswana's first national park, founded in 1967—there's a good chance you'll see elephants wherever you go. Of course, any safari company will have a fine print disclaimer that wildlife sightings are never guaranteed anywhere in the world, but from my experience, it would be unheard of to go to Chobe and not see an elephant in the wild. There are so many elephant sightings in the park that you'd almost think it'd become tiresome—but here, with these formidable and sometimes funny creatures, it's impossible to get "elephanted out." Here's how to get the most out of your visit to the Botswana national park.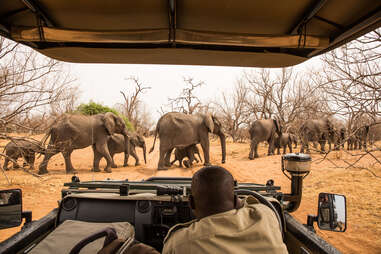 When to visit Chobe National Park
Chobe is open year-round for Botswana's two seasons. The dry season occurs during the southern hemisphere's winter, from April to September, when there is very little rainfall. Come October, rain swoops in during the summer months until March, and transforms the landscape into the green season.
There are definitely pros and cons to each season. Nevertheless, the dry season is the more popular of the two. Without a bounty of water falling from the sky, it's often easier to predict where animals are likely to be found: wherever there is a permanent water source. Less rain also means less foliage on the trees and bushes, making it easier to spot wildlife with the naked eye. Additionally, winter months mean dry but not too hot weather, with June and July highs in the 70s.
However, that means there will be a lot more people on safari during the winter season. This translates to heavier traffic on the park's designated roads (because you can't just offroad anywhere), and often there's competition for a good place to park for a prime vantage spot whenever there's a coveted lion sighting—kind of like finding parking at the mall during the holidays. Also, with safari demand higher, accommodations fill up and have higher prices than during the summer months.
Green season, on the other hand, is less expensive and less crowded, so your chances of finding accommodations—and cheaper flights—are better. In some lodges and safari camps, you'll just share the common spaces with a handful of other guests. Sure it may rain on occasion, but with summer storms come lush landscapes, awe-inspiring lighting strikes across the sky, and majestic rainbows when it inevitably ends. These summer months are also the calving season for many herbivorous mammals, which means lots of baby animals for a potential cute overload. More babies also inadvertently translates to more easy prey for predators, so you might get a bigger chance to see the full circle of life.
The downside of green season is not only the heat and humidity of summer, but all that lush foliage on the plants, making it harder to spot wildlife. That said, if you have a good, knowledgeable guide (like Isaac Mpuchane of Desert & Delta Safaris, in my experience), you'll track down any animal you put your mind to—even an elusive leopard. Experienced guides do this using cues from nature, like distinct warning calls from birds announcing a nearby predator or impalas' behavior with their movement patterns and a specific way they kick their hindlegs to alert their herd. (Listening for sightings reported on the radio chatter doesn't hurt either.)
Pick your safari based on the landscape
No matter where you go, there's really one main activity to do in Chobe: ride in 4x4s for game drives in the early morning to search for wildlife, and then again in the afternoon—all before finding a place with a sunset view to stop and have sundowners with the quintessential safari cocktail, a gin and tonic. (G&Ts contain quinine in the tonic water, long believed to curb malaria.)
Chobe National Park encompasses a diverse landscape of over 4,500 square miles, including desert, grasslands, and fertile riverbanks. The park can be divided into four geographic sections: the Chobe Riverfront, the Linyanti wetlands, the Savute grasslands, and the dry woodlands of Nogatsaa. Each has its own characteristics, but all provide an opportunity to spot wildlife.
While Nogatsaa does have one lodge as a basecamp for game viewing, the area isn't as accessible as the other regions of the park from a logistical point of view. Therefore, it's rarely included on a comprehensive safari tour. However, if you're willing to invest in a bush flight and drive eight hours round trip away from the other more popular territories, consider Nogatsaa if you like ultra remote, fewer people, and want to experience its unique geology of dry, clay bottom pans.
That said, the majority of safari-goers get their fill of wildlife sightings by visiting the grasslands and water-adjacent regions of Chobe Riverfront, Linyanti, and Savute. That's because where there's water, there's elephants—not to mention hippos, warthogs, many types of antelope, water buffalo, crocodiles, baboons, jackals, giraffes, lions, zebras, hyenas, blue wildebeest, wild dogs, hundreds of bird species, and many other animals.
The Chobe Riverfront is unique from other typical 4x4 game drives in that you can also look for wildlife on a riverboat cruise. As the main permanent source of water in northern Botswana, the Chobe River is the gathering place for all animals. At the edges of the riverbanks, you'll find crocodiles basking in the sun or water buffalo grazing the grass. There are also many hippopotami, often partly submerged with their nostrils and ears protruding out. If you're lucky on a boat safari, you may even see a herd of elephants crossing the river to or from Namibia, as the river serves as the boundary between the two countries.
Linyanti is basically an extension of the Chobe Riverfront, with game viewing opportunities in its wetlands and grasslands. The marshes in Linyanti are said to be rich in predators.
To the south is Savute, a grasslands region that really exemplifies the difference between dry and green seasons. When it's dry, it's parched and dusty, with animals dependent on watering holes. In fact, a few watering holes are artificially made, created by the government by tapping natural underground springs and rerouting their water to the surface via pumps and plumbing. While some criticize this practice as going against nature's plan, others deem it necessary amidst climate change; watering holes, artificial or not, maintain a balance of regional animal density. If not for them, elephants and other big animals in Savute might trample and destroy ecosystems during long migrations to the wetlands.
Savute is truly fertile in the green season, from its bushes to its "marsh," an expanse of flat grasslands that once held a swamp in its geological past. Animals in the region take advantage of all watering holes regardless of the time of year, and if you're lucky, you'll catch a pack of hyenas or wild dogs playing in the water—or even a young elephant splashing around like a child in a bathtub.
Sleep in a traditional game lodge
There are a few safari lodges and camps in the Chobe Riverfront area just outside the park gates in Kasane, but only one lodge is inside the park—and right on the river: the historic, luxury Chobe Game Lodge. Not only is it a base camp in the most choice location for wildlife sightings in the area, it's also ecotourism-certified. Their solar-powered river cruise boats run virtually silent, devoid of loud engines that might otherwise startle the animals.
If you're checking out the Linyanti region, stay at the luxury Linyanti Bush Camp just outside the border with the park, where you can base yourself for game drives—and those sundowners.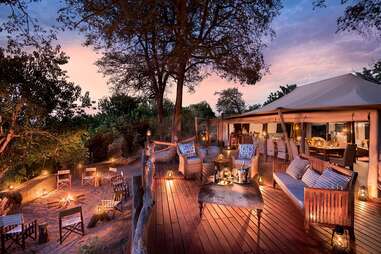 Game drives in 4x4s often scout for activity by the watering holes, but you need not to go far if you're staying at the Savute Safari Lodge; their dining area, pool, and lounge is a deck that overlooks one of the watering holes, and animals come in pretty regularly.
For the few intrepid going out to the less-accessible Nogatsaa area, there's only one lodge, Nogatsaa Pans Lodge, right in the immediate vicinity of the Kwikamba Pan.
Go on your own or with a guide
Chobe National Park, like most national parks, has an entry fee: about $10 USD, but that cost is typically rolled into a bottom line price if you book a safari from any tour operator, with packages that include lodges and game drives. You can certainly rent your own 4x4 and rough it, though; there are about twenty campsites within the park with flush toilets and solar-powered showers. Campsites average about $50 USD per day. There is also a small, per-day vehicle fee depending on the weight of your rental.
All that being said, your best bet is to figure out an itinerary with an experienced tour operator, like midrange Moonstroll Vantage Expeditions or higher-end Desert & Delta Safaris. The park's official website is also a good resource, linking you to lodging deals.
Whichever way you plan a safari in Botswana's premier national park, remember to get any required shots beforehand. Also, malaria preventative pills, while not required, are recommended. After all, mosquitoes, like all of Chobe's elephants, are a part of the circle of life, too.
Ready to hit the park? Check out our tool kit to get started:
Erik Trinidad is a Brooklyn-based travel writer in perpetual search for offbeat adventures —and the beers and meals that come afterwards. Follow him on Instagram and via his travel/science web series, Plausibly Ridiculous.