Get Into Glamping at a Beachside Resort Inside a Caribbean National Park
Seaside slumbers await at Cinnamon Bay Campground in St. John.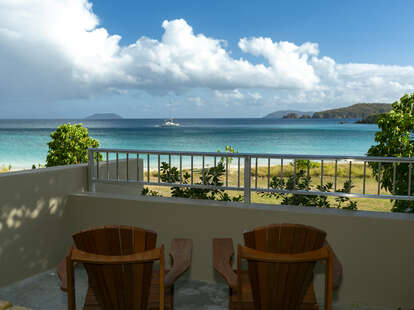 Photo by Steve Simonsen, courtesy of Cinnamon Bay Campground
Photo by Steve Simonsen, courtesy of Cinnamon Bay Campground
It was on my first night staying at Cinnamon Bay Campground in St. John that I began to wonder if I'd made a mistake. Perhaps my error was simply the three painkiller cocktails I'd consumed, now spurring me to contemplate the two-minute walk from my tent to the bathroom.
Or maybe the mistake had been thinking that I—very much not a camper—should stay at Cinnamon Bay Campground in the first place. This possibility seemed especially likely as I ruminated on the concept of leaving my tent to walk through the darkness, of which I happened to be very afraid.
A few hours later, however, the sun rose, and my fear of setting foot outside subsided. Newly comfortable, I took in my surroundings: My own sizable tent set amongst lush greenery and atop a wooden platform, beside a cute outdoor seating area and grill. The secluded expanse of Cinnamon Bay Beach beyond a dense wall of trees and shrubs, its crashing waves a heady shade of turquoise. I thought about the wildlife I'd already seen here—tiny lizards, hermit crabs, and even a few deer—equal parts exciting and alarming for a non-camper, but very much the marker of a special place. Maybe, I thought, it was worth finding out how granola this city girl could get.
You wouldn't necessarily know from looking that Cinnamon Bay Campground was recently completely rebuilt in the wake of 2017's devastating hurricane season. Its tents had to be repaired and re-skinned, its cottages rebuilt in concrete to withstand storm winds. The campground finally reopened in November 2022, a boon for nature lovers willing to sleep in close proximity to the island's considerable flora and fauna. More than 60% of St. John is located in Virgin Islands National Park, and Cinnamon Bay falls right within park limits, making it both beautiful in its own right and a great jumping off point for adventures.
The accommodations have been beautifully redone, and visitors can choose their preferred style of roughing it, from actual cottages to covered platforms that require you to bring your own tent. While not every option is strictly bare bones, the campground's managing director Adrian Davis points out that "if [going without] air conditioning or a private in-room bathroom is a deal breaker, we might not be a good fit for one another."
Case in point: I stayed in a glamping-style eco-tent, which came with a queen-size bed, multi-speed ceiling fan, and necessities like towels. There were outlets near the bed for charging my devices, and a three-shelf wooden cubby provided some basic storage. Zip-down window panels on the sides of the tent kept air circulating and daylight streaming in. A comfortable stay, perhaps, but not a luxurious one.
Given its location inside Virgin Islands National Park, Cinnamon Bay Campground takes conservation seriously—and bear with me, but this goes back to the bathroom situation. "Our concessionaires' contract has many rules and guidelines, like all National Park Service concessionaires have," explains Davis. "Some of them include that we provide public bath houses because it is stated that guests consume more water in private bathrooms versus public bathrooms; this aids in water conservation, which is a major concern on St. John." Showers are also cold, but the chilly water feels great in the island's humid, 80-plus-degree heat.
Besides the tents, bathrooms, and beach, there's a single restaurant on property that serves up breakfast and dinner daily at open-air tables. The portions are tasty and massive, and offer serious island-style flair. One night, I ordered fried snapper for dinner, and was surprised to learn it came with a bevy of sides—rice, mac 'n cheese, potato salad, and veggies—all ready to be doused with the table's obligatory bottle of scotch bonnet hot sauce.
If you'd rather venture off-property for meals, however, that's totally doable. Though Cinnamon Bay feels a world away from pretty much everything, it's only a 20-minute taxi ride from town. Neighboring St. Thomas is known more for its nightlife, but local favorites like Mongoose Junction offer a fun range of shops and eateries, and dirty martinis at La Tapa Plage are a must.
But if you're staying at Cinnamon Bay, the real attraction is the nature, and it absolutely delivers. I enjoyed a short, meandering hike on the Nature Loop trail across the road from the resort. The partially wheelchair-accessible path winds through the overgrown ruins of a former sugar plantation, with signs throughout to educate you about life on the plantation and point out native plants like the tyre palm.
For ocean-centric activities, snorkeling with sea turtles is an opportunity most guests will want to take advantage of. There's also the option to climb aboard the 44-foot yacht known as the Sailing Asante for a sunset cruise around the bay. I found the two-hour sailing excursion to be a great way to escape the area's mosquitos, which proved no match for the ocean breeze as we watched the Caribbean sky turn orange, then black, from the comfort of the vessel.
If you're not ready to say goodbye to the natural world when you turn in for the night, the beauty of Cinnamon Bay is that you genuinely don't have to. By my final night I was unzipping my tent's window panels like a camping pro and falling asleep to the whistling calls of coquí frogs in the surrounding brush. There's really nothing like it.