Find Your Community at This Remote Hostel on South Africa's Wild Coast
Xhosa hospitality and Milky Way views await in Coffee Bay.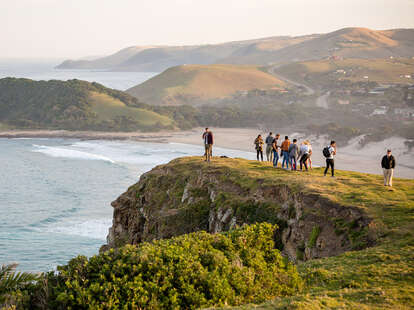 Photo by Sean Baker, courtesy of the Coffee Shack
Photo by Sean Baker, courtesy of the Coffee Shack
Three German tourists are ordering a coffee on Fox Street, a.k.a. Johannesburg's backpacker boulevard. Fresh from OR Tambo International Airport, they haven't even showered yet and they're already comparing itineraries with the couple buttressing their 60-liter Quechua bags against a barstool. South African backpacker world is bookended. In a country as dense and vast as South Africa, it's common to start in Joburg and fly out of Cape Town—or vice versa—meaning that most travelers are looking at a built-in cross-country road trip amenable to last minute changes of heart. In conversations like these, it's inevitable that the most senior traveler in the group will ask: "You think you're gonna make it to the shack?"
There are two possibilities here. They're either referring to the diviest, most pre-apocalyptic billiards bar in Africa, the stuff of Cape Town legend—or they're talking about the Coffee Shack. In either case, they're probably asking in the coy, knowing tone that means you're about to be in on an incredible secret.
The Coffee Shack is a hostel and guesthouse so far off the main drag that attempting to travel there at all means that you're undertaking a pilgrimage, and a rather virtuous one at that. The Coffee Shack (or simply "the shack") anchors the tiny village of Coffee Bay deep in the heart of the Eastern Cape's Xhosa—pronounced tongue click + "hosa"—country. It's where the rolling emerald hills of the former Transkei meet a dramatic end on a practically untouched stretch of the Indian Ocean. Outside of folk tales, coffee doesn't really grow here, but that's not what draws people in, and it's certainly not what the locals are selling. Perhaps as a function of its remoteness, but amplified by its natural beauty and seamless integration between surf bums and the local Xhosa community, Coffee Bay is that rare bohemian idyll where you can step into—but not intrude upon—what feels like an eternal place.
Still, against all odds, there isn't an omertà complex about it. The Coffee Shack and the local Tshezi community are more than happy to welcome you to Coffee Bay, but they're serious about maintaining the area's natural beauty. Here, the idea of leaving no trace is an imperative more than a suggestion.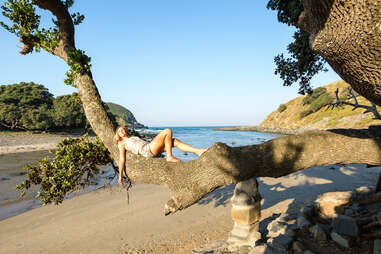 David Malherbe opened the Coffee Shack in January, 2000. He grew up at the foot of what South Africans call the Wild Coast, which stretches from Malherbe's hometown of East London to the border with the KwaZulu-Natal province. Malherbe, a lifelong surf bum, estimates that he first traveled to Coffee Bay with his grandfather at the age of 14. Even during his years traveling around Europe, Malherbe would always venture back to the Transkei to escape winter in the northern hemisphere and catch some of the Wild Coast's legendary waves. As he tells it, the Coffee Shack was born of its predecessor's short sale on account of a sudden death in the family. Faced with "three or four days" to buy the place, Malherbe went for it. His wife Belinda, an Australian, passed through Coffee Bay on the eve of the shack's first anniversary, and the rest is history.
In the 23 years since opening the Coffee Shack, Malherbe has forged strong bonds with the local Xhosa community, but he doesn't make a big deal about it. Grant money from the European Union allowed for the Tshezi community to purchase a 30% stake in the business—the tribe now owns 40% of the Coffee Shack—and Malherbe says it's really just about trying to "spread the love, so to speak." To him, bringing Xhosa partners and employees into the business was "a logical thing." In fact, not only do the locals have a share in the business, but a sizable portion of the shack's income goes toward scholarships for Tshezi community members. And even during the depths of the pandemic, the shack never laid off a single employee.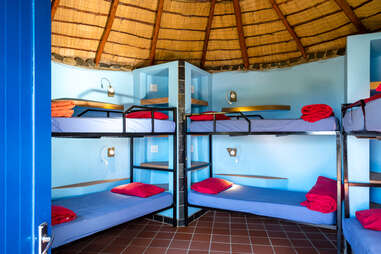 This dedication to the community is visible in nearly every aspect of the shack. The bulk of the lodging at the shack draws from Xhosa rondavel (hut) architecture, and new arrivals can expect impossibly nutty Xhosa bread with most meals—but they won't feel like they're being transactional about it. For one thing, the Coffee Shack and its community partners offer opportunities to engage with the village through weekly dinners in traditional Xhosa homes; the shack is more or less in the village to begin with. Also, the shack operates on a tab system, so guests won't feel as though they're being rung up for every little thing, be it traditional Mqombothi (maize beer), intro surfing lessons (equipment rental included), or a walking tour of the mythical Hole in the Wall cliff formation. And both the welcome drink and a fifth night's stay are on the house. As a tribute to the magic of Coffee Bay, Malherbe has plenty of stories to tell about fifth nights that turned into 50th.
"Visitors come down a tiny, bumpy road... it looks a little bit questionable," Malherbe says. "And then you walk into the little courtyard, and basically they're like, 'Wow, this is what we were expecting,' and then everybody's very friendly and smiley." He adds, "We find that people who stay three days or longer, they leave ambassadors."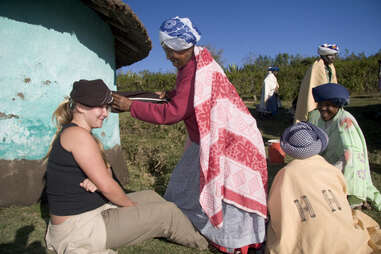 Despite the shack's far flung locale, visitors might feel better connected to the outside world in Coffee Bay than in most of rural South Africa. The Coffee Shack's eco-conscious investments in solar panels and rainwater capture mean that load shedding (electrical blackouts) are limited and all of the water is potable (and delicious).
Whether you're looking for true Xhosa hospitality, a surfer's paradise, or a few days off the grid, the Coffee Shack is worth the detour. So how do you get there? Well they don't call it the Wild Coast for nothin'. Roughly six hours by bus or car from either Durban or Gqberha (Port Elizabeth), the journey to the Coffee Shack begins in Nelson Mandela's hometown of Mthatha. A Coffee Shack van will fetch you from the local bus station and whisk you three (bumpy) hours away to Coffee Bay.
Luckily, while paradise may be far, it comes pretty cheap—Campsites will only set you back $6 or so, dorm beds start at $11, and single rooms cost $30 and up. It's a small price to pay for a truly genuine experience and unobstructed views of the Milky Way.