How an Abandoned Building Became São Paulo's Coolest Creative Hub
Look behind the crumbling facade for award-winning eats, art, and books.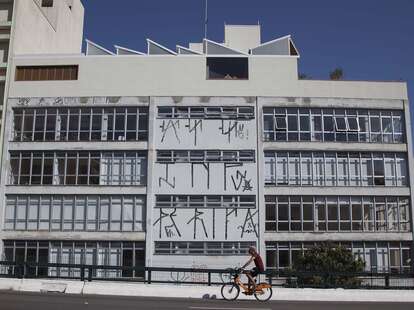 Photo courtesy of Planta Inc.
The building had been abandoned for more than two decades on the streets of São Paulo. The words "Terra Livre" and "Ocupa Fidel Castro" were graffitied across its off-white façade, and squatters had all but demolished its interiors. Many had surely passed it by, seeing only its decay, but social entrepreneur Guil Blanche saw something worth saving. His vision? A cultural hub for the city's diverse population.
In 2015, Blanche had spent nearly a decade designing vertical gardens in São Paulo and was ready for something new. As he built a garden on the underside of the Minhocão, an elevated highway and urban park that cuts through the city's center, he started noticing all the abandoned buildings that flanked the 2.2-mile freeway. Some of these buildings were icons of Brazilian modernism, designed by pioneers of the movement, including Oswaldo Arthur Bratke, Rino Levi, and Gregori Warchavchik. He created a map that identified these crumbling landmarks and discovered that most of the buildings were concentrated in the neighborhood of Vila Buarque, the city's former business center.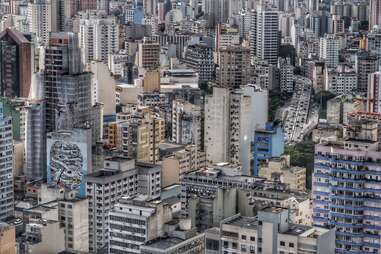 "When these towers were constructed in the 1950s and '60s, Vila Buarque and its surrounding areas were where the money was," says Blanche, who was born in the city of Goiânia before relocating to São Paulo in 2007. "But when other newer commercial hubs like Faria Lima and Paulista Avenue emerged, the neighborhood's offices and commercial buildings were abandoned and fell into disrepair."
While Vila Buarque had lost some of its luster over the years, Blanche was nevertheless captivated by the historic working-class neighborhood, where low rents and architectural treasures had begun attracting young artists. He started raising money to procure some of these sleeping giants, and in 2019, his adaptive reuse firm Planta.Inc acquired the old FSMJ building at 344 Rua Amaral Gurgel, adjacent to the Minhocão.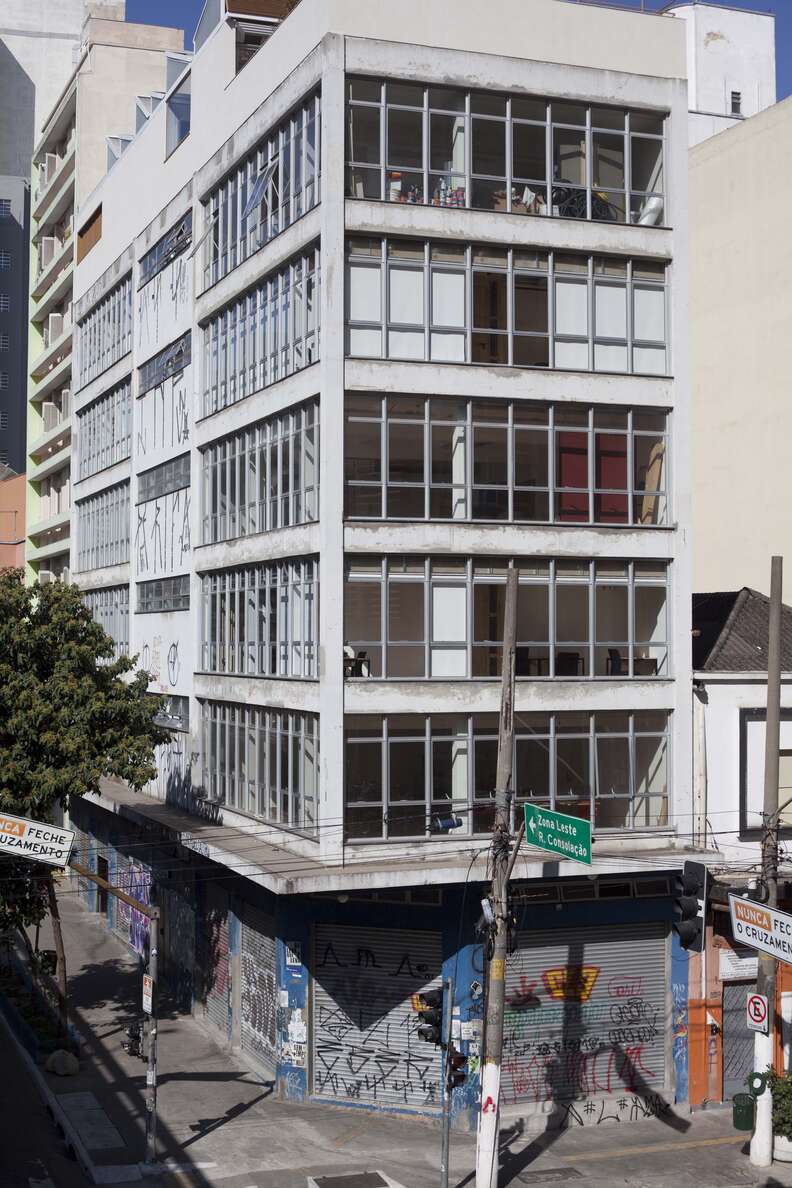 Originally constructed in the '70s as an office space, the building fell into disrepair just over a decade after its inauguration, while its neighboring sister building was taken over by the Santa Casa hospital and research center. By the time Blanche set foot inside, the structure was utterly decrepit, inside and out.
Blanche knew he couldn't rescue it alone, so he reached out to his friend, São Paulo restaurateur Rafael Capobianco, and asked if he'd want to open a coffee shop on the sixth floor. "I remember arriving at the building for a tour and struggling to even open the front door," recalls Capobianco. "There was rubbish everywhere and rats scurrying around."
But any reservations he had quickly faded the moment he arrived at the sixth floor.
From the rooftop, the restaurateur could see the vast expanse of his adopted city, including São Paulo's most emblematic landmarks, like the Copan and Itália skyscrapers. He didn't want to launch a café, he realized—he wanted to open his dream restaurant.
"Of course, São Paulo has its problems," says Capobianco, who worked at Alex Atala's acclaimed D.O.M. restaurant before opening Caracol, the city's first listening club, in 2018. "But from up there, you see the beauty and potential of it. It was like a lighthouse overlooking the city. I immediately thought, 'More people deserve to see this.'"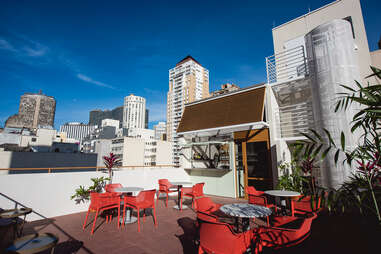 Capobianco called up his friend Pablo Inca, an Indigenous chef from Jujuy, Argentina, who had trained under Francis Mallmann. The pair started dreaming up Cora, an intimate restaurant centered on organic seasonal food, shareable plates, and reasonable prices—with an outdoor terrace and a 60-seat dining room set inside the former janitor's rooftop apartment.
As Capobianco and Inca refined their concept, Blanche and his wife Johanna Stein started hatching a plan for a bookshop on the building's ground floor, once home to a mechanic's garage.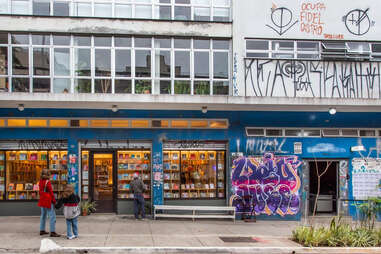 At the time, Stein, a scholar of visual arts and a devoted reader, was deep in research about women who specialized in text-based mediums. She sought books of philosophy and classic literature by female and trans writers from the global south, but says that "the more I researched, the more obvious it became that I couldn't find the kind of books I wanted to read." When she discovered that 70% of the books published in Brazil between 2005 and 2014 were written by men, she knew she wanted to play a role in diversifying her country's literary scene. And so, gato sem rabo, the city's first bookshop devoted exclusively to literature by female authors, was born inside the ground-floor commercial space.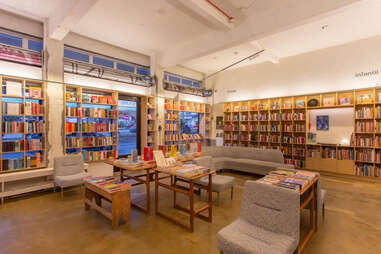 As the project took shape, Blanche also reached out to his longtime friend Igi Ayedun, the pioneering artist and founder of HOA, Brazil's first Black-owned art gallery, suggesting that HOA take over the building's entire fifth floor. It didn't take much convincing.
"Guil and I are part of a generation of young people in Brazil that understands our actions can have a deep cultural impact," says Ayedun, whose work is concerned with dismantling colonialist ideologies. "This idea of a cultural hub that was deeply inclusive had long been a dream of ours."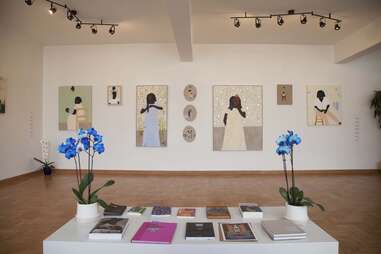 In the spring of 2021, after a year of interior refurbishments, Cora, gato sem rabo, and the HOA gallery opened. From the outside of 344 Rua Amaral Gurgel, nothing had changed—the graffiti hadn't been removed, and the paint was still cracking around the windows. But within a matter of months, word had gotten out about the reborn building. A line formed outside gato sem rabo, and Cora had a weeks-long waitlist.
"Neighbors would see the crowds and wonder if we were giving COVID vaccines," laughs Stein.
Fast forward to 2023 and the building's creative businesses are only gaining popularity and acclaim. Last year, Cora was dubbed São Paulo's second-best restaurant by Veja (Brazil's answer to the Michelin Guide). HOA's roster of artists now includes emerging and established talent such as painter Laís Amaral and photographer Rafaela Kennedy. And gato sem rabo hosts free weekly events honoring the contribution of female and trans voices in Brazil's literary history. Recently, 15 young poets gathered in the bookshop to read the works of Ana Cristina César.
For Blanche, the ultimate achievement has been winning over residents of Vila Buarque while promoting a "healthy friction" between locals and people from all segments of São Paulo's population. "I'm a great believer in cities," he says. "I think cities are our most precious tool for promoting social change."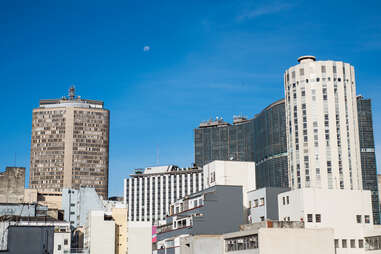 Currently, the 32-year-old entrepreneur is refurbishing five other mixed-use buildings in Vila Buarque. Three are being retrofitted by acclaimed local architect Gustavo Cedroni, whose firm Metro Arquitetos Associados is also leading the expansion of the São Paulo Museum of Art, one of the city's most important cultural institutions. But buzz aside, Blanche is committed to driving sustainable development and making sure that long-term residents still feel at home in their community.
Part of his strategy has to do with maintaining these buildings' façades without altering their appearance or breaking ground on new development. Blanche also refuses to use brokers to rent his storefronts, instead marketing these opportunities the old-fashioned way: through word of mouth and approaching local business owners first. Residences are available to rent in his buildings, but pricing begins at $500, ensuring a diverse mix of inhabitants. "In one of our buildings, for example, there's a local construction worker who lives alongside one of the most important female musicians from Brazil," Blanche explains.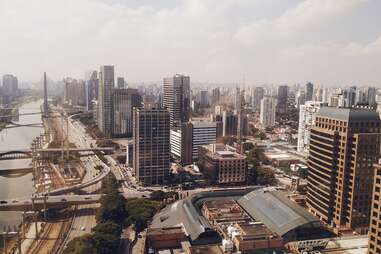 For Cedroni, the efforts of Blanche and the wider Planta.Inc team are in line with his visions for a more equitable and sustainable São Paulo. "Brazil spent so many decades demolishing things," he says. "I think the future is not to demolish and build from the ground up, but to establish a new method that saves more history—and resources."
From the rooftop of Cora, where people from all walks of life break bread and admire sweeping views of their city, it's impossible not to feel hopeful for what's on the horizon.