While it's easier for Americans to visit Cuba now more than ever, it's still pretty frickin' complicated. Especially if you're not willing to run a marathon through Havana. US laws restrict your itinerary, how much you can spend, how you pay, etc, etc... Yea, seriously, who's up for Puerto Rico?!?
But wait, hold on. Group IST, a New York-based travel company, has recently scored permission from the Treasury Department's Office of Foreign Assets to offer an eight-day tour under the government's "People-to-People" exchange program, and plan to have trips sailing by December.

Yea, that's the best part: You'll be staying on a luxury sailing yacht.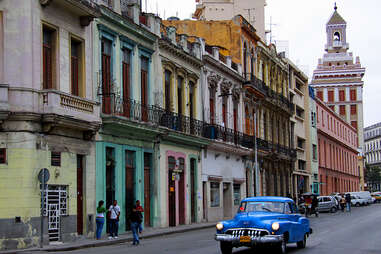 After flying from Miami to Havana, you'll spend two nights in the Cuban capitol smoking an inordinate number of cigars before boarding the S/C Panorama, a triple-masted mega-yacht that holds up to 49 passengers and 18 crew members. From there, you'll set sail for Cabo San Antonio, the mangrove-covered island of Cayo Largo, the Spanish colonial town of Trinidad, and finally Cienfuegos, "the Pearl of the South"; all the while stopping at coffee plantations, museums, and a UNESCO–designated Biosphere Reserve, not to mention a Sea Turtle Breeding Center along the way.
Cuban experts and interpreters will also be on-hand to help/force you to have meaningful interactions with locals and culturally immerse yourself -- no really, it's required. It's not called a "People-to-People" exchange for nothing.

So, what's all that small talk gonna set you back? About $4,490 (including airfare), to be exact. Get more details and book your trip, right here.
Sophie-Claire Hoeller is Thrillist's über-efficient German associate travel editor, and remembers her mom registering for a Cuban cell phone for the guide. Follow her @Sohostyle