Get Crafty with This Women's Cooperative Near an Indian National Park
A group of CEOs make beautiful handicrafts—and tackle injustices—at Dastkar Ranthambore.
If you visit the town of Sawai Madhopur in Rajasthan, chances are you're there to explore Ranthambore National Park. The park is one of India's finest tiger habitats and the pride of Project Tiger, a government initiative to protect big cats. But there's more to see in Sawai Madhopur than tigers. Take, for instance, Dastkar Ranthambore, where you'll find an example of a for-profit enterprise with social responsibility and development at its core, along with some of the most beautiful handicrafts your tourism dollars can buy.
It all began with the tigers. Ranthambore might protect the big cats and bring in the tourists, but the creation of the park also displaced several local villages. As a result, the villagers needed guidance on resettling and finding an alternate way to survive after losing their farmland. In 1989, the Ranthambore Foundation invited Dastkar (an NGO that helps local craftsmen make quality goods and market them directly to consumers) to set up a center that utilized the unique talents of the displaced villagers—especially women—to generate income and sustenance.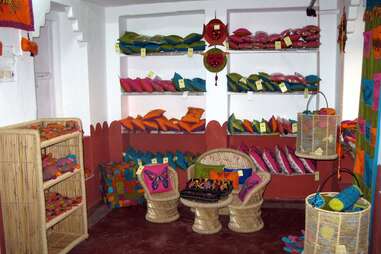 The resulting kendra (center) of Dastkar Ranthambore is an appealing stop on your way to Ranthambore National Park. You'll be welcomed to take a tour, talk to the groups of women sewing up a storm—and buy some crafts, of course. Inside the shop, rows of clothes, bags, toys, blankets, and jewelry fill the shelves. The motifs of local flora and fauna like tigers, bears, foxes, and endemic birds (such as the Grey Francolin and Rufous Treepie) are hand-drawn and carved into wooden blocks that are stamped onto the different colored fabric. In the workroom, rows of sewing machines churn away. The colorful kendra is a genuinely impressive sight to behold, especially considering its small beginnings.
Dastkar Ranthambore began in a tiny room. It has since expanded to become a profitable organization with all the amenities of a modern factory—including power generators, computer inventory systems, a water treatment plant, and automatic sewing machines. "When we started in 1989, we had 100 women from the village of Sawai-Madhopur," explains Ujwala Jodha, who has been the director at Dastkar Ranthambore for the past 25 years. "Today we have about 370 from five villages across three districts in the area."
A few years ago, the women were even able to use their profits and buy back the land from the Ranthambore Foundation. "When they see the power of the collective, they are optimistic about our continued success," says Jodha.
But despite this success, the mission of the business hasn't changed; it still focuses on sustainability and profitability for the community and its members. And it's still, as Jodha puts it, a center "for artists by artists" that's "independently owned and governed by the women we employ."
Today, the women of Dastar Ranthambore collectively manage every aspect of the business model. "We involve everyone in the running of the kendra," says Jodha. "The women take turns at various jobs, including marketing, designing products, choosing colors, vendor management, and planning bazaars."
Many women have gained financial independence as a result of their work with the collective. In fact, in 2018, Dastkar Ranthambore had an annual turnover of around INR 1.3 crore ($178,000), up from INR 22 lakhs ($30,000) in just under seven years. Today it is closer to $250,000. For the women here, financial independence is crucial. With money in their bank accounts, they can hold their heads up high in a society that has systematically oppressed girls and women.
"When we started bringing in more money than our husbands, who are farmers, our families started respecting us," says Rameshwari, one of the founding members of Dastkar Ranthambore.
The collective has also provided another benefit for women like Rameshwari and another founding member, Shameem. "We are from different castes and religions, but we put that aside when we come to work," says Shameem. "Here we are best friends and equals." This inclusivity and sense of oneness is especially important in the area's highly patriarchal society.
From a tourism perspective, there are a lot of reasons to visit Ranthambore. Of course, going on a wildlife safari deep in the jungle is top of mind. You can also hike up the historic Ranthambore Fort and visit the Rajiv Gandhi Regional Museum, which showcases plants, wildlife, natural resources, and the geology of western India. The lodging options here are just as diverse as the landscape. They range from the ultra-luxurious Sujan Sher Bagh tented camps ($1,200 per night), to the palace-sized property at Nahargarh Ranthambore ($900 per night), to more affordable accommodations like Jungle Cave Resorts ($175 per night).
But most visitors agree that spending time with these women is a beautiful part of their overall Ranthambore experience. As Jodha puts it, "It is a beautiful thing to witness this group of unschooled CEOs tackle major issues like social injustice and caste biases to bring forth a sense of community that goes far beyond commercial success."