The Ultimate Guide to Visiting Death Valley National Park
Welcome to the land of extremes.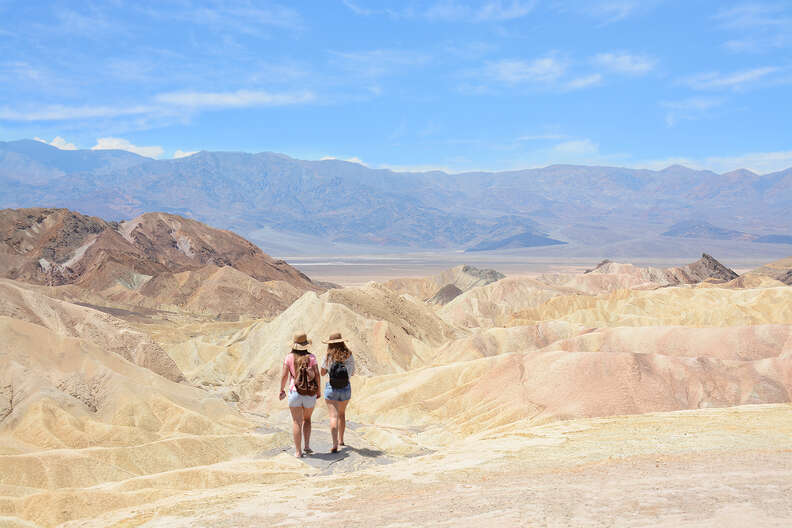 Death Valley National Park

| Margaret.W/Shutterstock
Death Valley National Park

| Margaret.W/Shutterstock
Death Valley is a place of extremes. It's the largest national park in the Lower 48. It's the driest place in the country. It's the lowest point on the continent. It's also, on average, the hottest place on Earth: On July 10, 1913, the mercury at Furnace Creek hit 134 degrees, the highest air temperature ever recorded. (Due to the unknown reliability of records from that time, some might question that account, but never fear—Death Valley once again clocked in at nearly 130 degrees in August 2020 and July 2021).
A place so vast and inhospitable, Death Valley got its name from California-bound pioneers in 1849. (The bleak nomenclature continues throughout the park, in places like Desolation Canyon and Last Chance Mountain.) Behind the intimidating title, however, you'll find remarkable desert scenery, deep solitude, and astonishing perseverance—from the schools of tiny pupfish that eke out a tenuous existence in America's driest desert to the once-a-decade wildflower "superblooms" that make this one of the best parks to visit in springtime.
A popular day trip from or en route to Vegas—it's around three hours by car from LA, and two hours from Sin City—Death Valley isn't an obvious blockbuster like Yellowstone or Zion. It's a slow burn, a mood piece that's more about atmosphere than action. (It's also why dozens of films, including Star Wars Episode IV: A New Hope and Episode VI: Return of the Jedi, were filmed here.) Death Valley is big, empty, and remote. The occasional signs of life that you do encounter—an abandoned mine shaft, a 25-foot-tall sculpture of a nude Lego woman—are all the more intriguing for the unlikely feat of being there at all.
The best time of year to visit Death Valley? Not summer.
Unless you're an extreme ultramarathon runner, we see no reason to visit Death Valley in the summer when temperatures are regularly above 120 degrees in the shade. If you find yourself there during extreme heat, stay in your car as much as possible (with the A/C on and plenty of gas in the tank), and drink water and electrolytes like your life depends on it—because it does!
The spring wildflower season stretches from mid-February to mid-July, meaning you've got a pretty big window to catch Mother Nature in action. The carpet of desert golds and grape soda lupines that blankets the valley during large-scale "superblooms" are a rare occurrence taking place every 10-15 years. Still, there are usually blossom fields to be found somewhere in the park. Wildflowers bloom at different elevations at different points in the season, so be sure to plan hikes accordingly.
Late fall also makes a great time to visit for cooler temps. Visit in November and you may catch the 49ers Encampment, a week-long Western heritage festival with old-timey amusements like wagon rides, pioneer costume contests, and wheelbarrow races. Winter evenings are chilly but usually stay above freezing. It's a good time to explore the valley floor, but steer clear of the mountains where you'll find snow on the roads and hiking trails.
The time of day you go also matters
If you can, plan to stay at least one night. For one thing, the park is roughly the size of Connecticut, and attractions within it are very spread out. The other benefit of staying overnight is experiencing how beautiful the desert is when the sun and heat die down.
The best hiking happens at dawn and dusk when the yellow and gold-toned earth seems to glow at Zabriskie Point and you can walk the tightrope that forms at the top of each sand dune where the light and shade meet. The Mesquite Flat Sand Dunes at sundown are also an unforgettable sight: as the stars slowly take over the night sky, the amber desertscape transforms into an otherworldly lunar terrain. (Just don't forget to bring a flashlight. Unfortunately, the stars cannot guide you back to your car!)
While you're here, take the opportunity to soak in the glorious night sky. Death Valley is a Gold Tier Dark Sky Park, the highest level awarded by the International Dark Sky Association, meaning in addition to being one of the hottest places on Earth, it's also one of the darkest. The vast open skies and lack of light pollution make this prime stargazing territory (it even has its own Dark Sky Festival). And if you think places like Mesquite Flat Sand Dunes or Badwater Basin are otherworldly by day, just wait until you see them by the light of the full moon.
What to know before you go and where to stay in Death Valley
Entrance fees are $30 per vehicle for seven days. Within the 3.4 million-acre park, distances between sites are vast and phone reception is spotty. Before you enter, stock up on gas, food, and lots of water (the recommended consumption is a gallon per person, per day).
Inside the park, the three places you can buy gas and food are also your three hotel options: the resort accommodations at The Oasis at Death Valley, or the cheap(ish) and cheerful motel rooms at Stovepipe Wells Village and Panamint Springs Resort. All three also have campsites, some with RV hookups, and easy access to facilities like restaurants and swimming pools.
At The Oasis, there are two distinct lodging options that each recently underwent a $100 million renovation: the family-friendly Ranch at Death Valley, where you'll also find the lowest-elevation 18-hole golf course in the world; and the AAA Four-Diamond Inn at Death Valley, a luxurious retreat in the middle of the desert with a spring-fed pool and classic Mission California architecture dating back to 1927.
Stovepipe Wells and Panamint Springs are pretty simple and straightforward. The rooms at Stovepipe Wells are much more updated and modern compared to the older motel rooms at Panamint Springs, while Panamint Springs also offers brand-new "cabin-style" motel rooms as well as a surprisingly great selection of craft beers in their bar, if such things matter to you. And Stovepipe Wells even keeps the lights dim at night so as to keep light pollution to a minimum for stargazing, if those such things matter to you.
If you're looking for a more affordable option or something closer to nature, there are nine NPS-administered campgrounds in the park. Emigrant Campground is tent-only, while Furnace Creek has RV hookups. If you're planning on spending more than one night, consider basing yourself in different sections of the park to cut down the driving time between sites.
The most incredible things to see in Death Valley
Death Valley's headline attraction is Badwater Basin, a 200-square-mile salt flat at the bottom of the valley. Its claim to fame? At 282 feet below sea level, it's the lowest point in North America. It's roughly half a mile from the parking lot to the salt flat's smooth white interior for an obligatory photo. There are no fences or trails so you're free to roam for as long as you can handle the heat that gets trapped on the valley floor. For a different perspective, Dantes View offers a stunning view of Badwater Basin from 5,575' above; the icy white glare of the salt flats looks like a sparkling river below.
In the same section of the park as Badwater Basin, you can easily hit two great photo ops. One is Zabriskie Point, a hilltop lookout over barren yet beautiful terrain. It's a panorama of canyons, cliffs, and dense folds of earth in multiple shades of yellow, red, and brown. You can snap a pic and be on your way, or hike right into the otherworldly landscape along the 2.5-mile Badlands Loop trail.
Even cooler is Artist's Drive, a nine-mile scenic detour that takes you past a spot called Artists Palette. Whereas the rest of the landscape you'll see in the park is essentially desert colored, here mineral deposits have made the rocks look like a dropped eyeshadow compact of pinks, purples, blues, and greens.
Further afield are the Mesquite Flat Sand Dunes, aka the sand dunes of Tatooine from Star Wars. This isn't the only dune field in the park, but it is the largest and most accessible. Give yourself ample time to hike, board, and photograph the sandy hillscape. At sunrise or sunset, you can take amazing high-contrast shots of 100-foot-tall dunes with one side completely darkened by shadow.
The deeper you go into the desert, the stranger things get. And if you go deep enough—and we mean way out there—you may or may not encounter some giant boulders that mysteriously move on their own. Head out to the Racetrack, a remote, 3-mile-long playa (or dried lakebed) where you'll spot the famous Death Valley sailing stones: a drove of rocks that slide across the land all by themselves, sometimes leaving 1,000 foot-long trails in their wake. Nobody has actually seen them move in person.
Like many things in Death Valley, getting to the Racetrack requires a serious trek, so make sure you're fully equipped for the journey with four-wheel drive and heavy-duty tires. Bring extra water and prepare to take Google Maps analog. (Note: Many who've made the trek report that it takes about six hours—one way—of rough driving in a high-clearance 4x4 to reach the Racetrack. In an anecdotal worse-case scenario, one parkgoer got two flats out there, then had to get another adventurer to drive him into civilization for new tires and back again, resulting in a 12+ hour excursion where they never even made it to the Racetrack. Though the final destination will fascinate you, this is not a casual undertaking!)
If you have a real sense of adventure and a few days to spend in the park, there's an even more under-the-radar spot called Saline Valley Warm Springs on the park's western side. Getting there requires several hours of slow driving over bumpy, rock-strewn dirt roads—it's not a journey for the faint of heart or those who can't change a flat. But you'll be rewarded for your efforts with a desert oasis: a surprisingly well-kept campsite, three large spring-fed soaking pools, a bunch of friendly donkeys, and a free-spirited (clothing optional) vibe. Welcome to the weird, wild West.
Challenge yourself with a dazzling desert hike
Many of the most scenic spots in Death Valley are easily accessible by car with only short walks required to see "the thing:" Badwater Basin, Zabriskie Point, Artist's Drive, Mesquite Flat, Dantes View, et cetera. But for those who like to strap on their packs and hiking boots, there are countless other ways to explore the park on foot.
For a park that's known for its relentless, sun-baked beauty, there are a surprising number of slot canyons scattered throughout, offering plenty of shade and respite from the intense sun and heat as well as plenty of challenges for the adventurous hiker. Sidewinder Canyon is one such example, stemming from an unmarked trailhead in designated wilderness. After a short walk through open desert, the fun begins as you enter the mouth of the canyon and explore the four main slot canyons within, which at times require you to climb up and over boulders, crawl on your hands and knees, squeeze through tight spaces only a foot-and-a-half wide, and climb dry falls in pitch-black darkness with only the light of your headlamp to guide you. There's lots of pretty scenery and LOTS of scrambling, making this more of an obstacle course than a straightforward hike. Two of the side canyons have no official endpoint, meaning you can continue as far down as you want, but for most, this hike ends up being around five miles.
If you're not up for all that isolated backcountry scrambling (or you're not a fan of confined spaces), check out the Natural Bridge Canyon, located off of the Artists Drive Scenic Loop. A short hike of under half a mile takes you to a 50-foot-tall natural bridge, but you can venture beyond that to enjoy the views inside the canyon. The walls get narrower and narrower until you arrive at 20-foot-tall dry falls, a roughly 3-mile roundtrip hike in total.
You might not think of mountainous peaks when you think of Death Valley, but rest assured, there are peaks to bag. One of the most scenic is Mount Perry via Dantes Ridge, a roughly 9-mile hike that starts at Dantes View and follows the ridgeline to the summit with stunning views of Badwater Basin and the surrounding valley to distract you from any fear of heights. This is a fairly strenuous hike with lots of ups and downs and no escape from the sun or wind, but the views are worth it.
For serious outdoorspeople, Telescope Peak is a must. At 11,043', it's the highest peak in Death Valley, and on a clear day from the summit, you can see over one hundred miles in any direction, including Mount Whitney—the highest point in the lower 48 and a bucket list peak for many hikers—to the west. The standard route is about 14 miles roundtrip starting at Mahogany Flat Campground and gradually gaining 3,000' on the way to the top. Those who like a challenge can take the climbing route that starts at Shorty's Well in Badwater Basin, 262' below sea level, and jumps more than 11,000' to the summit over 15 miles one-way. This one is best done as a backpacking trip, but doable in one very long day by very experienced hikers.
In a relatively remote area near the park's northern borders, you'll find Ubehebe Crater, a volcanic crater 600 feet deep and half a mile across. Your options here are to hike one mile to Little Hebe Crater, make the two-mile loop hike around the rim of Ubehebe Crater, or hike all the way down to the bottom of the massive crater itself. Fair warning: as steep as it is on the way down, it's so much steeper on the way back up—500 feet of gain in a quarter of a mile is grueling no matter fit you are.
And for a truly surprising desert oasis, head to the far western edge of the park just past the Panamint Springs Resort to Darwin Falls, an 18-foot year-round waterfall surrounded by lush green vegetation that you would never, ever believe could be found in a place aptly called "Death Valley." The hike to the falls is 2 miles round-trip (note that there are stream crossings and slick rocks to climb over), but no swimming in the water, please: this is the water source for the resort.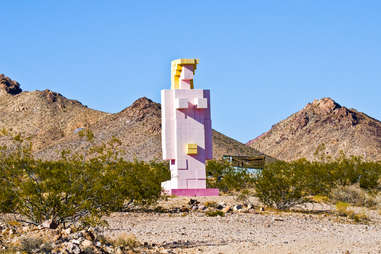 Explore the land of eccentric art and extraterrestrials
As you'll come to realize during your stint in Death Valley, mega-heat makes people do some outlandish stuff. That means the weird-ass mirages you're seeing along the US-95 aren't psychic visions: it's actually just some desert art. If you're rolling down the highway between Death Valley and Vegas, stop off at Lady Desert, a 25-foot-tall Venus de Milo made of Legos, and the Goldwell Museum, an open-air sculpture park created by Belgian artists. Nearby, you'll also run through the town of Beatty, known for its Wild Western vibes and adorable wild burros that roam free; it's also worth mentioning that this is a great place to kick off a road trip down Nevada's Extraterrestrial Highway, where you'll meet die-hard believers, curious skeptics, and—if you're lucky—the little green men themselves.
Sarah Theeboom is a freelance food, travel, and lifestyle writer. She's hiked the W in Patagonia, Kilimanjaro in Tanzania, and Everest Base Camp in Nepal. Check out her hideous red hiking fanny pack (with special water bottle compartments!) on Instagram and tweet style advice @sarahtheeboom.
Nicole Rupersburg
is a freelance writer covering food, travel, arts, culture, and what-have-you. She winters in Las Vegas and summers in Detroit, as does anybody who's anybody. Her favorite activities include drinking beer and quoting Fight Club.
Tiana Attride contributed reporting to this article.