Pay Tribute to a Pioneering Female Journalist at This New Orleans Hotel
Extra! Extra! Read all about it!
Photo courtesy of The Eliza Jane
Photo courtesy of The Eliza Jane
If the vibrantly colored paneled walls of The Eliza Jane hotel could talk, they'd probably have a lot of news to share. At the very least, they've surely been listening as guests come and go, offering silent attention in response to the oft-repeated question formed on countless visiting lips: Who the heck is Eliza Jane?
The walls can't tell you, but General Manager Michael Klein sure can. He says the question is so common that management has included relevant talking points in their employee orientation process. When I asked about her at check-in, I was also given a pamphlet with a short bio.
The hotel's lesser-known namesake is Eliza Jane Nicholson, the first woman publisher of a major metropolitan newspaper in the United States. She owned and operated The Daily Picayune for 20 years, and the 19th-century warehouses that housed the paper (alongside businesses like gunpowder manufacturer Peters Cartridge Shop, the Gulf Baking Soda company, and botanical spirits maker Peychaud's Bitters) have since been transformed into the Hyatt Unbound Collection hotel. The paper is still around today, though it goes by the name of The Times-Picayune—or Nola.com online.
"We use Eliza Jane really as our inspiration because she was a storyteller who brought community elements together," explains Klein. "Her medium was the paper, and we feel that that medium is an inspiration, tying into the community and telling stories that are unique to New Orleans."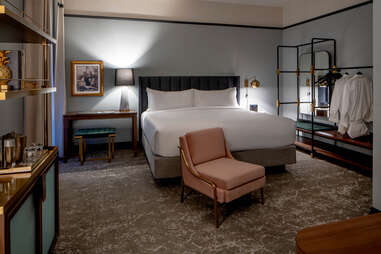 The hotel honors Eliza Jane and the historic newspapers of New Orleans (the property's Magazine Street location is also a half block away from the city's historic Newspaper Row) through its design. Much of the building's original brick, masonry arches, and metalwork still remain, now adorned with marble accents. Look closely for details like a hallway papered with newspaper designs, or antique typewriters in some of the hotel's 196 guest rooms (mine greeted me with a typed welcome note).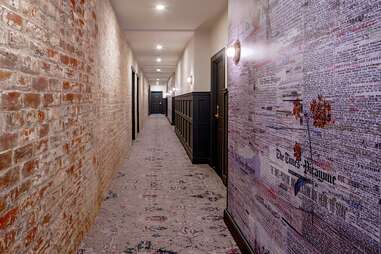 You'll find similar artifacts in the Press Room lobby lounge, where craft libations and small plates are served up in a decidedly literary space. The cranberry-colored paneled walls are rimmed with bookshelves, featuring hardcover books and vintage typing implements, along with other decorative touches. The seating area is grand yet comfortable, with leather and velvet upholstery, a marble fireplace, and brass light fixtures.
You may wish to sit and snack, maybe read a book, but it's also the perfect place to contemplate the accomplishments of Eliza Jane. Born in 1843 near Pearlington, Mississippi, fiery-haired Eliza Jane Poitevent grew up visiting her grandfather in New Orleans. As a young woman, she went on to submit her writings to the city's newspapers, including The Daily Picayune, under the pen name Pearl Rivers, eventually moving to the Big Easy to pursue a career in journalism.
"We know that writing was something that was a lifelong passion of hers," explains Amanda McFillen, director of programs and interpretive services at The Historic New Orleans Collection. "I don't know why she wanted to do it professionally, except that she just had this very strong desire to have her work published and be recognized for it and to be paid for it."
Eliza Jane was hired as The Daily Picayune's literary editor in 1870. Two years later, she married the paper's owner. When her husband passed away in 1876, Eliza Jane inherited the paper, which then was on shaky financial ground. She began making what were innovative changes at the time, including expanding the paper's subscription base. Over the course of two decades, she added sections to the paper that appealed to different readers, such as an advice column, sports reporting, and stories of interest to women and children. She also mentored other women writers and gave advice columnist Dorothy Dix her start.
"She was very passionate about writing, but she was also a really savvy businesswoman," says McFillen. "Within a few years, she had paid off the debt and had made it a very profitable newspaper."
Credit should also be given to the fact that Eliza Jane had a great staff, which included her business manager, George Nicholson, who she eventually married. While Eliza Jane passed away in 1896, ownership of The Daily Picayune remained in the family until the 1960s, a legacy that really speaks to Eliza Jane's success as a businesswoman and journalist.
And then, of course, there's the legacy of The Eliza Jane hotel. Located within New Orleans' Central Business District, two blocks north of the French Quarter, you'll find that richly colored lobby accented by a patterned tiled floor. A marble-topped bar sits under a glass canopy, across from the Press Room lounge. If you fancy some open-air relaxation, you can also sit in the hotel's open-air courtyard, where greenery meets the building's original exposed brick and a fountain designed by a local artist adds a little dramatic flair.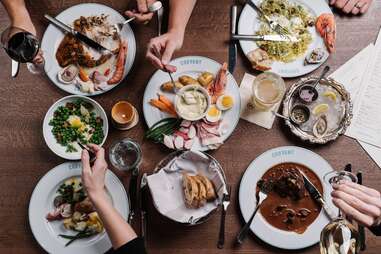 Arched passageways connect the hotel to French-inspired Louisiana brasserie Couvant, located in the portion of the former warehouse that once housed the Peychaud Cocktail Bitters factory, which shared the space with the newspaper.
Under the direction of Executive Chef Ryan Pearson, Couvant draws upon Louisiana's coastal and agricultural bounty for dishes that include shrimp and grits, gougères, and duck confit—plus an impressive Côte de Boeuf for two. A standout item is the Raclette Burger, available only at lunchtime and completed tableside with the scraping of this Swiss cheese from a cast iron pan onto a dry-aged patty. Originally, Pearson was dead set against a burger, but presenting it as an experiential dish changed his mind. "I still give him a hard time that it's there but I love the fact that we have it," says Klein.
The hotel also recognizes Antoine Peychaud, who founded Peychaud's Bitters. He's
the influence behind The Eliza Jane's new in-house bitters aging program, the Publisher's Alchemy, which will develop custom aromatic spirits for the craft
cocktails served at the Lobby Bar and Couvant.
And what might Eliza Jane have thought of her namesake property, from the luxe guest rooms to the brasserie? Whatever her opinion might have been, she would have been sure to let everyone know. McFillen notes that she was not shy about expressing her thoughts, explaining that she was once misattributed as a "Mister" by Field & Stream. She corrected them on the error, "and they wrote her this wonderful, very funny reply where they apologized profusely," says McFillen. "She was definitely in a male dominated sphere for her entire career and had to navigate this continuously throughout her career. And I think she did it with a lot of spirit."