These Stunning Islands in The Bahamas Really Do Deserve The Hype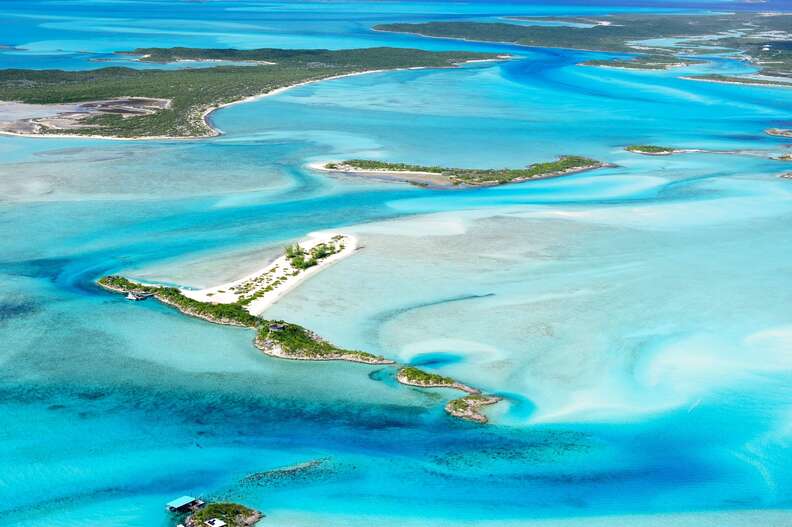 Exuma

| Bahamas Ministry of Tourism
Exuma

| Bahamas Ministry of Tourism
You've binged on all things Fyre Festival, whether it's one of the documentaries about the disaster, or reading about how it affected the Bahamas and Exuma, which played host to hordes of hoodwinked hype beasts. Or maybe you've just seen those swimming pigs plastered all over Instagram. But here's the thing: beneath the hype and beyond the headlines, Exuma is undeniably one of the most beautiful places on the planet.
Head down to these crystalline waters and you'll discover 365 cays (pronounced "keys") in total -- you could explore one island each day of the year, if you wanted and could swing that much time off work. On some, you'll meet warm, affable locals, frying up conch shell or pouring you a piña colada. On others you'll come across turtles and stingrays, baby sharks and friendly iguanas -- and yes, those famous paddling pigs. But no matter where you go, you're never far from an untarnished white-sand beach, fringed by palm trees swaying in the breeze and lapped by the bluest ocean you've ever seen.
Get thee to Exuma. You won't regret it. Here's everything you need to know when you go.
Practically every beach is Exuma's best beach
Visit Exuma and you're spoiled for choice. The very most vacation-brochure-ready is the crescent of white sand known as Tropic of Cancer beach (because the eponymous line of latitude runs right across it). Palm-dotted Coco Plum is the family-friendly choice for shell-hunting, while Three Sisters -- named after a distinctive trio of rocks offshore -- boasts and expanse of fine, white sand shores. Stocking Island is best for coral reefs and sea caves – and there's a volleyball net at Chat 'n' Chill if you want to go all Top Gun. For the full, unadulterated Robinson Crusoe experience (minus the whole abandoned-for-years thing, hopefully) set sail via powerboats for the horseshoe-shaped deserted island, Saddleback Cay.
Show. Me. The piggy.
Okay, okay, we get it – you've seen the famous swimming pigs all over the internet, and now you want your own shot, goddammit. Most of the tours pick you up from your hotel and take you to Pig Beach on Big Major Cay. This is popular for two reasons: Big Major Cay has the largest population of pigs (including tiny Insta-genic piglets), and you can tie in a visit to the ethereal, James Bond-famousThunderball Grotto on Staniel Cay at the same time.
Though the options above are tried-and-true, consider an alternative: the half-day trip with Exuma Water Sports, which whisks you to a series of islands including White Bay Cay, where you'll find a posse of playful swimming pigs on a less-touristed beach. For me, though, the real highlight was not the pigs, but the iguanas on Allen Cay, because they look so nasty but play so nicely. You'll also make stops to stroll on a sandbar, watch sea-carved blow-holes dramatically explode, and climb a short path with holy-shit ocean views at the end. And there's unlimited beer. Just saying.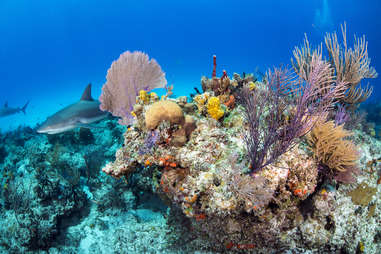 Water sports are the ultimate activity
Exuma Water Sports is also your go-to for jetski rental and kayaking, while Exuma Kitesurfing has you covered for – you guessed it – kitesurfing. Dive Exuma will teach you to scuba dive (if you haven't taken our advice already), then take you down into mystical blue holes, across colorful coral reefs, and even give you a tour of their own purpose-sunk shipwreck -- the hope is to create new reef habitat for wildlife. You can charter your own boat at Staniel Cay Yacht Club, where a guide take you deep-sea fishing, or stick to paddleboarding in the shallows.
Prepare to spend a lot of time with a snorkel strapped around your head; the clearest water (not that any of it isn't) is in the protected Exuma Cays Land & Sea Park, between Shroud Cay and Bell Cay. If you'd rather stay on dry land, you could hike a nature trail and admire the wild orchids, while asking yourself why you came to a place surrounded by ocean on vacation in the first place. Just north of Great Exuma is the starfish reserve, where you can see dozens of the five-pointed creatures waddling (slowly) across the sand. For an emergency rainy-day activity (especially if you've got stir-crazy kids), try Sandpiper Arts & Crafts in Georgetown.
Can I actually dive down to that underwater plane wreck?
Newsflash: not everything on the Fyre Festival promo video was factually accurate. Still, there really is a submerged plane wreck in Exuma, although scantily-clad Instagram models almost certainly won't be snorkelling around it when you're there. It's off the coast of Norman's Cay, which is pretty difficult to access unless you happen to have your own plane or yacht (or the cash to charter one). As for its reputed drug-smuggling origins: nobody really knows, but it definitely crashed around the time that Pablo Escobar's BFF Carlos Lehder owned the island.
Where to stay in Exuma
Believe it or not, there are much better options that Billy McFarland's infamous hurricane shelter tents. If you've got the budget, splash it on the dreamy Grand Isle Resort, where the cliffside pool overlooks a mile-long stretch of sand, and European-style luxury villas are nestled between the palms. Further down the beach is Sandals Emerald Bay, an all-guns-blazing resort with 12 (yes, twelve) restaurants, six bars, and a pro golf course designed by Aussie legend and one-time choker, Greg Norman. If you're after something a little more wallet-friendly, try Peace and Plenty for its handy location in Georgetown (don't worry, you're still right on the beach) or Hideaways at Palm Bay for cutesy cottages opening straight onto the sand. Lumina Point Resort is a honeymoon hotspot in splendid isolation out on Stocking Island, while Paradise Bay Bahamas has private, pastel-painted beach huts and a low-key, laid-back vibe.
The best restaurants in Exuma
The pick of the fancy-ish, you-might-actually-have-to-put-some-pants-on restaurants is poolside Palapa at Grand Isle – it's all about Caribbean jerk seafood, plus weekly barbecues on the beach. Over at Lumina Point, you've got Blu on The Water, where you'll find fresh conch on the menu and – if you're lucky – turtles and sharks swimming in the dock. Mix it with the locals at the fish Fry shacks in Georgetown (Shirley's is everyone's favorite). And don't forget to give you support (and custom) to Exuma Point Bar & Grille – you'll remember owner Maryann Rolle as the restaurant manager from the Fyre documentary (she lost $50k of her own money in the fiasco).
The best bars in Exuma
Chat & Chill is an essential Exuma experience – take a water taxi out to Stocking Island, then… just chat and chill, duh. On weekends, expect big barbecue bonanzas, including whole pig roasts (not the swimming ones though, I was assured). If cocktails and cabanas are more your scene, live it up at the new-for-2019 23 North beach club. And absolutely, definitely set aside plenty of time for Big D's Conch Spot. There's nothing to there really, apart from swim in the sea and pose on the brightly-painted beach chairs, but you'll happily waste away an afternoon there anyway – especially when the gregarious (and admittedly very big) proprietor Darren Tucker is attentively supplying you with Carib beers and his signature fried conch snacks.
How do I get to the Exumas?
It's easier than you'd think. Make your way to Miami, then take American Airlines' little brother, American Eagle, direct to Georgetown – the views of the cays below are so good it would almost qualify as a sightseeing flight, but make sure you do remember to actually disembark on Exuma. If you're clued up on cheap flights, you can usually score a good deal on flights to Miami, from just about any major airport in the US.
When's the best time to go to Exuma?
Wall-to-wall sunshine makes November to April the high season, but even then, the beaches are hardly crowded. May is a good call for good weather and lower hotel rates, or you can chance it in the hot and wet hurricane season (June to November). Go at Christmas for the annual batshit-bonkers Junkanoo festival, or in February if you're into sailing, for the Cruising Regatta in Georgetown. There's also this hyper-cool exclusive luxury music festival that's all over Instagram – apparently literally every cool person in the world is going, and I just got my ticket for only $50k from this guy I met called Billy… oh, wait. Dang.