Spend just $325,215 and visit 20 iconic/exotic movie locations
"Every man dies. Not every man really lives!" So start livin', Mel, and book a sabbatical from work to go on this exclusive tour of the world's most famous movie locations with VeryFirstTo. The epic endeavor'll ensure you rack up a lot of in-flight films as well -- exploring 10 countries over the course of three months, you'll walk in the footsteps of 20 iconic, cinematic spots.
As you'd expect from a trip with this kind of price tag, everything's mega-luxe: tours are private, flights are business class, and accommodation is exclusively in fancy-pants hotels like the Hotel Bel Air, the Four Seasons Paris, and the Mandarin Oriental Tokyo. Because YOLO.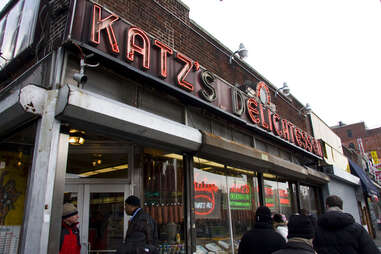 18. Alcatraz -- San Francisco, CA
Escape from Alcatraz (1979)
Live it: No one will stop you from trying to leave, but you can hide on the ferry back to San Francisco and pretend you're being followed.
17. United Methodist Church of La Verne -- La Verne, CA
The Graduate (1967)
Live it: Find yourself a cougar, dawg.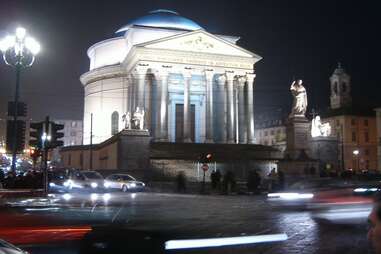 16. Church of Gran Madre Di Dio -- Turin, Italy
The Italian Job (2003)
Live it: Rent a Mini Cooper and floor it around town; stealing gold is optional.
15. The Trevi Fountain -- Rome, Italy
La Dolce Vita (1960)
Live it: Find yourself a hot Swedish-American chick and take a dip in the fountain (just make sure she's single first).
14. Macchu Pichu -- Peru
The Motorcycle Diaries (2004)
Live it: 1) Rent a motorcycle; 2) Grab your bestie; 3) Try like hell to survive -- driving in South America's absolutely terrifying.
13. Wadi Rum Desert -- Jordan
Lawrence of Arabia (1962)
Live it: Rather than fight endless battles, find yourself a camel and canter through the desert in a flattering tunic.
12. Petra -- Jordan
Indiana Jones and The Last Crusade (1989)
Live it: Find some Nazis. And the Holy Grail. And Sean Connery... wow, this movie had it all!
11. Ko Phi Phi Leh -- Thailand
The Beach (2000)
Live it: Grab a harpoon, hunt dinner, and make love to a French beauty. This is the life, man. You might never go home, either.
10. Glen Coe -- Scotland, UK
Braveheart (1995)
Live it: OBVIOUSLY you're going to sprint down a hill yelling FREEDOOOMM at the top of your lungs. You've been doing that since touching down in Scotland.
9. Bookshop -- Notting Hill, London, UK
Notting Hill (1999)
Live it: Hang around bookshops trolling for American women (preferably while faking a British accent).
8. The apartment -- Paris, France
Amélie (2001)
Live it: Creep around town while stalking people and scheming, but in an adorable way (?) so no one files a restraining order.
7. The apartment -- Paris, France
Last Tango in Paris (1972)
Live it: Two words: Anonymous sex.
6. Imperial Palace -- Kyoto, Japan
The Last Samurai (2003)
Live it: The ascetic and disciplined lifestyle of a Samurai is not for you. Next.
5. Park Hyatt Hotel -- Tokyo, Japan
Lost in Translation (2003)
Live it: Find a much younger hottie and bond over mutual existential ennui.

4. Forbidden City -- Beijing, China
The Last Emperor (1987)
Live it: Employ eunuchs to wait on you, hand and foot. Alternatively, order room service.
3. Wudang Monastery -- Wudang, China
Crouching Tiger, Hidden Dragon (2000)
Live it: Work on your swordsmanship. No sword handy? Grab a big-ass steak knife... and indulge in some fine bovine.