Climb Mountains & Cruise Around Fjords in New Zealand's Largest National Park
An abundance of awe awaits at Fiordland.
Welcome to
(Inter)National Parks: Adventures in the Global Outdoors
, where we transport you to the world's most incredible protected lands, nature reserves, and marine sanctuaries, from the slopes of Western Canada to the vast grasslands of Botswana to the fjords of New Zealand. For more on these far-flung natural wonders—plus travel tips and expert interviews—check out the rest of our coverage
here
.
In a land renowned for rugged beauty and heavenly wilderness, Fiordland National Park stands apart for its almost otherworldly splendor. Made up of nearly 5,000 square miles of New Zealand's southwesternmost reaches, it's the biggest of the country's 13 national parks, and perhaps the most majestic. Fiordland's varied landscape encompasses everything from craggy coastlines to glaciated peaks, dense forests pocked with turquoise-tinged lakes to sheer cliff faces veiled by free-falling cascades—much of it populated with endangered wildlife found nowhere else on earth. Simply put, Fiordland is as New Zealand as New Zealand gets.
For those thinking about traversing this vast terrain, an abundance of awe awaits. And yes, there will be fjords. It's just important to manage expectations: You're not going to see it all. Even lifelong Kiwis don't get to do that. As a visitor with a matter of days to work with, the best you can hope for is to focus on the "can't-miss" category. Let us help you with that. Here's your cheat sheet for making the most out of a foray into Fiordland.
Cruise around Milford Sound
Described by legendary novelist Rudyard Kipling as the "Eighth Wonder of the World," Milford Sound, also known as Piopiotahi, is undoubtedly the most famous fjord in all of Fiordland. But no amount of Instagram posts will mentally prepare you for the grandeur of gazing upon this serene inlet IRL. On opposing sides of the water, snowcapped palisades soar towards the sky. Carved by glaciers over millions of years, some boast sheer cliffs up to 4,000 feet in height. The triangular contour of mile-high Mitre Peak looms large at the mouth.
Magnificent as Milford Sound is, it's also a misnomer; sounds are formed not from glaciation, but when river valleys are flooded by the sea. You'll learn all this and more during a day cruise through the region. A 90-minute ride takes you nearly to the end of the inlet, slowing down at several scenic points of interest throughout. You might even enjoy a cameo appearance from the native wildlife. Fur seals, penguins, and bottlenose dolphins are all frequent visitors.
Because of the intense corrugation of the surrounding topography, navigating here from the nearest population center of Queenstown involves a roundabout four-hour drive. The good news is that it's one of the most scenic routes on the planet. It should be regarded, at a minimum, as a full day trip, with ample stops along Lake Wakatipu and Te Anau along the way (more on that below). Of course you can also get here by way of a 30-minute helicopter ride above the mountains. These depart from Queenstown daily and start at just over $500 per person. Extended excursions allow for multiple touchdowns in Milford Sound—and adjoining fjords—during a two-and-a-half-hour-long round trip.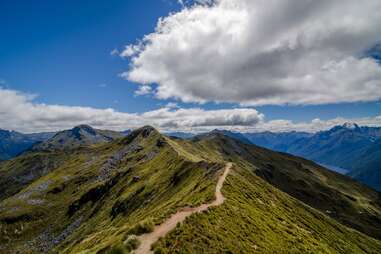 Explore a hiker's paradise
Fiordland National Park is home to some of the country's best hiking trails. There are literally thousands of established routes at your feet. And while there's never a bad time to explore, the park is best explored on foot between late October and May, when it's more likely to be cooler and dryer.
The Kepler Track is one of the most iconic options within the park. Hiked as a loop, it's 37 miles out and back from the trailhead in Te Anau. Many adventurers opt to make this a four day/three night camping excursion. But you can distill it down to a day hike by trekking up to Luxmore Hut to admire one of the most exposed panoramas of the entire route. The government maintains many such huts along its so-called, "Great Walks."
They can often be reserved for as little as $10 a night. If you want to stay in a hut, you'll want to secure it well in advance, though, especially if you're trekking during high season.
The 11th—and most recent addition—to the Great Walks network is the Tuatapere Hump Ridge Track. It's roughly the same distance as Kepler, but this one starts further south, along the coastline of Te Waewae Bay. As a result, it offers a beachier vibe at first, straddling the sand before slowly ascending 3,000 feet on its way to Okaka Lodge.
If you desire something far shorter—and much more family-friendly—the Lake Gunn Nature Walk checks both boxes. Less than an hour south of Milford Sound on State Highway 94, the well-kept track follows its namesake water feature through thickets of mossy beech. It's just 45 minutes roundtrip but you'll still get to take in some peak panorama.
If you can, be sure to carve out some time for a journey into the Te Anau Glowworm Caves, too. From town, take a quick cruise across the eponymous lake to arrive at a twisting cavern network lit only by bioluminescent beetles. The subterranean phenomenon was only discovered in 1948, but since then it has become an enduring local attraction. Tours start at $60 and include the boat ride.
How to get to—and around—Fiordland National Park
The nearest major airport to Fiordland is located in Queenstown. Sandwiched between the Southern Alps and stunning Lake Wakatipu, it is a small slice of Switzerland far south of the equator. You'll want to allocate at least a day here before and after your time in the national park to properly bookend your trip. While you're there, you can line up exactly how you want to navigate your travels. Renting a car is a popular choice, though you should look into four-wheel-drive options in case you face any inclement weather.
Motor coaches are another common way to get in and out of the park. New Zealand's largest bus network, InterCity, operates daily buses to Milford Sound each morning out of Queenstown and the park's primary hub of Te Anau. For roughly $100, you'll reach the inlet by lunch and make your way back to Te Anau by dinner. But if that's not fast enough for you, helicopters and seaplanes are yours for the booking—so long as you're willing to spend a premium and the weather's willing to cooperate.
Where To Stay
If a hut isn't for you, get into New Zealand's Freedom Camping law, rent a camper van, and overnight on the side of the road in designated car parks throughout Fiordland. However, if you're in search of something with indoor plumbing, your best bets are in Te Anau. A couple of four-star options here are well-worth the $150 per night premium. Distinction Luxmore Hotel Te Anau and Lakefront Lodge Te Anau, we're looking at you. Further up the road, you'll find even more pampering at the utterly scenic Milford Sound Lodge. Upmarket cabins here start at $300 per night, but they book up fast, so be sure to reserve them multiple months in advance.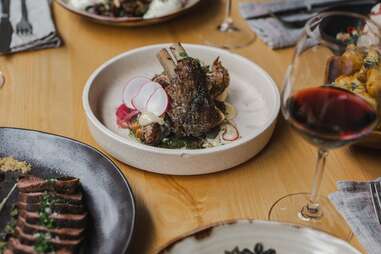 Where to grab a bite to eat
You probably didn't come to this part of the world for the fine dining. If you did, we applaud your appetite. And you'll be happy to note that there are some surprisingly cosmopolitan offerings in Te Anau. The Fat Duck is a dependable standout. It's a boisterous gastropub plating everything from pâté to pumpkin gnocchi and appealing to meat eaters and vegans in equal measure. Across the street, Ditto specializes in oversized bao stuffed with an array of well-seasoned proteins.
In contrast, there's slim pickings to be had in Milford Sound, so you'll want to stock up on supplies and sundries before heading up from Te Anau. Unless, of course, you're staying at the Milford Sound Lodge, where guests can enjoy nightly feasts at the acclaimed Pio Pio Cafe. There, you'll find slow-braised beef cheeks, locally-sourced lamb, and goat cheese croquettes afford a most comforting conclusion to a full day of fjording.
Ready to hit the park? Check out our tool kit to get started: