This Slice of the Florida Panhandle Is Extra Chill and Extra Gorgeous
The opposite of spring break in the Sunshine State.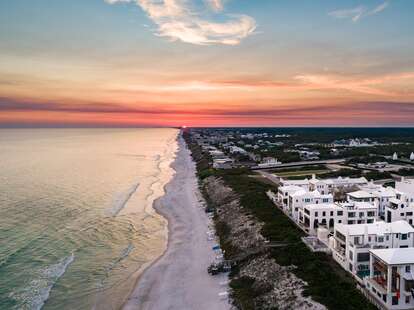 The side of Florida you probably didn't know about.

| Photo courtesy of Visit South Walton
The side of Florida you probably didn't know about.

| Photo courtesy of Visit South Walton
As a coastal dune lake slowly spills into the Gulf of Mexico, shades of blue, teal, and tan swirl together like watercolors. This geological phenomenon is something you'll only find in a few (mostly far-flung) places in the world, like Madagascar and New Zealand. You wouldn't expect this in a sleepy stretch of Florida's Panhandle—but that's the kind of transportative effect South Walton has.
Comprised of 16 laid-back beach communities, South Walton is not far from some of Florida's most popular beach towns—it's only 10 miles from Destin, 30 from Panama City Beach—but it feels lightyears away. South Walton is everything people love about the Sunshine State—powder-soft shores, turquoise-colored waters (they don't call it the Emerald Coast for nothing), and fresh-off-boat seafood straight from the Gulf—minus the spring breakers and shores crowded with high-rises.
Along the compact, 24-mile Scenic Highway 30A, which winds along the coast of the Gulf of Mexico, you'll be treated to one gorgeous sight after the next. Even if you're the kind of person who can't shut off, you'll literally be forced to slow down a bit. The towns alternate between funky and laid-back—take Grayton Beach, home of iconic dive The Red Bar—to postcard-perfect like Seaside, which you might recognize from The Truman Show. In other words, flip-flops are totally fine, but if you want to get glammed up for dinner, that wouldn't be out of place, either.
Whether you're road tripping from one of the neighboring Southern states or dropping in and posting up on a single stretch of sand, here is how—and where—to plan a trip to this overlooked slice of Floridian heaven hiding in the Panhandle.
Where to stay: Miramar Beach
One of the most bustling neighborhoods in South Walton, Miramar Beach makes for a great base. Here, you'll find Sandestin Golf and Beach Resort, a 2,400-acre complex filled with vacation rentals, hotels, restaurants, and four golf courses—so pack your clubs.
But it's hard to resist the allure of Hotel Effie, a 250-room hotel that's shiny and new, but, most importantly, home to a rooftop pool and bar called Ara with panoramic views of the bay. The cocktail program was designed by nationally lauded bartender Kellie Thorn, so expect to find showstoppers like the toasted coconut piña colada. The onsite restaurant, Ovide, is just as impressive—it's the brainchild of multiple James Beard Award-winning chef Hugh Acheson, who infuses French touches into the coastal cuisine. The hotel isn't on the beach, but it's only a five-minute (complimentary) tram ride away.
Santa Rosa Beach
Natural beauty, art, and indulgence are the three defining features of South Walton's largest community. Santa Rosa Beach is home to the artist colony at Gulf Place, the sprawling Point Washington State Forest, and beaches with powdery sand.
If donuts are a quintessential part of your vacation experience (they are for this writer), beeline to Dough Sea Dough in the morning. While you can choose toppings like bacon or cereal, a classic donut (with a hole) remains a standout. For a wider array of carbs, head to Parisian-inspired Black Bear Bread Co. for pastries and sandwiches (plus cold brew or a cappuccino a la Stumptown Coffee Roasters). Then, a stop at the sunflower-yellow Blue Mountain Beach Creamery is mandatory for a scoop of key lime pie or whatever is on the rotating menu.
All of that indulgence calls for, well, more indulgence. Distillery 98 specializes in small-batch vodka from family-farmed crops poured in an off-the-beaten-path warehouse. Their signature spirit, Dune Laker, is made with Florida-grown corn and filtered through Gulf oysters, which adds a little something-something to the flavor. For beer lovers, Idyll Hounds Brewing Company (located just next door) features more than a dozen beers on tap that rotate often, but keep an eye out for the easy-drinking Ghost Crab Pilsna.
For a taste of the arts, visit Modus Photography, where Chandler Williams sells his photographs of dreamy landscapes of South Walton's beaches and wetlands. Next door is Andy Saczynski's gallery, lined with funky folk art crafted with house paint, wood, and recycled musical instruments.
Grayton Beach
Grayton Beach is a coastal artist haven that offers eclectic charm in spades, but its real draw is one of America's most impressive coastal sights: Grayton Beach State Park, home to three coastal dune lakes formed thousands of years ago when shifting sand created shallow basins. These lakes can only be found in a few countries around the world. South Walton has 15, and they're the only U.S. coastal dune lakes aside from Oregon. Incredibly, these lakes are filled with fresh water despite only being a few feet away from the Gulf.
Rent a kayak and paddle around Western Lake—if you go in the late spring, you might see the water lilies in bloom. If you're a scuba diver, explore the Underwater Museum of Art, a permanent underwater sculpture garden located less than a mile off of the shore of the park's beach.
Don't leave without stopping by the infamous Red Bar, a place beloved for its kitschy decor (watch out for that disco ball) and fresh-from-the-Gulf seafood. The restaurant burned down in 2019, but the community chipped in to resurrect it a year later, commissioning a local artist to paint the front door and sourcing duplicates of memorabilia to hang from the ceiling and walls. Afterward, stroll around the neighborhood to admire the colorful houses and outdoor art wall, a gallery with more than a dozen pieces that continues to evolve as more art is added.
Alys Beach
One of several planned developments along 30A, Alys Beach is like a Florida version of the Greek Cyclades with its crisp white architecture. It's the most high-end of the neighborhoods—many amenities are off limits to visitors and there's a strict photo policy. That said, walking down the pathways lined with lush landscaping is a delight. Fitting the neighborhood's exclusive vibe, if you want to stay, you'll have to book a luxury rental.
The neighborhood's newest "tavern," The Citizen, is just as upscale as you'd expect. It has a beautifully designed dining room that sets a coastal tone with its deep blue hue and gold accents. The standouts dishes have been prepared in the wood-burning oven (think Korean-inspired smoked short rib) or caught locally, like the seared gulf grouper. Start the evening with a cheekily titled Big Dune Energy, cucumber-infused Dune Laker Vodka (crafted by Distillery 98), basil oil, lime, and strawberry balsamic.
Rosemary Beach
In the "neo-traditional" beach community (named one of "America's Most Romantic Small Towns"), everything is within walking distance of the colorful downtown area, where you'll find art galleries like Curate30A, which focuses on collectible fine art. While strolling along Main Street, grab a bite at the popular Cowgirl Kitchen, which serves casual Tex-Mex, or opt for the elevated seafood (literally, it's a rooftop) plates at Pescado. This is an 18+ spot for dinner, but all ages are welcome for brunch and lunch. Either way, it's an ideal place to grab a cocktail and soak up the Gulf views.
Sleep in the heart of 30A at black-and-white-striped The Pearl. The 55-room hotel is intimate and creates a sense of place with local art throughout its halls, and features balconies overlooking an easy-to-get-to private beach.
Seaside
In The Truman Show, Jim Carrey's character unknowingly stars in a reality show, set in an impossibly idyllic beach town. That's Seaside, and it required very little effort to make Truman's hometown seem like a paradise of pastel-colored houses and dreamlike beaches.
It's worth a stop to see landmarks like the famous white post office, but one of the coolest features in Seaside is Airstream Row. A group of restaurants—like Crêpes du Soleil and Frost Bites—set up shop in Airstreams along 30A, lending a little funk to the fluffed-up scenery. If you prefer to sit down with a grand view of the water, snag a table at Bud & Alley's, which serves classic Gulf fare like grilled head-on shrimp and seafood gumbo.
There's more than cute eateries and buildings in Seaside: Sundog Books, an independent bookstore that's been open for 30 years, is an absolute must. If you need a beach read, or just want to support a great local business, this is worth a stop on your trip.
Lia Picard is an Atlanta-based journalist writing about food, travel, and a variety of other topics. Her work appears in
The New York Times
,
The Washington Post
,
Wine Enthusiast
, and
CNN Travel
.