Photo courtesy of Roxanne Taylor Media
Photo courtesy of Roxanne Taylor Media
Around The World, Coal Towns Are Becoming Ecotourism Destinations
Coal may no longer be king, but for these former mining communities, tourism is changing the tide.
It may now be a political tinderbox, but from the 1880s to the 1950s, King Coal reigned supreme. At one point, the black carbon rock provided two thirds of the power in the US alone, and as the need grew, so-called "coal towns" popped up around the globe.
Throughout the world, these boom towns—often owned and operated by the coal companies themselves—were thrown together at a fast pace whenever new mining prospects were detected. They grew quickly, then burned out just as rapidly when their mines were abandoned in the second half of the 20th century. Some ran out of coal, while others were quashed as natural gas became a more popular form of energy. In recent years, support for solar and wind energy has contributed to even more loss in the coal industry, which nonetheless still provides about 18% of the US's power yearly.
So what happens when a booming coal town goes bust? Some become ghost towns. But others find new ways to thrive beyond the dangerous and dirty life of fossil fuels. Around the globe, formerly sooty stops have seriously cleaned up their act and become destinations unto themselves. Some have embraced the past. Others have made a pivot toward ecotourism. And all are worth a visit.
Tri-Cities, Kentucky
Nothing evokes images of a coal town more than rural Appalachian Kentucky. In the Tri-Cities—what locals call the three Harlan County towns of Cumberland, Benham, and Lynch—nobody is looking to erase that past. They do want to reinvent it, though.
Tri-Cities was once the largest company-owned mining town in the world. The three small villages share a main street that winds along a creek. It's picturesque and idyllic, yet when the coal industry began to decline, those shared main streets became ghost towns. But not for long. In 2018, the region scored a $2.55-million Abandoned Mine Lands Pilot Grant and used it to transform itself into an ecotourism destination.
Today, visitors will find a vast network of trails for outdoor adventuring. Kingdom Come State Park has primitive campsites, hiking, biking, and fishing. There are also activities for more adventurous travelers such as Kentucky's highest zipline and off-road ATV adventures. For those interested in mining history, mine tours are available at Portal 31, where visitors can ride through one of the state's most prominent mines in rail cars for a truly subterranean experience.
Shire of Collie, Western Australia
Coal was also king Down Under—at least for a while. Now some Australian coal towns are beefing up their tourism game to compete with more popular hotspots in the country. In Shire of Collie, tourists will find rich mining history, adventurous outdoor activities galore, and an open embrace of art.
This region of Western Australia is known for hiking and biking trails that wind through the bush, white-water rafting, and canoeing and kayaking on clear, pristine lakes. For a taste of the area's creative spirit, the Collie Mural Trail is a winding art exhibit featuring more than 30 Australian artists that tells the story of the state's premier coal mining town and features the largest dam mural in the world. For more history, there is also the Coalfields Museum and the Replica Underground Coal Mine tour, which give a sense of what life was like during the height of the coal industry.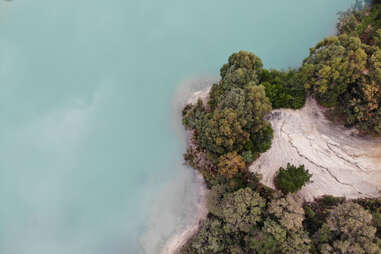 The area is anchored by Wellington National Park, which is where the majority of outdoor adventures can be found. A $10 million AUD government investment has also expanded trails and tracks to solidify Collie's status as a top destination for mountain bikers. Collie has a wide variety of guest houses and inns, as well as campsites within the national park and hostels for backpackers passing through.
While in Collie, don't miss the stunning Black Diamond Lake. This former strip mine filled with water when it was decommissioned in the 1950s, and its unique turquoise color has made it popular for unique photo ops.
Seaham, Durham Heritage Coast, England
Beginning in the 1830s, coal became a major industry in northeast England, and Durham's coastline pioneered new methods to mine the area's deep coal seams. Coal boomed throughout the 19th century, and towns like Seaham grew rapidly to support the miners and their families—at the expense of the area's pristine beauty. At one point, giant slag heaps (mounds of earthen waste left over from mining) started to overtake local beaches.
When the mines began to close in the early 1990s, the surrounding area experienced a dramatic economic loss to complement the tremendous damage wreaked on the natural landscape—it got so bad that the bleak Alien 3 filmed its depressing opening sequence on the so-called Blas Beach.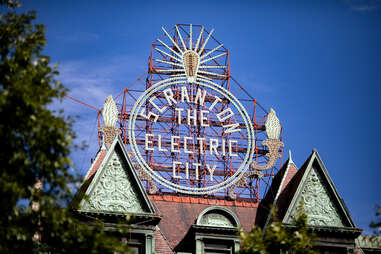 Scranton, Pennsylvania
It's not surprising that this Rust Belt city—easily the largest on this list—is also reinventing its image in the decline of coal. A particular type of coal called anthracite fueled industrialization of the United States, and much of it was mined in northeast Pennsylvania, which today is probably most famous as the setting of The Office. Yet even Dunder Mifflin's drama has nothing on the rise and fall of Scranton's coal industry.
For a closer look at the coal-mining history of the city, the Pennsylvania Anthracite Heritage Museum is a must. And the nearby Lackawanna County Coal Mine gives you an even closer look by transporting you 300 feet below the surface to learn how Scranton helped fuel the nation for decades.

While the past is fascinating, current-day Scranton is very much worth exploring, too. The Marketplace at Steamtown has the Electric City Aquarium, play area, and the Scranton Public Market features various food stands and other vendors. It's also home to the Steamtown National Historic Site, which explores the history of steam train travel—including a ride on a historic steam train itself. When visiting, treat yourself to a stay at the Radisson Lackawanna Station Hotel, which is situated in a historic train station and is central to Scranton's top tourist spots.
Scranton is situated adjacent to the popular Poconos Mountains, and the city has capitalized on having the ski destination in its backyard. The Poconos have attractions such as Camelback Resort, which boasts skiing and snow tubing as well as an indoor and outdoor waterslide park. There's rustic glamping, skiing, and high ropes adventures at nearby Blue Mountain Resort, as well as both a Kalahari and Great Wolf Lodge for indoor winter fun.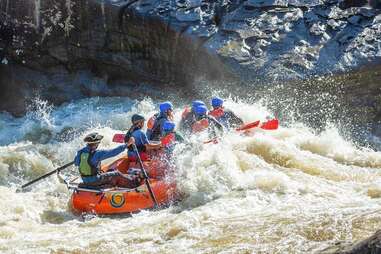 Beckley, West Virginia
This old mining town of 17,000 has reinvented itself as an outdoorsy, artsy little hub in "wild and wonderful" West Virginia. At Tamarack Marketplace, visitors will find handmade Appalachian folk art as well as local delicacies like fried catfish and seared bologna melts. To explore the town's mining past, the Beckley Exhibition Coal Mine features underground tours as well as a hands-on youth museum that's situated in a string of old box cars.
Beckley's biggest draw is its proximity to popular the newly minted New River Gorge National Park, which itself is home to the coal-mining ghost town of Thurmond. It's also home to some of the greatest whitewater in the world. Each autumn, water is periodically released from Summersville Lake in what has become an internationally-known whitewater event called Gauley Season. For less experienced rafters, lower stretches of the river or portions of New River are a great introduction to rafting.
Camping resorts like ACE Adventure Resort and Adventures on the Gorge provide packages that include lodging and guided rafting trips to make the process simpler, and visitors can even walk (harnessed) on the catwalk under New River Gorge Bridge, which is the longest single-arch bridge in the western hemisphere and the third highest bridge in the United States. The third Saturday in October each year, the bridge is closed to traffic for BASE jumping and ziplining in an event known as Bridge Day.
Nord-Pas-de-Calais, France
In Hauts-de-France, Nord-Pas-de-Calais has a unique and difficult history tied to coal mining. The many small villages that dot northern France were all rooted in coal mining for decades. The flat landscape has long been marred by terrils, or slag heaps, that tower like manmade mountains over the entire area. Stark and unusual, they've been designated a UNESCO World Heritage Site.
Since the decline of coal, Nord-Pas-de-Calais has turned to ecotourism to boost its economy. Nature has pushed back on industrialization, and the slag heaps are now growing vegetation and host some species unique to the area such as natterjack toads and Eurasian nightjar birds. One terril in Noeux-les-Mines boasts an artificial ski slope, while others draw climbers and adventure seekers looking for a stellar view. Chardonnay grapes grow on the slope of one slag heap in Rieulay. Locals have dubbed the vintage "Charbonnay" after the French word for coal, charbon.
Visitors can eat their way through Nord-Pas-de-Calais, as Hauts-de-France as a whole has been named as a European Region of Gastronomy for 2023, with each hamlet featuring its own unique bistros and restaurants. Lodging is abundant and diverse, ranging from standard hotels to the Couvent des Minimes Alliance Lille, a stunning hotel situated under a glass pyramid erected over a 17th century convent.