This Gorgeous Jungle Nation is South America's Best-Kept Secret
Cold water pounds my naked shoulders into the smooth wall of stone. After a sweaty two-day hike through the South American jungle, the impromptu waterfall bath feels sublime. I crane my neck upward but I still can't see the top of the mountain -- only the gush of water dumping down on me, blasting away all the sweat and dirt and tree bark that cling to my skin. Then I drop back into the natural pool below Maguituk ("Devil Falls") and float on my back, gazing up at the rainforest canopy, listening to the calls of tropical birds that zip by in flashes of iridescent red and green.

Forget about the well-trod tourist trail through Costa Rica, Peru, and Brazil -- Guyana's untouched interior offers the ultimate nature fix.

Guyana may be the least visited corner of South America, if only because as an English-speaking Afro-Indo-Caribbean nation, the country simply does not fit the usual backpacker circuit.

Sandwiched on the upper part of the continent between Venezuela, Brazil and Suriname, this emerald-green nation is close enough to reach from New York City's JFK airport in five hours, but far enough to find yourself surrounded by a few million acres of primary growth rainforest. Colonized by the Brits, English-speaking Guyana is pristine and actively protected by the indigenous nations that were here long before -- for the curious traveler who does not mind taking a step into the unknown, the country offers a much more genuine and unconventional experience with a lot less crowds and pollution than Brazil. For animal lovers, avid hikers, and the culturally-curious, Guyana is worthy of deep exploration.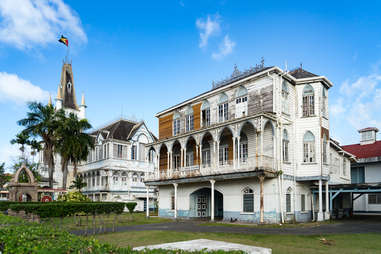 Start your trip in Georgetown, Guyana's colorful capital
Imagine New Orleans and Jamaica had a baby and named it Georgetown. Guyana's capital city is a funky grid of red, blue and green tin roofs with lush tropical gardens in between long boulevards of wedding cake-like facades that hint at the country's colonial past. A warm and constant sea breeze keeps the weather pleasant year round, giving you all the goodness of the Caribbean, minus the claptrap of the cruise ship circuit.

Georgetown has a whole list of impressive sights (check out the massive wooden cathedral, completed in 1899), but the city is best experienced on the streets, rubbing shoulders with the diverse and extroverted Guyanese. Wander the labyrinth of outdoor markets selling tropical fruits you have never seen or tasted, not even in the hipster bodegas back home. Cheer a local cricket game or crack open a cold Banks (Guyanese beer).

Georgetown's not-to-miss party is Mashrawmani or "Mash," held in late February, redefining the traditional carnival with its Amerindian name implying "work is finished, so let's celebrate!" The festivities build slowly for weeks, culminating in packed streets day and night, with loud music, hot food, heavy-duty rum -- a whole lotta rum.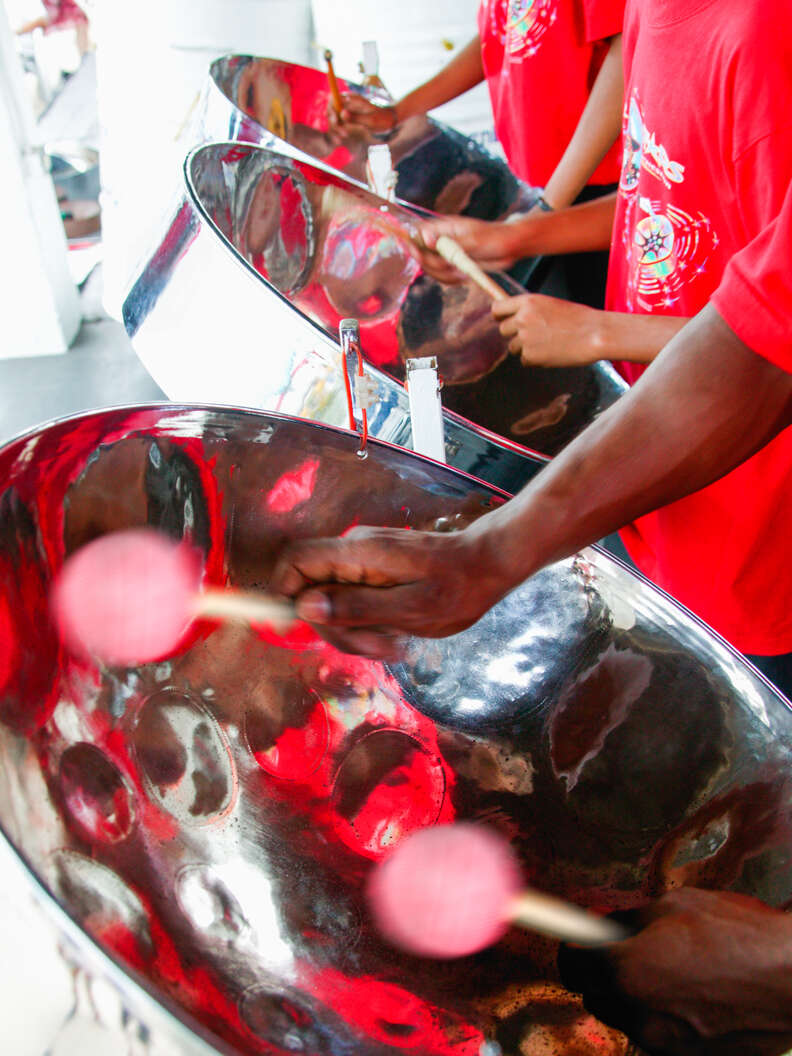 Take in chill vibes via the country's homegrown music genre
Chutney is Guyana's homegrown blend of Indian Bhojpuri and Trinidadian Soca (shortened "Soul of Calypso") music -- we're talking big calypso beats overlaid with soul-stirring Hindi folk melodies. The music blares day and night in Georgetown, but you can also catch live performances pretty much everywhere, at all times -- even in the remoter gold-mining camps of the interior.
The local cuisine is heady, spicy, and down-right delicious
Guyanese cuisine represents the rainbow of people who live here -- a blend of spice and food staples from Africa, India, Britain, and the original Amerindians. Curry takes on a whole new meaning in South America, with a warning: the Guyanese like it hot. You'll find the best roti in Georgetown at Shanta's (on Camp Street), but for a more upscale and inventive food adventure, check out Backyard Café -- where bold and inventive Guyanese food is served in owner Delven Adam's actual backyard. Refreshing beverage is a way of life, so leave all decisions to the bartender, but the universal non-alcoholic tipple is "mango swank," which tastes exactly like it sounds. Order one of those with "tennis roll" -- the country's signature bread roll -- and you'll fit right in.
Get your adventure fix by exploring the lush rainforest
While any tourist can fly in to see the iconic Kaieteur Falls -- a true natural wonder -- willing adventurers should attempt the 3-day overland hike to the top of these pink granite mountains. From the tallest single-drop waterfall in the world (741 feet), the gorgeous jungle views from up top are worth the slog. Organized trips take hikers up the silvery shallows of the Potaro River, around several smaller falls, with comfortable hammock-camping along the way. Small groups and indigenous guides whacking away the vines with long machetes make for an unforgettably cool South American adventure. (Anybody who can handle 30 minutes on the elliptical at the gym can climb this 36-mile jungle trail no problem.)

If you prefer not to sweat that much, take a day trip or check in for the weekend at Arrow Point Nature Reserve, just a half-hour speedboat trip from Georgetown. Built on the living waterway of Kumini Creek, Arrow Point offers an excellent way to experience the rainforest up close: kayak under the canopy, fish for your lunch, or just grab a rum cocktail and chill on sandy beaches.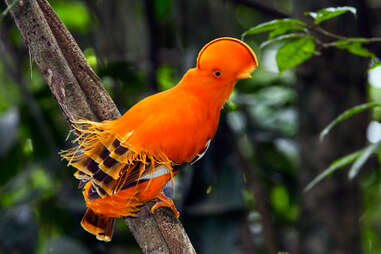 Fantastic beasts and where to find them
Over 70% of Guyana remains undisturbed rainforest habitat for rare South American wildlife. Getting into the hinterland means getting up close with jaguars, ocelots, giant otters (over 5 feet long!), giant anteaters, not to mention big snakes like boa constrictors and anacondas -- the largest snake in the world (I saw two pregnant females in one day). Bird nerds will stay busy too, spotting and identifying the 783 bird species that fly around in Guyana -- things like blue-and-yellow and red-and-green macaws, toucans, and the aptly named "Cock-of-the-Rock," a brightly plumed species common to Guyana's forests. What's more, the Guyanese government works closely with several major international conservation organizations (e.g. Conservation International, World Wildlife Fund) to ensure best practices in sustainable wildlife tourism. Visiting these wild places helps preserve them.
Get to know local traditions and history
Nine indigenous nations comprise Guyana's original population and today, they contribute a proud and visible place in the country. While "Amerindian" is an umbrella term that covers the first nations in South America, many Guyanese prefer the term "kaponh," which simply means "native person." Even better, simply ask and learn the different tribes of Guyana, including Arawak, Akawaio, Patamona, and Makoshi. All nine languages and cultures are thriving, and each nation manages their own lands, allowing for unique conservation partnerships that encourage outside visitors and a chance to experience indigenous culture first hand.

"This is my ancestral home, and I love sharing it with other people," says Stanley Hugh McGarrell, a member of the Patamona nation and a park ranger in Kaieteur National Park.
Getting to Guyana, and where to stay
Direct flights link Georgetown with New York (JFK), Miami, London, and nearby Trinidad. Short internal flights on small bush planes are helpful in reaching ecolodges and the deep rainforest. Backpackers can enter overland from Brazil at Lethem and for a slower adventure, you can take the bus all the way to Georgetown.

My personal recommendation is to book at least a few nights at the tribal-owned ecolodges of Guyana's wild interior -- or, to get the full experience, plan a series of ecolodge visits over the course of a week. Where else do you get to stay as a guest of the tribe, explore nature with the people who know it best, and contribute directly to a sustainable conservation project? Rewa Lodge is my favorite, but also check out Karanambu Ranch and Surama.

Get your shots, and beware of bug bites
Guyana is a tropical destination, which means serious insects for part of the year and the ever-present reality of malaria and dengue. Consult your doctor beforehand for malaria prophylaxis, but most travelers take the basic precaution of applying mosquito repellent and sleeping under mosquito nets (which are included at most hotels and lodges). As with most of South America, yellow fever vaccination is recommended.
Andrew Evans is a Thrillist contributor.