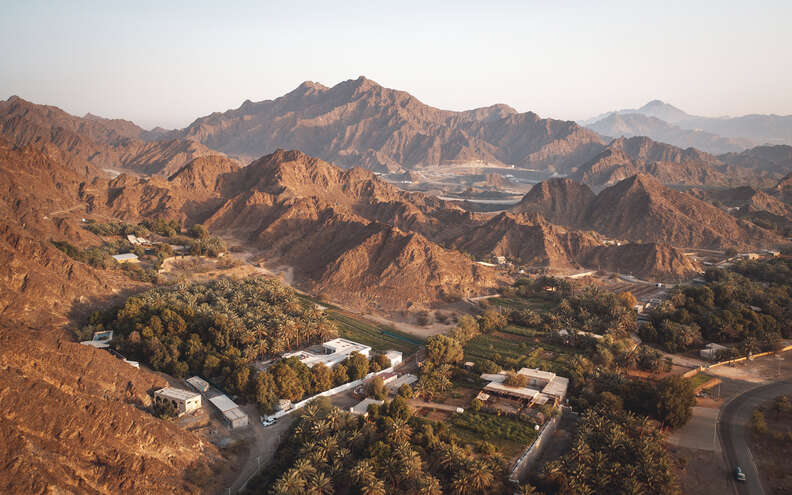 Photo courtesy of Dubai Tourism
Photo courtesy of Dubai Tourism
Trade Downtown Glitz for Rugged Adventure at the UAE's Best Protected Reserve
Scenic Hatta Mountain Reserve stands in sharp contrast to Dubai's sparkling cityscape.
Welcome to
(Inter)National Parks: Adventures in the Global Outdoors
, where we transport you to the world's most incredible protected lands, nature reserves, and marine sanctuaries, from the slopes of Western Canada to the vast grasslands of Botswana to the fjords of New Zealand. For more on these far-flung natural wonders—plus travel tips and expert interviews—check out the rest of our coverage
here
.
Gearing up for a trip to Dubai might involve digging out your fanciest pair of shoes, your chicest poolside ensemble, and whichever credit card has the highest limit. After all, the cosmopolitan oasis perched on the edge of the Persian Gulf has long been a bastion of flashy modernity and high capitalism, studded with gravity-defying skyscrapers, pampering luxury resorts, and malls the size of small American cities. But just 90 minutes from the towering Burj Khalifa and all its glitzy mayhem lies a very different side of the United Arab Emirates experience: Hatta Mountain Reserve, a secluded yet action-packed protected area offering visitors and locals alike a much-needed dose of nature.
Now a part of the United Arab Emirates, Hatta (formerly known as Hajarain) began life as a territory of neighboring Oman. Around 1850, however, Sultan Turki bin Said surrendered to the interests of the Na'im of Buraimi tribe, which had recently settled nearby Masfout, and officially transferred the land's ownership to Dubai. The area has always been extremely valuable, its relatively high altitude of 1,053 feet fostering fertile soils, cooler year-round temperatures, and plentiful rain in a region where freshwater is hard to come by. In fact, Hatta receives 30% of the UAE's total annual rainfall, replenishing the restored falaj, a traditional Omani irrigation system, and pooling into two sizable downstream reservoirs.
Stationed at the apex of the Arabian Highland Woodlands and Shrublands WWF Global 200 Ecoregion, Hatta also holds the title as one of the Gulf's most biodiverse destinations. Stroll through the historic village or trek along the jagged Hajar Mountains slicing through blue skies above and you'll come across 19% of the country's known plant species, 44% of its native mammalian population, 27% of its birds, 30% of its reptiles and amphibians, and a whopping 79% of its dragonflies. Likewise, tilling the land is still a prominent industry in these parts, with a reported 550 farms, many specializing in lucrative date palms, calling Hatta's 50-square-miles home.
Given all these advantages—not to mention its driving-distance proximity to urban hubs like Dubai and Abu Dhabi—it's no wonder that local Emiratis and their fellow residents have been frequenting Hatta as a prime vacation spot for the last 40-odd years. In recent years, tourists have been let in on the secret, with budding interest among visitors looking to pad out their trips to Dubai with some nature-focused activity. The state has, in turn, responded to the area's rise in popularity, pledging 1.3 billion AED back in 2016 to support a multitude of front-facing projects, including development of housing, green areas, bike paths, and more. In 2019, Hatta Mountain Reserve was designated Ramsar Site Number 2368 by the UAE, a protected class marking the area a Wetland of International Importance. And the future, it seems, is only getting brighter.
"Hatta has transformed over the past few years to become a world class destination and a key touristic attraction," says Roudi Soubra, executive director of asset management for ruler Sheikh Mohammed bin Rashid al-Maktoum's global investment company, Dubai Holding. "With the UAE Government support, we're proud to have played a pivotal role in developing an eco-friendly adventure destination, with adventurous activities from kayaking to mountain biking, axe-throwing, and archery, among many others. Furthermore, we're happy to continue to grow and develop the area through numerous initiatives which will further support the local Hatta community, socially and economically."
Axe-throwing? Kayaking? In Dubai? You betcha. Here's how to make the most of an endlessly exciting, captivatingly beautiful expedition to the UAE's natural crown jewel, Hatta Mountain Reserve.
Get your adrenaline pumping at Hatta Wadi Hub
First stop: Hatta Wadi Hub. This outdoor adventure complex harnesses Hatta's epic scenery to create a one-of-a-kind experience for thrill-seekers of all ages. Drop by the central visitors center to pick up a coffee or engage in a game of foosball before signing up for any number of family-friendly offerings. Highlights include the Middle East's first ever zorbing track, where participants are strapped into giant, clear, inflatable balls before being catapulted down a grooved hillside. You'll also find a tactical paintball course, axe-throwing and archery facilities, a climbing wall, a multi-lane 39-foot-tall water slide, guided off-road vehicle excursions, paragliding, rock climbing, trampolining, and a massive zipline.
The park also connects to more than 30 miles of hiking and biking trails, making it an excellent homebase for those interested in a more low-tech outing. Lodging options—including furnished trailers, tent camping, glamping, and modern cabins—are all up for grabs, plus fire pits for BYOB grilling and a cluster of resident food trucks peddling a variety of cuisines. Pack as much as you can into a day of fresh-air entertainment or take it easy with a walk around the property and a pony ride for the kiddos.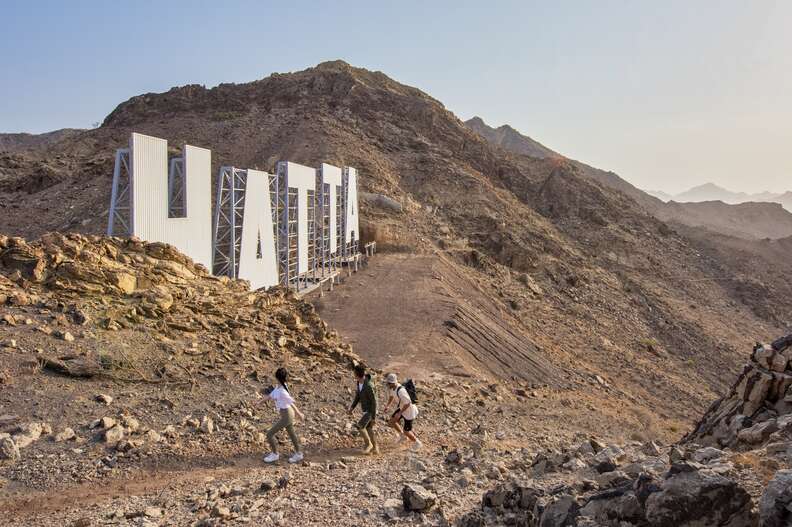 Hit the trails on foot, by bike, or on horseback
Speaking of trails, Hatta is crisscrossed by a vast network of color-coded pathways ideal for hikers, bikers, and everything in between. Scale the craggy mountainside on an advanced black route or opt for a leisurely cruise along one of the less-taxing green routes. With a 24-hour trail center and free parking, bikers armed with their own equipment can explore the varying terrain at their leisure, while others can rent what they need and even hire a trained guide by making a pitstop at Hatta Wadi Hub.
No matter which level you're up for, you'll be treated to a panoramic view of pastoral farms, sparkling rain-fed lakes, sweeping grasslands, preserved historic sites, and one of the highest concentrations of endemic flora and fauna in the UAE. And don't forget to pause for a selfie in front of the landmark Hatta sign—modeled after the iconic Hollywood sign in Los Angeles, the 195-foot white block letters peer down from nearly 1,500 feet atop the range's highest peak. Photo-ops can be found all along the mountain's base, but the best view is certainly from beneath the sign itself, reachable in about 30 minutes by foot.
While it's feasible to pack your souped-up Diamondback or trusty Merrells, odds are you didn't attempt to check a horse on that overnight flight to Dubai. No worries—the folks at Hatta Golden Horse have your back, leading picturesque seasonal sunrise and sunset trots through the hills with their gorgeous fleet of Arabian horses. An hour-long ride runs 100 AED (about $27 USD) per person and includes a barbecue lunch.
Feast on farm- (and hive-) to-table cuisine
All that exploring is bound to work up an appetite. For hungry park-goers, Hatta Wadi Hub serves as a one-stop-shop, stocked with both an onsite coffeeshop in the form of Hatta Wild Cafe as well as a handful of stationary food trucks. Menu options include everything from juicy burgers (Damani Bites) and creative twists on regional favorites (Taste of Hatta) to overstuffed doner and falafel wraps (Doner Race Sandwich) and Italian-style pizza, subs, and pasta dishes (Adrina).
Off the park grounds, a host of standalone restaurants provide a more conventional (yet rarely formal) dining environment. Over on Dubai Hatta Road, Tanoor Restaurant has mastered the art of Emirati home-cooking, with a menu spanning flavorful mezze and savory meats like lamb, chicken, and camel. If you're rolling deep, consider splurging on the traditional full sheep dinner, a family-style spread delivered right to your doorstep with all the fixings.
Located inside Hatta Heritage Village's Shari'a district, Al Hajarian is another formidable contender for the area's tastiest Emirati cuisine. The handsomely understated restaurant makes good use of Hatta's agricultural bounty, sourcing ultra-local ingredients from nearby farms to whip up soups, salads, and hearty mains like lamb and chicken makboos, peppered with Khaleeji spices and fragrant yellow rice, tender, yogurt-marinated shish tawook, and rich Indian-influenced curries.
And it's not just sheep farmers and vegetable-growers hogging the spotlight—insect aficionados also get their fair share of attention here. Hatta Honeybee Garden, the first queen bee-rearing facility in the region, attracts seasoned honey-lovers and the bee-curious alike to its tranquil four-acre sanctuary. Slip into a beekeeper suit and follow along as garden staffers show you the ropes on expert tours. You can also participate in hands-on programming like candle-making workshops and beehive maintenance demos. On your way out, head into the onsite shop to pick up jars of house-made honey organized according to pollinating tree, plus spiced honey fusions, bee pollen, ginseng, and raw honeycomb.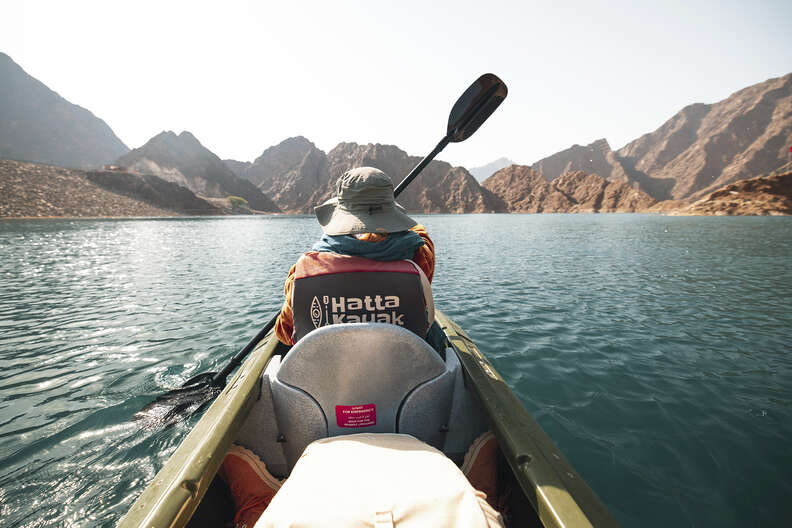 Paddle around the Hatta Dam's turquoise waters
One of Hatta's premiere attractions is the Great Dam of Hatta, constructed by Dubai's government in the late 1990s to collect and divert the area's abundant rainfall. Today, it stands as one of the largest of its kind in the Gulf Cooperation Council, storing a combined 2,596 million gallons of water between the upper and lower reservoirs and providing drinking water, crop irrigation, and groundwater protection for a huge swath of the UAE. And that's not all—the Dubai Electricity and Water Authority has recently announced a $386.5 million dollar plan to build the Arabian Peninsula's first-ever pumped storage hydropower plant, set to kick off in early 2024. The initiative is a part of the Dubai Clean Energy Strategy 2050, which promises to convert 75% of Dubai's power to renewable energy by 2050.
But that's the future. For now, the dam is a magnet for water sports enthusiasts from all corners of the world. Get up close and personal with its pristine, teal-hued depths by renting a kayak, water bike, or pedal boat from purveyor extraordinaire Hatta Kayak and embarking on some splashy fun in the sun. Or kick back and enjoy the sights without breaking a sweat from one of Hatta Kayak's electric boats, which run the gamut from a four-man Donut Boat to a 25-seat VIP tour boat.
Just remember: As tempting as the waters may be, swimming in the Hatta Dam is strictly forbidden, so keep your arms and legs inside the vehicle at all times.
Wander through historical riches
It doesn't take an academic to pick up on the fact that Hatta buzzes with historical significance. What sets it apart, however, is how well preserved everything is—quite a change from the futuristic cityscape just 80 miles northwest in downtown Dubai. From ancient rock carvings to graves dating to 3500 BCE and century-old mosques, you could easily spend your entire Hatta vacation entrenched in the past.
The old village of Hatta is littered with once-strategic watchtowers that now offer curious visitors excellent views of the Mountain Reserve. Hatta Fort, a citadel erected in 1896 from mud bricks and stone chiseled from the mountainside, encompasses the most famous tower. At 36 feet tall, it stretches high above the fortress and the stately Juma Mosque, Hatta's oldest with roots in 1780, below. The structure has remained a very popular tourist draw since its restoration in 1996.
For a totally immersive experience, spend some time in the surrounding Hatta Heritage Village, an open-air museum showcasing what Emerati life was like nearly 3,000 years ago. The attraction was painstakingly refurbished by the Dubai Culture and Arts Authority (DCAA) before opening to the public in 2001 to great acclaim. Some 30 traditional houses share space with exhibits detailing economic, political, and cultural artifacts like period weapons, pottery, handicrafts, clothing, furniture, agricultural tools, and more. An hour wandering these serene stone streets and you'll feel worlds away from the Dubai Mall and all its sparkling modernity.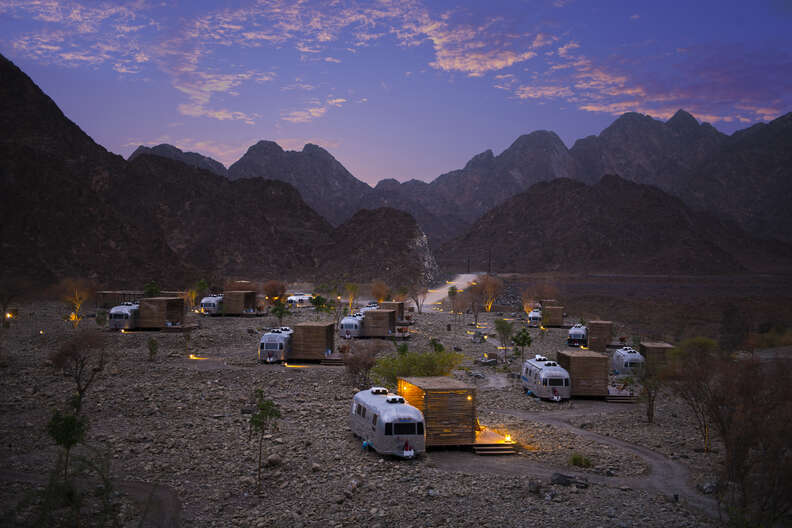 Sleep beneath the stars or book a stay in a vintage trailer, sleek cabin, or four-star resort
Between poring over ancient artifacts and working off that extra order of mezze on a brisk hike up the hillside, any trip to Hatta Mountain Reserve worth its salt deserves at least two days of dedicated hang time. That's where the area's plethora of hospitable accommodations come in, with something for every budget, interest, and, let's say, level of appreciation for the Great Outdoors.
Camping—both primitive tent-pitching sites and more upscale glamping opportunities—is a fantastic way to wring even more wilderness adventure out of your stay. Hatta Mountain Bike Trail Center offers resourceful overnighters a cozy place to post up, including barasti huts, grills, showers, and bathrooms, while Hatta Wadi Hub provides a similar setup plus onsite food trucks and other amenities. Have tent, will travel? Simply head toward the mountains, find a suitable campground, and drop your tarp—there are free campsites all over Hatta Mountain Reserve that require little more than showing up and snuggling in for the night.
For those looking for a slightly more comfortable dark sky sleepover, Hatta Wadi Hub comes correct with a bustling caravan park alongside access to the yurt-centric Hatta Dome Park and Damani Lodges Resort, beautiful private mountainside huts decked out with private balconies, speedy wifi, ensuite bathrooms, and plush beds. Elsewhere, Sedr Trailers—a network of shiny Airstream trailers nestled high in the mountains and only accessible via offroad ATV—oozes with Insta-worthy appeal. Each site comes with its own terrace, bathroom, and dining area, while a communal fire pit and barbecue area takes care of the rest. (Another perk? Room service from a resident food truck.)
Finally, if anything even resembling camping ruffles your delicate feathers, look no further than JA Hatta Fort Hotel. Despite its name, there's nothing militaristic about this contemporary high-end resort. The pristine mountain views from the guestrooms, villas, and new Terra Cabins are just one of the property's many draws. The full laundry list of offerings spans swimming pools, minigolf, multiple restaurants, a cocktail lounge, an indoor game room, wellness spa, petting zoo, fitness center, and guided outdoor excursions. Much like the UAE, a country volleying between indulgent Dubai and rustic Hatta, it's the best of both worlds.
Ready to hit the park? Check out our tool kit to get started: