Shikotsu-Toya National Park

| CHEN MIN CHUN/Shutterstock
Shikotsu-Toya National Park

| CHEN MIN CHUN/Shutterstock
This Japanese Island Is Bursting with 6 Amazing National Parks
Meet Hokkaido, AKA Japan's version of the Wild West.
Welcome to
(Inter)National Parks: Adventures in the Global Outdoors
, where we transport you to the world's most incredible protected lands, nature reserves, and marine sanctuaries, from the slopes of Western Canada to the vast grasslands of Botswana to the fjords of New Zealand. For more on these far-flung natural wonders—plus travel tips and expert interviews—check out the rest of our coverage
here
.
Japan's golden tourism triangle of Tokyo, Kyoto, and Osaka—all on the main island of Honshu—gets plenty of love from 31 million tourists who visit every year. But what locals know is that Japan's other islands hold incredible natural treasures—especially the northernmost island of Hokkaido. With only about 32,000 square miles, Hokkaido has six national parks. Six! That's more national parks than in Utah, at just one third the size of the US state.
All that gorgeous wilderness holds about 100 million fewer people than on the main island, meaning Hokkaido is the closest Japan has to a wild west. Full of mountains, volcanoes, onsens (hot springs), mud baths, fumaroles, waterfalls, winter skiing, purple seas of lavender fields in the Furano area, and a sunken forest next to the so-called "underwater Grand Canyon," these six national parks will blow your socks off.
If you ever get done with exploring all that nature, expect to find an abundance of soft serve, thanks to the many cows on Hokkaido, including regional favorites like honeysuckle, melon, and Japanese pumpkin. And don't miss out on a trip to the Sapporo brewery, courtesy of the island's eponymous capital city.
If you're ready for some national park hopping, take a quick hour and a half flight from Tokyo to the Chitose Airport in Sapporo to experience some of the most ruggedly beautiful landscapes Japan has to offer. Read on to plan your ultimate trek through Hokkaido's national parks.
Explore lakes and the 'underwater Grand Canyon' at Shikotsu-Toya National Park
Located 45 minutes outside of Sapporo, Shikotsu-Toya is one of Hokkaido's most accessible national parks. Even so, renting a car is recommended to avoid the pains of infrequent public transportation. It's also a wonderland for anyone who appreciates water.
Start with a ride up Mount Usu Ropeway, which offers a cinemascope view of Lake Toya and Nakajima Island. Divers make regular stops at Lake Shikotsu, Japan's second deepest lake and one of its clearest. Here, strapping on a suit gives you the opportunity to explore an ancient sunken forest and chasm nicknamed the "underwater Grand Canyon."
Finally, pay a visit to Noboribetsu and Jigokudani Area Hell Valley, named for the devilish vents that emit steam from the ground. Stay on the path (it is hot steam after all!) and enjoy the heat in the onsens instead, where you can relax in pools featuring various temperatures and mineral compositions.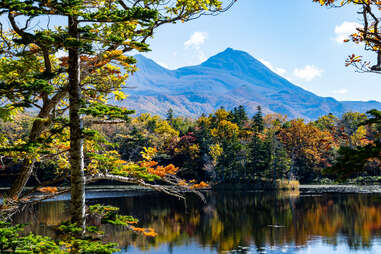 Walk past waterfalls or on blocks of ice at Shiretoko National Park
Welcome to a land so rich in natural resources, the local brown bears are known to be picky, eating only the middle of fishes and leaving a wake of eschewed heads and tails. Around 36 land species, 22 marine mammal species, and over 285 bird species call the 149 square miles of Shiretoko National Park home, much of which is accessible to humans only by foot or boat.
During the summer, take a boat out to see the craggy cliffs and Furepe-no-Taki Falls, a dramatic river-free cascade that the indigenous Ainu refer to as "Red Water." During the winter, the Shiretoko peninsula becomes a playground for those daring enough to shimmy into a dry suit and join a guide for a walk across the large blocks of ice that float in the water—an activity that can quickly turn into more of a doggy paddle.
Since public transit doesn't run frequently, fly into Memanbetsu Airport (which has direct flights from Tokyo and Sapporo), and rent a car. For maximum enjoyment, pair natural exploration with a stay at the Kitakobushi Shiretoko Hotel & Resort, where it's almost obligatory to unwind in an onsen and sauna that overlooks the Hekikai Sea.
See mud pools, lake moss balls, and active volcanoes at Akan-Mashu National Park
Just two hours from Shiretoko, Akan-Mashu National Park is where Hokkaido doubles down on the surreal. Take for example the marimo—green moss balls found in Lake Akan. These strange growths, which wouldn't look out of place in a Studio Ghibli film, were declared a national treasure in 1920 and even inspired an annual three-day festival every October.
Next up, hit the walking trail from the Akankohan Eco-Museum Center, where a fifteen-minute stroll will bring you to bubbling mud pools. Called "bokke," these geothermal mud baths were formed by magma bubbling up from the earth's core at almost 212 degrees Fahrenheit.
Take a 20-minute car ride to Mount Meakan, where you can go face-to-face with nature at its most fiery by hiking the active volcano's craggy surface. Despite what the Lord of The Rings worthy-plumes of smoke might lead you to believe, it is safe.
Keep in mind that Akan-Mashu is massive—and it's worth it to drive almost an hour and twenty minutes to take advantage of the free onsens located shore side at Lake Kussharo. Spend the night up your chances of an early morning encounter with Kussie, the area's mystical lake monster. If it doesn't appear, you can always make do with the blue-finned replicas located at nearly every gift shop in the region.
Witness endangered cranes at Kushiro Shitsugen National Park
Whether you're an avid bird watcher or just a casual ornithologist, Kushiroshitsugen National Park is the required visit for you. Located in Eastern Hokkaido, the expanse of seaside wetlands was declared a national park in 1987 to protect the endangered Japanese Cranes, thought to be extinct until a group of 20 were discovered in 1926. The good news is that the plan worked. Today over 1,000 cranes call the park home, and they can be viewed from wooden walkways through the wetlands or while horse trekking in the northwest corner of the park.
Hike or cable car past lava scapes at Daisetsuzan National Park
Daisetsuzan is both Hokkaido's largest national park and perhaps one of the nation's best locations for hikers. That's thanks to millennia of volcanic activity that did wonders to the land. You can still see the traces of all the lava via the dramatic fumaroles, visible along a 4.1-mile path alongside Mount Asahidake.
For those less interested in breaking a sweat, the Mount Kurodake cable car provides transit up the majority of the mountain, giving would-be hikers a head start in addition to stunning views of fall foliage.
Not a hiker? No problem. The Sugatami Pond walking path provides a less physically taxing experience, while still offering its share of rugged, ground-level views.
Bonus: the upside of all this volcanic activity means you're also in one of the best places for onsens. Venture just north out of the park past Mount Kurodake to Sounkyo Onsen, where public baths offer stunning views of the surrounding gorge.
See a floating mountain surrounded by flowers at Rishiri Rebun Sarobetsu National Park
Rishiri Rebun Sarobetsu National Park has the distinction of being Japan's northernmost National park. The area features a staggering number of indigenous species. In fact, Rebun Island is nicknamed "Island of Flowers" for the sheer number of varieties that dot its shores.
The shoreline is a stopover for the Taiga bean goose, while the surrounding islands are home to white-tailed eagles, black woodpeckers, and whistling swans. Take in the views from the Momoiwa Trail, and visit Sarobetsu Plain for a unique view of Mount Rishiri, seemingly "floating" in the ocean.
Ready to hit the park? Check out our tool kit to get started: