Presented By

This Boutique Hotel Is a Meat Lover's Dream
Treat yourself to a luxurious stay—and meal—at this Fort Worth gem.
Presented By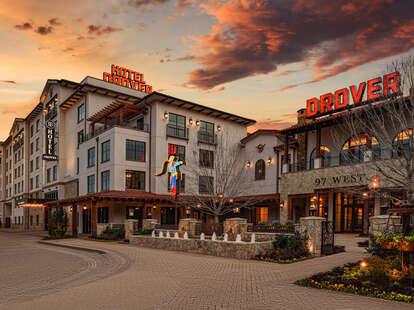 Photo courtesy of Hotel Drover
Photo courtesy of Hotel Drover
Fort Worth, Texas, gets its nickname Cowtown for the obvious reason: its long history with cowboys and cattle. Historically speaking, the city has been a hub of Texas Longhorn cattle trading and still champions its Western heritage. If you're a meat lover, like myself, you'll want to check in and never check out of Hotel Drover, an Autograph Collection hotel situated in the heart of the 130-year-old Fort Worth Stockyards National Historic District. The hotel is a nod to the OG drover, a name for a cowboy or cowgirl who transported cattle by foot.
Staying in the Stockyards is what most visitors think of when they visualize Texas cowboy country, but most people don't realize that Fort Worth is a charming, rustic city of its own that's often overlooked by its neighbor Dallas. All the aesthetics and rustic Western vibes aside, there's a lot of Texas meat to be consumed both in and out of the hotel; you're in cattle country, after all. The hotel's hacienda-style grounds transport you to the countryside even though downtown is a stone's throw.
According to Rich Pettitt, whose resume includes some of the most notable BBQ joints in the country (he's currently at Zavala's Barbecue), Fort Worth has one of the most exciting BBQ scenes in all of Texas so it's wise to plan a progressive 'cue journey while in town. We suggest renting a car for the day to peruse around. (After eating at countless BBQ spots, the AC will be a treat.) Pettitt's can't-miss agenda includes ​​Smoke-A-Holics BBQ,
Dayne's Craft Barbecue, and Panther City BBQ. For more off-the-beaten-path options, visit Goldee's Barbecue and Zavala's, where you'll want to stop by for the brisket alone.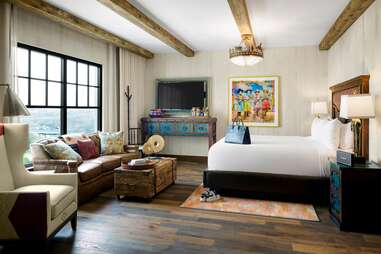 After eating your way through Fort Worth, it's time for some serious R&R, which isn't hard to achieve in a luxurious Spa King Terrace Suite. Kick off your boots and indulge in the bronze soaking tub, equipped with Los Poblanos artisan bath products that'll have you tranquil in no time. Once pruned, a power nap in the cloud-like bed—or a sitting on the balcony, which overlooks Mule Alley, in a Chadsworth & Haig robe and Topo Chico in hand—is in order.
Once rejuvenated, Veranda Bar, an outdoor oasis, will suffice for a pre-dinner craft cocktail (the Cucumber Mint Mule is as refreshing as it sounds). You'll need the greens to refuel for a meat-centric feast by way of Chef Grant Morgan. At 97 West Kitchen & Bar, he marries a mix of classic ranch fare and Texas cuisine with a splash of Southern. And, yes, it's nestled within Hotel Drover, so Irish exiting to bed once your food coma sets in is just steps away. The meats are standout here and locally sourced from spots like HeartBrand Beef and Rosewood Wagyu. The sweet-tea-marinated fried green tomatoes and the 12-ounce Akaushi American Wagyu strip steak with potato hash will have you salivating. The Texas Tomahawk, 34 ounces of delicious Texas ranch meat, is worldly and best for sharing with creamy Texas goat cheese grits and brussels sprouts. Whatever you do, don't forget the sauces (Texas hot sauce hollandaise and roasted garlic demi FTW).
If you're simply sick of barbecue and meaty steaks (these are fighting words in these parts!), there's a grilled cauliflower steak that'll have you fooled. Unique to the spot, unlike most hotel restaurants, is that meat is butchered in-house and steaks are hand cut. It's like being at your neighborhood butcher. Dessert is optional at this point, but the Mexican bread pudding is worth the calories.
Head straight for the pool post-dinner. Hotel Drover's pool is heated and decked out in chandeliers; plus, there's a hot tub that will help you detoxify after eating the day away. The meat sweats are real, after all.
Day two: If you're not begging and pleading for a green juice and giant salad yet, Chef Morgan has an entire eating plan carved out with more barbecue. "Within walking distance, we have Riscky's BBQ, Cooper's Old Time Pit BBQ, and H3 Ranch," says Morgan. "It's not BBQ, but we're excited for Chef Tim Love's newest concept opening on Mule Alley—Caterina's, an upscale, intimate, Italian-American restaurant," he adds. Walk it off at John Wayne: An American Experience, an exhibit with a glimpse into the life of John Wayne. If timing works out, check out Cowtown Coliseum for a real-deal rodeo. Non-meat-eating activities also include shopping at Lucchese (a custom boot shop), King Ranch Saddle Shop, Ariat (clothing, boots, and more), Wrangler, Flea Style (vintage, unique, and handmade goods), and then some.
Essentially, when you check into Hotel Dover it's like checking into a whimsical Western world, where everything's at your fingertips (give or take a few notable BBQ joints worth the drive).