This Airline Wants to Loan You a Free Icelander for a Day
Harpa Concert Hall, Reykjavik, Iceland

| View Pictures/Universal Images Group/Getty Images
Harpa Concert Hall, Reykjavik, Iceland

| View Pictures/Universal Images Group/Getty Images
I was jet-lagged, sleep-starved, and plain ol' morning-aftered, standing at a frosted-over picnic table outside a natural hot springs in Iceland. Was hurting, to put it straight. My only salve: I was in the expert hands of some Icelanders -- traveling companions rightfully referred to as "buddies" by Icelandair, which will assign you one free if you book a stopover in Reykjavik this winter -- who knew to offer me a rank chunk of what turns out is the world's gnarliest hangover cure.
Fermented shark, Iceland's most notorious morsel, comes as cubes closed in plastic lidded containers. You can smell a single crumb from yards away, an aroma like seafood, embalming fluid, and a hint of overripe cheese.
Only an Icelander would think to go for a mouthful of shark -- spongy, tacky, salty, stanky -- to clear the cotton off your brain after an all-nighter. But there it was. And one rank-ass mouthful is all it took to wake all the way up. The group I was with chased that fish meat with hair of the dog -- shots of aquavit -- then showered up and slid into the rocky-bottomed pool of steamy water out back.
When I had the temerity to critique the shark, I learned from one of my guides, Aðalsteinn Gunnarsson, a 28-year-old cargo manager with Icelandair, of an even more grim delicacy. Around Christmas, families in Iceland like to crack open a helping of fermented skate -- as in, the flat fish that looks like a meat-puddle. The odor and taste apparently far surpass mere fermented shark, in what sounds like a tin of rancid masochism. "The smell ruins your shirt, your sweater," Aðalsteinn explained. This is why, when Icelanders get together in the cold dark near-Arctic winter and share this particular holiday snack, they step outside. The smell is simply so much, he told me, Icelanders eat their skate on the porch wearing as little clothing as they can possibly bear.
The key to really learning Reykjavik is the stopover
If you go somewhere as exotic as Iceland -- or as exotic as Indianapolis, for that matter -- you really need to tap a local to get these kinds of insights. For as strange as Iceland is, it's also small-town friendly, and residents would like you to stop by. Their economy increasingly depends on visitors: Last year, for the first time, American tourists arrived in numbers (350,000ish) that surpassed the country's population. Iceland has only about as many people as Tulsa, and remains lonely at sea between Scotland and Greenland. Frankly, they seem to enjoy seeing new faces.
Head over before spring, and there's an easy way to make friends while you're around. Icelandair is running a promotion at least till the end of March wherein you may request what the airline calls "Celebration Stopover Buddy" service, and they'll set you up for a day with one of their employees. Essentially you get to borrow a regular Icelander: tour guide, chauffeur, cultural ambassador, shark procurer. You have to cover any expenses you rack up (the buddies get reimbursed for theirs) but, regardless, you can't do much better than your own local for a day who's super amped to hang out with you. One of mine, a programmer named Óttar Guðmundsson, showed me phone pics of the day he took out a couple celebrating an anniversary. Dude surprised them with balloons and a cake in his dang trunk.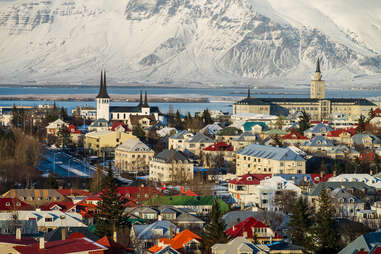 The buddy idea is a move to sweeten a feature that Icelandair has offered since the 1960s: stopovers in Reykjavik. Distinct from a layover, a stopover lets a traveler slip out of a connecting airport to spend days somewhere other than the ultimate destination -- akin to treating air travel more like a road trip. Emirates offers 96 hours in Dubai. Turkish Airlines gives you Istanbul. Air France offers Paris. This is how you actually see a city instead of putting that dreaded asterisk on it: "I've been there, but only to the airport."
For an international airline to loan you a friend for your stopover is, even for a tiny country the size of Kentucky, astonishingly quaint. But it makes perfect sense during the winter, when Iceland's scenery takes a backseat. In the summertime, throngs of people descend on Iceland for its temperate wilderness, its other-worldly landscapes. Europe's least-densely populated country -- the interior, all volcanos and glaciers, is virtually vacant -- can be circumnavigated via the 1,000-mile coastal Ring Road, which locals say should be appreciated over a full week.
But the fall and winter are a tougher sell, notwithstanding the regular aurorae borealis, with long nights, cold fogs, and drizzly rains. Icelandair hopes to increase turnout with the buddy system. Not surprisingly, it's a hoot -- like a blind date waiting for you on the other side of the ocean.
Having a buddy tops having a guidebook
My first impulse, of course, was to try to mess with my buddy. I told him in emails before my trip: "You're getting a Donald Trump T-shirt in the tightest size I can find. (American humor! I'm totally kidding! (or am I?))."
My second impulse (the correct one) was to bring him a warming gift: a bottle of Maker's Mark I picked up at duty free in JFK. When I met him at the hotel, he seemed genuinely touched. "I'll have to get you something, too," he said.
We got into his hatchback to head to lunch and within five minutes we had Icelandic hip-hop playing -- a sound like something pulled from Fetty Wap circa 2015, but instead of a Jersey accent rapping, someone was spitting hard-edged rhymes (maybe?) in Icelandic. "He's talking about how depressed he is," Aðalsteinn said. "He's saying, 'I go to pour my cereal, but the milk is sour.'"
It's not just rotting shark and booze while standing in frost. Apparently the first bite of the day is always hardcore in Iceland.
I consider myself a snoopy enough traveler, but on a two-day trip, I don't think I could've gotten anywhere near this level of intimacy with this country without having someone waiting to greet me and answer my stupid questions. Here's what I learned on my stopover with buddies at hand: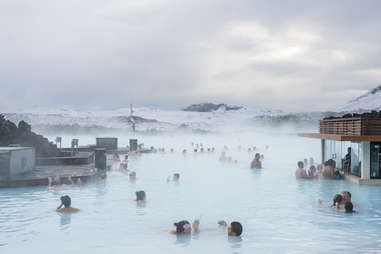 Icelanders love tattoos
You're going to see naked and near-naked people lolling in the soupy steam baths that dot the landscape. That's when you learn that the mild-mannered Icelanders around you, buttoned up in wool coats, are not-so-secretly inked to the nines.
Dating in Iceland is a small-town pain in the ass
Before dating apps, the first topic Icelanders tended to bring up when they were hitting on each other was hometowns and, maybe with a degree of slyness, grandparents... because on an island so small, the odds were depressingly high that you might be mashing on your cousin without realizing it. Eventually a genealogy app came along that helped prevent awkward mornings after. Now, though, with Tinder, people apparently can figure this stuff out ahead of time.
If you want to blend in, just wear black
"Everyone in Iceland's favorite color is black," Aðalsteinn told me. It's not the only color people wear, but it's certainly prevalent in the colder weather, and any departures still skew drab. I noticed him in a nice brown wool sweater and complimented him on it. He explained a former girlfriend made it -- someone he'd dated from his late teens into his mid-20s. "It was a teenage thing," he said stoically. "At least I got the sweater out of it."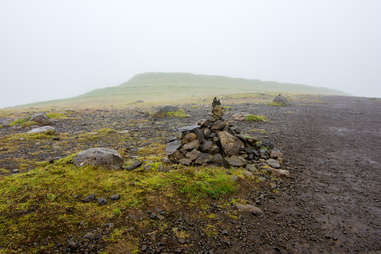 Iceland contains elves
Actually, yeah, no bullshit, elves. This one came from Sverrir Leifsson, a co-pilot who happens to be in a band. He told me that construction projects in Iceland sometimes slow if crews encounter very large rocks, because people who claim to commune with elves might issue a warning: This is an important rock to the elves, and we should go around it. Crews who ignore the warning and try to blast or drill through these rocks often find their equipment breaking down.
I responded that in my country we take that as a cue to get a bigger backhoe. He declined to comment further on my too-glib remark. Because, look, there are elves in Iceland. And they're probably in the Reykjanes area we drove around, listening to a song Sverrir composed about the landscape:
Icelanders are the best reason to visit Iceland
Music dominated my experience in Iceland; I was there during a music festival called Iceland Airwaves. A couple of headliners you'd know played -- Santigold, one late night, was a party in a bottle; Björk, backed by the strings of the Iceland Philharmonic Orchestra, was delicate fire -- but mostly lesser known Icelandic bands, such as Vök and FM Belfast, played in venues within a mile or so of the Harpa performing arts center. The festival was an excuse to stay up for 20 hours at a stretch, drinking steadily, jumping up and down at Scandinavian dance-party techno. As if such an excuse is ever necessary.
Amid the festival chaos, Aðalsteinn made a fine guide. He has cousins in the US and as a kid spent time in Michigan and Alabama; like so many people in the city, he speaks English almost flawlessly. And he knows the terrain. In the walkable, chipper Reykjavik Downtown, he led us into a hostel/coffee shop/bar where festival bands were playing off-venue. When I laughed at a restaurant with "Texas Pizza" on the outside -- pizza from Texas is not a thing, I said, in fact it's the furthest thing from a thing -- he warned me away from the place, saying it had gotten some unfavorable news coverage for a wedding food poisoning incident. These are the tips a local can give you: Where definitely not to indulge in food tourism for the sake of kitsch, especially when the cuisine at large is an understated joy for anyone who enjoys seafood or mutton or dense breads or nearly-as-dense beers.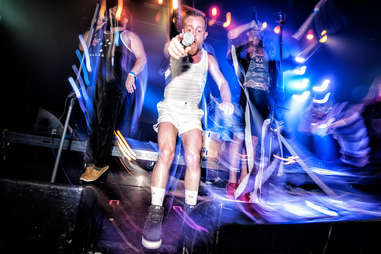 There might be no country on the planet with as many bands per capita as Iceland, and if there is, they're almost certainly not as international as Iceland's bands. I met Sigtryggur "Siggy" Baldursson, the one-time drummer for the Sugarcubes, Björk's first band. Now a cultural ambassador for the country, he has a theory on the band thing. One, because Iceland's so small, it has to import a lot of its culture generally, and has a knack for adopting and adapting it. And two, again, because absolutely no one gets huge in Iceland unless they can export themselves, the goal for any serious band has to be to go international.
For all its outward-facing charms, it's still that small town at sea. At the Harpa, I met a couple of Icelandic women who'd moved to Los Angeles to get music industry experience, then come back to represent Icelandic bands. We started watching a band, Ambátt, whose sound reminded me enough of Sigur Rós to mention that I'd interviewed the lead singer, Jónsi, earlier in the States. "Ah!" one woman replied, in what by then I understood was the national refrain: "He's my cousin!"
Get to know one person in Iceland, it turns out, and pretty soon you'll know everyone.
Sign up here for our daily Thrillist email, and get your fix of the best in food/drink/fun.
Sam Eifling is Thrillist's travel editor. On Twitter, he's @sameifling.