Everything You Need to Visit Jackson Hole Like a Local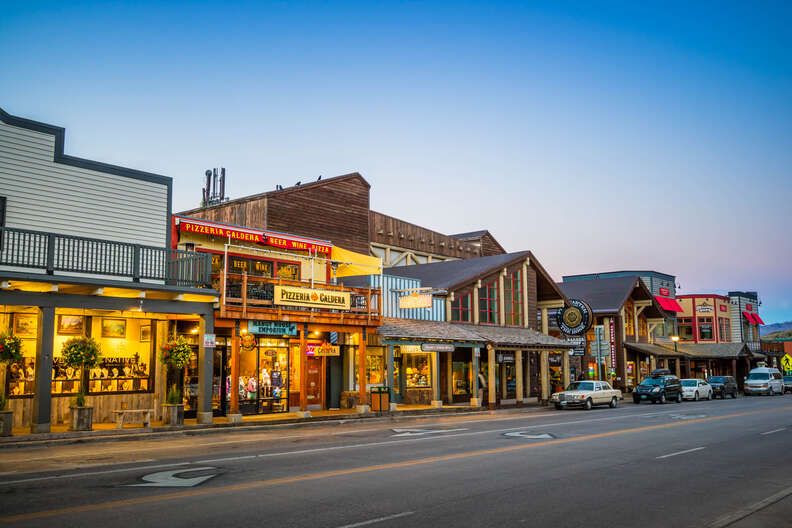 If you're even thinking of being in Yellowstone, check out the rest of our DestiNATION Yellowstone travel guide. It's stacked with expert advice on what to do, where to eat, and how to get around America's wildest national park.
When you think about the Last of the Old West, images of run-down saloons and broken wagon wheels might materialize in your imagination. Maybe an outlaw or two, or a few horses tied to a buckrail. Take one look at Jackson Hole's "Welcome" sign, and there's no denying that this 'ol mountain town's still got a yee-haw or two in its back pocket… even as it tops travel lists, and burgeons into a hugely popular, progressive ski destination with significant art and restaurant scenes.
"Jackson sucks; tell your friends," chime the locals over a glass of whiskey, still protective of that understated dude-ranch vibe that lends Jackson Hole so much of its charm. With a population of about 20,000 people in the valley, it remains fairly secluded -- it's expensive to fly to in the summer and sometimes impossible to get to in the winter. Still, there's simply no better gateway to Grand Teton and Yellowstone National Parks. Tourists abound, and for God's sake, Kanye West just recorded his last album here. It's a hard pill to swallow, but us Jacksonites can't keep Jackson Hole all to ourselves any more.
So I feel no guilt in publicly announcing that Jackson does, in fact, NOT suck, and I willfully accept my exile if my fellow locals see it fit. As for you, dear visitor, lend me your ear while I point you to the best restaurants, bars, hotels, outdoor adventures, and things to do while you're in Jackson Hole.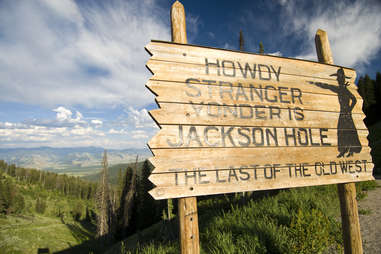 But first, your most pressing question: Is it Jackson or Jackson Hole?
Jackson's the main town, named in 1829 after a fur trapper. Jackson Hole is the name of the valley, a larger area that encompasses the towns of Jackson, Teton Village, Wilson, and Moose, among others, plus some of Grand Teton National Park in the northern section. Now quit acting like a tourist and local up, would ya?
When's the best time to visit Jackson Hole? Well, it depends...
Visiting Jackson Hole in the shoulder seasons of spring and fall is a little like catching the town with its pants down. The weather is unpredictable -- often a little snowy, a little rainy, warm, then freezing, and back around again. These two seasons are the cheapest times of the year to visit. Off-season specials run rampant, but the trade-off is some restaurants and businesses might shut down for a few weeks. Locals tend to be at their most mellow, as well.
But for the average Joe tourist, summer is king around these parts. Mild temperatures with little-to-no humidity make it the perfect time of year to go hiking and breathe in the clean, alpine air. It's our busiest time of year -- the abundance of whitewater rafting, climbing, biking, hiking, horseback riding, and kayaking opportunities lures in tourists by the busload. Not to mention it's peak season for Grand Teton National Park, just 5 miles north of Jackson, and Yellowstone National Park, a two hours' drive north. "Should I go to Yellowstone while I'm here?" you are now wondering. The answer is 100% yes -- we have a whole other guide for that.
Summer's got some of Jackson's best music festivals and markets
While most tourists meander through the approximately 8,238 novelty shops downtown, I highly recommend you visit the People's Market, which runs June through September on Wednesday evenings beginning at 4pm. With a number of booths from both Jackson and regional areas, the market is the perfect place to meet real locals and stuff your quilted tote with Blueberry Lavender Jam from the fellas at Roots Kitchen & Cannery. Don't leave without picking up a steaming dozen of authentic Rosa's Tamales.
Locals also happen to be very serious about their outdoor concerts, especially in the summer months. The Jackson Hole Live concert series runs June through September and is situated on the ball field at the base of Snow King Mountain. But make sure you also venture over "the hill" to Victor, Idaho, for Music on Main. Free of charge and full of smiling faces and great music, this outdoor concert series runs June through August on Thursday nights, and is well worth the 25-minute drive.
"Free music is cool, but I'm here for the hiking." Understood.
I freely admit that I think hiking is hard and thus don't do a lot of it. If you're a big hiker I'd urge you to head up to Yellowstone and
hit one of the trails there
. If you want to stick to the Jackson Hole area, you have near-endless options, but here are a few select hikes for you to add to your itinerary.
First up, this isn't so much a "hike" as it a good walk: Head towards Emily's Pond and walk along the dike next to the Snake River. It's nice. You'll no doubt meet some grinning locals and their stick-wielding canine companions along the way. For a proper hike that's not too strenuous, there's no better view of Jackson than atop Josie's Ridge. This local favorite is easily accessible and on the mellower side for those just getting used to the altitude.
If you're up near Grand Teton National Park, the Taggart Lake Trail is an easy 3 miles, round trip, that will take you through rumbling streams and beautiful meadows. Or, from the Laurance S. Rockefeller Preserve, the hike to Phelps Lake is an easy-going ramble through evergreen forest and huckleberries (look out for black bears). Enjoy stunning views of the lake and surrounding mountains, then call it a day and head back to your car -- or continue around the 7-mile loop (there's a Jumping Rock, if you can brave the cold water and 15-foot drop).
If it's a waterfall you seek, take the short, scenic ferry boat ride from South Jenny Lake Junction (there's a small fee) across to the Cascade Canyon Trailhead. From there it's a quick half-mile
hike to Hidden Falls
-- which is mighty impressive, which explains why this is one of the most popular hikes in the area. If you're in the mood, continue up to Inspiration Point; it's a bit more challenging with more elevation, but you'll be rewarded with incredible panoramic views of Jenny Lake. Bonus if you bring some sandos for lunch (beware of hungry chipmunks).
Lastly, my personal favorite on the strenuous side of the spectrum, Delta Lake in Grand Teton Park is roughly a 7-mile hike (round trip) that will kick your ass and deliver some of the most majestic photos you'll ever take. Starting off at the Lupine Meadows trailhead, you'll see heaps of other hikers, but the crowd thins out the higher you go. It'll take you the better part of a day since the trail isn't cut-and-dry; some bushwhacking and deft navigation skills are required, but just keep heading for the Grand Teton. As always, tell your friends where you're going and bring your bear spray, just in case.
What about water stuff?
To some, hopping into an inflatable raft and floating into category-three rapids would be a preposterous activity, but you do you. Book a trip with Dave Hansen Whitewater, get your paddle ready, and have a local guide lead you through Snake River Canyon. If you're good to go without a guide, Rendezvous River Sports can hook you up with kayaks, paddleboards, and canoes, but don't forget your PFD (personal floatation device) because it's a BFD and we want you to be safe.
Winter in Jackson Hole is all about hitting the slopes
Come winter, the vast majority of tourists vacate and the town lets out a sigh, facing the oncoming blizzards and cold snaps with effortless courage. The perfume of wood smoke fills the air and everything gets a bit slower and quieter. With hundreds of inches of snowfall every year, the valley becomes a skier or snowboarder's paradise.
There are three major ski resorts in the vicinity. Jackson Hole Mountain Resort is located in the Aspen-flavored town of Teton Village (though the locals usually just call it "The Village"), and is certainly designed to cater to the more affluent of winter visitors, offering luxury accommodations at Hotel Terra and jaw-dropping villa rentals booked through The Clear Creek Group. Snow King Mountain Resort is also within the valley of Jackson Hole; most who choose the "town hill" that is Snow King often stay at the resort itself. Finally you've got the Grand Targhee Resort, located further north near Grand Teton Park.
There are endless backcountry skiing opportunities as well (which come with all the usual backcountry dangers; if you don't know, don't go). When the snows are deep and the avalanche danger is low, drive up Teton Pass and hike up to the top of Glory Bowl, the ultimate meeting spot for local powder hounds. If you don't mind the drive, Togwotee Pass also has plenty of lesser-known runs for those hoping to claim some lines for their own. But since conditions shift constantly, it's always good to chat up some savvy locals or the staff over at Hoback Sports for tips on where to find the best runs.
Let's talk about some indoor activities
For those who are more inclined to avoid steep inclines and potentially bears, look no further than the National Museum of Wildlife Art. Not only is the building modeled after a freakin' castle (for real), the museum boasts some 5,000 pieces of artwork in their permanent collection. The museum also overlooks the National Elk Refuge, affording visitors a stunning view of the thousands of elk that gather there in the winter.
If it's shopping you're after, head downtown, get your obligatory Town Square Antler Arch photos out of the way, and then stroll down Gaslight Alley, a quirky alcove of local shops that looks like something out of the world of Harry Potter. Highlights include the gentleman's store, Mountain Dandy, the kitsch couture of MADE, and the sweet goodies of Mursell's. You'd be hard-pressed to find a more well-read book maven than Karilyn at Valley Bookstore. If she's not in the store, seek out her many "shelf talker" book recommendations for your next favorite book.
Thirsty yet? Me too.
The competition for Jackson's best brewery has been contentious, but a few spots reign supreme. It goes without saying that Melvin Brewing (operating out of the restaurant Thai Me Up) offers some of the most diverse and genuinely quality beers this side of the Tetons. Roadhouse Brewing definitely brings their A-game too, with an out-of-the-way tap room south of town that provides the perfect beer-lover's grotto. And there's no ignoring Jackson's "living room," Snake River Brewery, which doubles as a delicious gastro pub while slinging the town's most popular beers in rotation, including the beloved Pako's IPA.
For dinner, get the buffalo burger
Almost every restaurant in Jackson Hole that serves a burger will probably have a buffalo patty that you could swap the beef out for. Most locals would agree that the aforementioned and aptly named Local has Jackson's best customizable burgers (you can even add foie gras). For those eager to taste more of Jackson's gamier side, The Gun Barrel has been around for eons with a campy western vibe and serves the some of the best elk steaks and buffalo burgers money can buy.
...or the pizza
There's a weirdly high number of great pizza joints in Jackson Hole... maybe something to do with the abundance of ski bros. Hand Fire Pizza rests within an old movie theater just off the Town Square, with an open kitchen, tons of toppings to choose from, and gluten-free and vegan options. And a late night out on the town is best capped with a visit to Pinky G's for a pepperoni slice and an ice-cold Rainier can. The line can be long, but you'll make plenty of friends while you wait.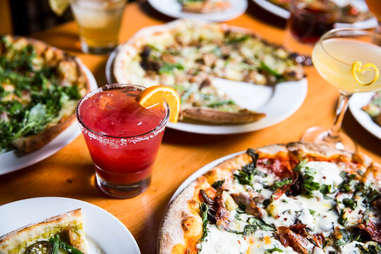 Jackson has plenty of fine dining options
The great thing about living in a small town is that bad restaurants don't stay open for long -- word gets out and something better promptly swoops in. There are tons of excellent options on the finer side of the spectrum:
Bin 22
, a wine bar and market, serves tapas and lets you pick any wine from their shelves and bring it back to your table without a corkage fee;
Rendezvous Bistro
is family-friendly with a wide menu selection; the rack of lamb at
Blue Lion
is sort of a legend; and
King Sushi
has you covered for, what else, sushi. Your classiest options will be Trio (think wood-fired pizzas and waffle fries slathered in warm blue cheese fondue) or the upscale
Snake River Grill
.
We're big into brunch here
You wouldn't expect Jackson to have much of a brunch scene, but the locals cherish Sunday mornings. There's no better brunch experience than driving 10 minutes south of town to
The Bird
for Sunday Funday. In the warmer months, you can sit outside on the deck while partaking in bottomless Bloody Marys and mimosas.
Nora's Fish Creek Inn
in nearby Wilson is another local favorite, serving the hungover masses plate after plate of huevos rancheros. For something off Town Square,
Cafe Genevieve
has a dog-friendly patio and some dank
pig candy bacon
. And for those who like their eggs sunnyside-up-with-a-view,
The Granary
allows you to munch on some melon while staring the Grand Teton in the face.
Kanye's favorite restaurant?
Big Hole BBQ. Moving along...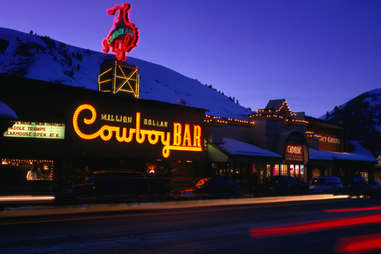 Nightlife in Jackson can get pretty rambunctious
With all of its bars downtown, bar hopping in Jackson is a relatively straightforward affair. Your first stop should be the touristy-but-beloved Million Dollar Cowboy Bar, which boasts excellent signage and literal horse saddles for barstools. Shoot some pool or boogie down on the dance floor. Keep an eye out for a fellow in a black hat who just might ask you to dance. His name is Ralph, and I'd suggest you don't turn him down.
If cowboy hats aren't your scene, Local Restaurant & Bar is conveniently right around the corner and has a ton of space at the bar (also some damn good food). Or hop over to The Rose, where you can partake in the finest hand-crafted cocktails you'll find at 6,200 feet. Weekend DJs are common here, and if you're lucky there will be a concert upstairs at the Pink Garter Theatre. Diplo, Paul Oakenfold, Jack White, and Edward Sharpe have all had sold out shows in this small, 450-capacity theatre.
For swing dancing, head to the The Silver Dollar Bar located inside the historic Wort Hotel; or, if you don't mind the drive, the Stagecoach Bar out in nearby Wilson, Wyoming, hosts great country bands Sunday nights.
Great hotels and places to stay in Jackson Hole
When you're all tucked out from the hiking and the eating and the drinking, you'll need a place to crash. Lodging options in Jackson range from sleeping in the back of your car (free, if you don't get a ticket) to renting out an exorbitant eight-bedroom log mansion somewhere in the wilderness. Especially during the busy seasons (summer and the winter holidays), the price of lodging -- even for the simplest accommodations -- can be slightly nausea-inducing. The price hikes are a response to high demand, so if you're on a budget, avoid bank holidays and spring break.
For the best quaint cabin lodgings at an affordable price, hit up Cowboy Village; at $200 a night for a private cabin, it's truly one of the more affordable and cozy spots in town. The Antler Motel also has you covered if you're looking for a simple setup just one block from the Town Square. Stepping up on the price scale, Inn on the Creek offers a cozy, bed-and-breakfast atmosphere, unsurprisingly, directly on Flat Creek.
If you're seeking something a bit more comfortable with some historical context, The Wort Hotel is a hop, skip, and a stumble from Jackson's nightlife, with its very own Silver Dollar Bar just off the lobby. Hotel Jackson ups the ante on luxury with far more modern and updated rooms. The Rusty Parrot Lodge takes the cake for service and style, with only 31 rooms and an outdoor balcony hot top.
Finally, if you've got some serious cash to burn, look no further than the luxury villas curated by The Clear Creek Group. Their selection of short-term rentals include ski-in/ski-out cabins, tucked-away western palaces, and contemporary condos. And if you want to roll like Kanye, the Amangani resort sits in solitude, high atop a butte overlooking the majestic Teton Range.
Sign up here for our daily Thrillist email and subscribe here for our YouTube channel to get your fix of the best in food/drink/fun.