Adventure in Hawaii
Sponsored by

The Right Restaurant for Every Eater on Hawaii's "Garden Island"
Sponsored by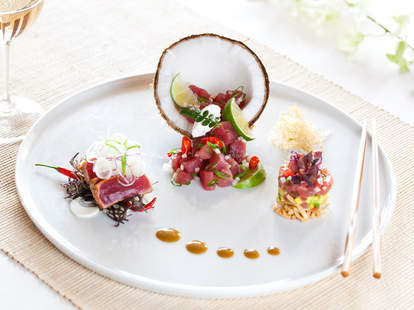 Hawaii Tourism Authority / Tor Johnson
If you're heading to a Hawaiian island like Kauai, you're obviously going to set aside plenty of time to explore the beaches, enjoy a ride on a catamaran, and then fill the rest of your itinerary with a few good hikes. In between all of those adventures, you'll need to refuel -- and you've landed on the perfect island. Kauai is home base for both local specialties (Spam musubi, anyone?) and some of the best broader fare you didn't know you could still find after leaving the lower 48. Here's where you should head, no matter what you're craving:
For when you want to try a local delicacy
Sueoka's, Koloa
Philly's got "Whiz wit'." Alabama has Wickles Pickles. Hawaii has Spam. It first appeared on the islands during World War II, when a can of spoil-proof Spam meant a meal on the table when food was scarce. Today, though, it's mostly enjoyed in its form as "Spam musubi" -- a handheld delicacy made with Spam that's been fried and seasoned with teriyaki, then placed on pressed rice and wrapped in nori.
You'll find it in mom-and-pop convenience stores and markets all across Hawaii, but on Kauai, head to Sueoka's to try it. This shop has been around for nearly a century, and their musubi will set you back only $2 -- making it one of the cheapest convenience store snacks you'll find this side of the US… and the tastiest.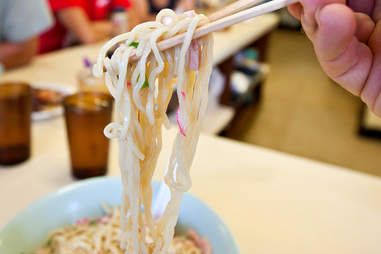 Hawaii Tourism Authority / Tor Johnson
For the comfort food aficionado
Hamura Saimin, Lihue 
An eatery that's been around for more than three generations, Hamura Saimin is known on Kauai as the place for saimin, a comfort food that melds elements of both Japanese and Chinese-style noodle soups into a dish the state of Hawaii can call its own. Typically, saimin is made with thin noodles that are placed in a fish or chicken broth (which has simmered for hours) then topped with an egg, fish cake, green onions, and slices of Chinese roast pork.
At Hamura, their "regular" saimin is topped with ham, while the special is topped with roast pork and veggies as well. The heaping portions are served counterside, where slurping is most definitely encouraged. However, you'll want to save some room for dessert, as their lilikoi (passion fruit) chiffon pie is one of the most talked about sweets on the island. The best part, though, is that this small, family-run restaurant has been practically unchanged since its opening day in the '50s. That aesthetic (plus tasty noodles, obviously) earned them a James Beard American Classic award in 2006. The place is so beloved by locals and visitors that the family nearly passed up attending the awards, telling the local paper, "We're kind of busy and kind of short-staffed." Now that's dedication.
Hawaii Tourism Authority / Eric Wehner
For the health food fanatic
Aloha Aina Juice Cafe, Puhi 
Even though açaí bowls are ubiquitous in Hawaii, they actually got their start on a whole other continent, in Brazil. According to Aloha Aina Juice Cafe owner Misha Taylor, Hawaii's residents adopted açaí bowls after Brazilian surfers migrated to the islands in search of the best waves. Because the focus in an açaí bowl is fresh fruit, it was a perfect match for tropical, local fruits: think passion fruit, dragon fruit, pineapple, and papaya.
When Taylor opened her juice cafe, she wanted to focus on local flavors: "I really wanted to have an emphasis on Hawaiian-grown produce," she says. "When my oldest daughter and I were brainstorming names for the business and talking about what our core beliefs as a family are, we talked a lot about loving the land which we were raised on. That's where 'Aloha Aina' came from. The literal Hawaiian translation is 'to love the land.' "
While you'll find ingredients like shredded coconut and homemade macadamia nut granola throughout the menu, order the Aina bowl for a taste of a true Hawaiian specialty: poi. Made from the root of the taro plant, Taylor admits poi doesn't taste all that great on its own, but when blended into the Aina bowl, it adds a whole new layer of consistency and flavor.
Hawaii Tourism Authority / Heather Goodman
For your sweet tooth
Wailua Shave Ice, Kapaa 
After a sunny day on the beach, only one thing will do in Hawaii -- and that's shave ice. Not shaved ice. Not an Italian ice. Shave ice. Traced back to sugar plantation laborers from Okinawa who ate Japanese kaki-gori as a dessert, shave ice is simple: just a mixture of ice and syrup.
Because it's such a simple confection, though, it makes this local favorite the perfect canvas for creativity. That's where Wailua comes in. There's no corn syrup here, just fresh fruit and natural sweeteners -- like the Love Potion #9: vanilla bean syrup, strawberry puree, and fresh strawberries are combined into an almost strawberry shortcake frozen dessert. Or, there's the Coconut x Coconut x Coconut: a combo of coconut milk, haupia foam, and roasted coconut flakes, plus plenty of seasonal menu options added on throughout the year. The best part? They'll look pretty good on your 'gram, too.
Hawaii Tourism Authority / Tor Johnson
For eating local on a budget
Mark's Place, Puhi 
On the Hawaiian islands you'll find a true melting pot of cultures, as the area's plantation workers immigrated from places like Japan, China, Korea, the Philippines, and Portugal. That diversity melded into the state's food, too -- and in no dish is that more clear than the plate lunch. Similar to a Southern meat and three plate or the Japanese bento box, the plate lunch consists of a main, served with white rice and macaroni salad on the side. At Mark's Place on Kauai, those mains can be anything from chicken katsu to beef teriyaki to loco moco. There, all the plate lunches are served takeout style, but there are picnic tables outside if you would prefer to eat al fresco. It gets better though: that whole meal will set you back about $11 for lunch -- and you'll have enough to skip dinner. (But, why would you want to?)
 
For lovers of the hole-in-the-wall joints
Makai Sushi, Koloa 
Located inside a local grocery store and offering just a few barstools at a counter, Makai Sushi may not look like much. But owner and chef Matthew Oliver is passionate about food -- especially his sushi. He traveled to California to study at The Sushi Chef Institute, a Japanese cuisine school, before opening "The Dragon Wagon" in 2013. It was a mobile sushi food truck, but a year later Oliver opted to have his patrons come to him, rather than the other way around.
As for the menu, don't expect an 18-page novella offering endless maki options. Instead, Oliver has kept the menu small at his spot inside the Kukuiula Market on Poipu Road, focusing instead on just six specialities: four rolls and two poke bowls. If you need help narrowing down the menu options even further, the gorilla ahi bowl is his signature dish. It's made with ahi, ono, salmon, cucumber, avocado, and sweet maui onion, perfect for enjoying at the bar -- or taking out on the beach.
For when you want an amorous ambiance
Kauai Grill, Princeville
Okay, yes, this is a hotel restaurant. BUT -- if you're looking to take in one of the most scenic sunsets on Kauai, this is the place to do it. With an entire wall of floor-to-ceiling windows overlooking the Pacific, it's easily one of the most romantic dining settings on the island. It's a swanky spot inside the St. Regis with a menu by French chef Jean-Georges Vongerichten -- so expect this to be one of the pricier dinners on the island. The signature tasting menu will set you back $125 for five courses, but you'll be treated to mukau, commonly known as monchong (a regional deep-sea fish) with local charred corn, sesame, yuzu kosho butter, and a Kauai Coffee-crusted filet mignon. If you'd just like to take in the sunset and dine elsewhere, though, there's a cocktail menu available -- you can still taste yuzu in the Spring Punch, or sip an extremely appropriate rum-based Tahitian Pineapple. Local brewers Kona and Maui are also well represented here for you beer lovers.
For those obsessed with travel shows
Puka Dog Hot Dogs, Koloa
This tiny hot dog joint is where Anthony Bourdain kicks off his Hawaii episode of No Reservations -- and while that's a solid enough recommendation for trying a Puka dog, don't just take his word for it. At Puka Dog, they bake their own version of a classic Hawaiian sweet bread, with a cutout to perfectly fit a Polish sausage or veggie dog. Then, a spicy garlic lemon sauce is added (ranging from spicy sweet to "lava" hot) and it's topped with a tropical fruit relish -- resulting in a bite that's likely more controversial than the whole "pineapples on pizza" debate. You want mango relish on your hot dog? You got it. Even banana? It's a fan favorite. So, we say get creative with it -- no one is judging here. The owners created the Puka Dog back in 2000, and in the years since Hawaii's hometown hot dog has spread even to parts of the contiguous US.
Hawaii Tourism Authority / Dana Edmunds
For when you want to try the original
Koloa Fish Market, Koloa
Poke spots have been springing up in cities all across the country, so you may be familiar with the bowls brimming with raw fish, rice, cucumbers, and avocado. If you are, then you should know that the dish actually hails from Hawaii -- where an abundance of fresh fish made poke bowls one of the staples of the islands' cuisine.
The best place to try it on Kauai is at a no-frills spot like the Koloa Fish Market -- where fresh fish is brought in daily from local fishermen. It's a nondescript, cash-only spot that's more like a deli than a traditional "fish market." And it's places like this that made poke explode all over the map. Plus, if you're not feeling fish, they have other local options, too: the kalua pig, for example, a luau staple of slow-roasted pork that's seasoned in alaea salt.
For your romantic date night
Bar Acuda, Hanalei
When it comes to date night, experienced couples know the best way to tackle a menu is to strategize and share. Enter Chef Jim Moffat's Bar Acuda. It often gets called out as a must-stop in Kauai, and for good reason: the European tapas menu is a unique addition to the island's food scene. Reservations are a must, as locals will pack this place even on a Monday night, thanks to killer views of Hanalei's emerald mountains and a lengthy wine list. If that doesn't help set the mood, the tapas menu will. All the small plates are sourced seasonally and are based on what island fisherman and local farmers have available -- like mahi-mahi with roasted mushrooms and a sweet pepper butter sauce. You'll find that the menu changes pretty frequently, too -- so there's no shame in stopping by twice.
For when you want dinner and live music
Hukilau Lanai, Kapaa
Nothing quite says "vacation" like being serenaded over dinner -- especially when ukulele and hula are involved. At Hukilau Lanai, you'll find a different local musician performing in the lounge every night of the week, from the regional style of slack-key guitar to easy jazz and blues. If you're willing to head to dinner a little early, (like, the time your grandmother would want to come, early) you'll get the best deal: a $50 tasting menu, complete with wine pairings. Five courses are offered, with upscale, hyperlocal dishes being the speciality.
If you're opting for the a la carte menu, make sure you order the charcuterie made from Kaneshiro pig -- a locally raised pig they use to make coppa di testa, a pork and mushroom pate, mortadella, and summer sausage. The restaurant works with several local farmers and fishermen to prepare their dishes, too -- any variety of which are guaranteed to have you planning your next trip out over dessert.