Photo courtesy of the Alaska Collection by Pursuit
Photo courtesy of the Alaska Collection by Pursuit
In the summer of 1918, Rockwell Kent paddled his way into the wilderness. The New York-born painter and illustrator was in desperate need of rejuvenation, quietness to expand, and space to contemplate dwindling finances and a crumbling marriage. He also had a taste for the wild, flinging himself at places like Greenland and Tierra del Fuego in his quest for inspiration. And now he had set his sights on a pre-statehood Alaska—specifically, the city of Seward, which had spent some time in the news thanks to its position along the newly built railroad.
But it was what was beyond the city that really intrigued Kent. "I crave snow-topped mountains, dreary wastes, and the cruel northern sea, with its hard horizons at the edge of the world where infinite space begins" he writes in Wilderness: A Journal of Quiet Adventure in Alaska. He was giddy at the idea of the glaciated seaboard and churning open seas fringed with deep, ice-carved inlets and larger than life aquatic mammals. Today, most of that region is called the Kenai Fjords National Park. But back then, they just called it "wild." And Kent wanted to dunk himself in its feral glory and see what form he took when he emerged.
"I crave snow-topped mountains, dreary wastes, and the cruel Northern Sea with its hard horizons at the edge of the world where infinite space begins"
And he would soon get his chance. When in Seward, Kent caught wind of a patch of uneven rockface officially called Renard Island—more widely known as Fox Island—out in Resurrection Bay. 12 miles south of town, it earned its second name thanks to the many fox farms it sustained. (Fox farming was big business at the time—in the height of the trade in 1930, there were 485 fur farm licenses in Alaska and each prized blue and silver Arctic fox pelt fetched a cool $500.)
Kent, however, was interested in Fox Island for another reason. At 3.4 miles long and two miles wide with mountainous peaks and a couple of saddles, the island provided a slice of the unmanaged natural world he so craved… while also being close enough to civilization to allow him some socializing every once in a while. He packed up his son, also named Rockwell, and headed south.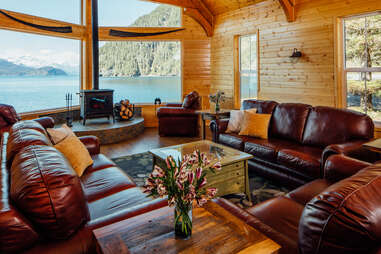 More than a hundred years later, a copy of Wilderness sits on the coffee table in my plush log cabin set on Fox Island's rocky, hammock-shaped crescent. It was raining when our boat docked, but that was to be expected. The Kenai Peninsula, jutting from the Chugach mountains just south of Anchorage and flanked by the Cook Inlet and Prince William Sound, is home to North American temperate rainforest, a stretch 2,500 miles down to the tip of Northern California. Which means, on this island, it's not uncommon for fog to hang low, a refreshing precipitation adding a moody backdrop to your stay.
Choosing to book a room at the Kenai Fjords Wilderness Lodge translates to immediate immersion in the natural world. The Fox Island hotel is owned by the hospitality company Pursuit, purveyor of outdoor-focused hotels—including a few in Banff and Glacier National Park—as well as all manner of corresponding experiences. In my case, to get to the lodge means jumping on one of their Kenai Fjords Tours and making a pitstop on Fox Island. Getting there, it's most likely the Resurrection Bay Tour, where you'll spot Steller seal lions sunning themselves on spewed lava while Bald Eagles swirl above spruce-clad cliffs and minuscule puffins bob below, before enjoying a buffet lunch on the island. (On the way back, departing guests can join the Northwestern Fjord Tour, which heads out into open ocean to three tidewater glaciers and includes a high likelihood of seeing some spectacular breaching whales.)
The lodge shares Fox Island with two state parks, both also only accessible by watercraft. Pull up to the cliffs of Sunny Cove State Marine Park, ideal for wildlife viewing, or opt for the sandy shores of Sandspit Point State Marine Park, a favorite among kayakers and beach campers.
Stepping off the boat, we turn right, past a rope barrier and down a rigorous beachfront behind which await eight cabins. The ground is layered with large, flat pieces of shale, slick with rain and molded by heat into heart-like shapes. More than once someone remarks, "Those are good skipping stones!"
We're led along the boomerang past bleached wood and gnarled fallen trees, some pocked with sea stars. My cabin is shrouded in forest, barely visible from the main path: an adult treehouse, grounded. The back window faces a lagoon impinging on a towering upright forest. On the porch are two Adirondack chairs facing the broad ocean, a perfect place for receiving my morning coffee delivery. In the distance are frost-topped mountains and, just barely, the lights of Seward.
"We came to this new land, a boy and a man entirely on a dreamer's search; having had vision of a Northern Paradise, we came to find it"
Accommodations are imbued with a charmingly rustic and off-the-grid sensibility. The furniture is all wood, save for a red leather couch. The lofted bed is cozily tucked with blankets, the indoor plumbing is eco-friendly, and the hot water is a bit temperamental (we are on a remote island, after all). There's no WiFi in the cabins, or even electric outlets—for that, you'll need to walk down to the main lodge.
That's where you'll be privy to the luxurious amenities that round out the $875 per night price tag. A wood-burning fireplace roars near massive picture windows overlooking the sea while guests curl up on a couch or armchair with a glass of something that warms from the inside. Here is where you'll find complimentary all-day snacks and beverages (alcohol costs extra), as well as meals served family-style three times each day. Food is sourced as locally as possible, which means options might include pillowy and crunchy halibut and chips, plump reindeer sausage, and housemade king crab cakes.
Soon enough, we settle in for a lunch of savory tomato soup and salmon salad sandwiches (think tuna salad, but salmon). Through the windows, something bobs past in the water. We pause excitedly and crane our necks for a better look. It's a sea lion, checking out what all the ruckus is about.
"We came to this new land, a boy and a man, entirely on a dreamer's search; having had vision of a Northern Paradise, we came to find it," declares Rockwell in Wilderness, made up of letters and journal entries written during his seven months on the island. With the help and generosity of a 65-year-old prospector turned fox farmer named Olson who lent him a rustic log cabin that once served as a goat shelter, Kent spent his time pursuing what he called "quiet adventure," hiking, cutting wood, reading, writing, painting, taming inner demons, and tasting a world bigger than himself.
And during his time on the island—which included one very harsh winter—something strange happened. The environment he once anticipated would be antagonistic was anything but. "It seemed that there both men and the wild beasts pursued their own paths freely and, as if conscious of the freedom of their world, molested one another not at all," he writes. Turns out, the only wild that needed to be conquered was within himself.
Fulfilled enough and with time ticking on his marriage, Kent returned to New York in March 1919. Within a month, he put on his first gallery show of works inspired by his time on Fox Island, to booming financial and creative success. Even his young son Rockwell sold a few paintings. Wilderness was published a year later.
The seclusion of Fox island is what you make it. For Rockwell Kent, it provided latitude to examine his inner turmoil and harness newfound motivation. For some lodge guests, coming to the island is a way to strengthen relationships with loved ones. Others look to it for a disconnected, restorative vacation, eco-friendly yet gourmet. There are many ways to find loudness in the quiet.
But on Fox Island, you're also gifted your own slice of the natural world, ripe for exploration. And boy, is it stunning. There are plunging glacial waterfalls and sprouting spruce trees and largely unattended mossy trails to scramble up. The island is also home to a number of furry residents ideal for curating your own personal Alaska safari. From a distance, I follow a sea otter as she travels back and forth from the ocean to the forest, toting snacks. I train my eyes on tidepools and spot purple and orange starfish piercing the cloudy day with their bright hues. I heed the squawk of crows and trace the movement of seal lions splashing close to shore. I commiserate with a weary porcupine that makes himself known from time to time—nobody's really sure how he got here, including him.
For a different perspective, Pursuit also partners with nearby Sunny Cove to run sea kayaking adventures. Guests can paddle below waterfalls and venture out into the open sea on tandem ruddered kayaks accompanied by trained naturalist guides.
But my favorite island pastime lay a bit closer to shore. One late night in July, when the Alaskan sky never darkens past twilight, we take to the wood-burning sauna, which blazes with the heat of a thousand—no, a million—suns. It doesn't take long for our bodies to start to drip. Heated up and slick with sweat, we jump out and slip and slide down the flat slate rocks, plunging into the freezing bay waters below. After a quick immersion we retreat to our cabins where, in mine, a glass of smoky Scotch waited, poured neat.
After all, there's more than one way to get your wilderness fix.
Vanita Salisbury is Thrillist's Senior Travel Writer. She can attest that they were, indeed, good skipping stones.