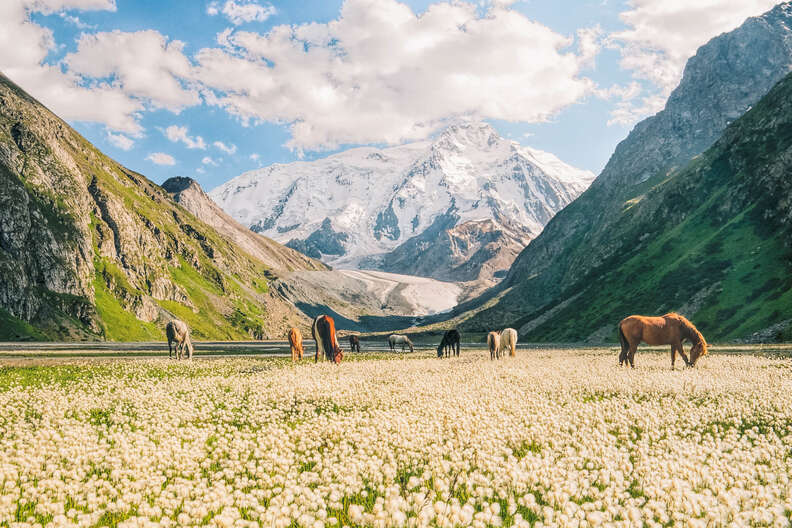 Kyrgyzstan has no shortage of horses or glorious mountain views

| Michal Knitl/Shutterstock
Kyrgyzstan has no shortage of horses or glorious mountain views

| Michal Knitl/Shutterstock
The Absurdly Beautiful Mountain Country You've Probably Never Heard Of
The most surreal vacation I ever took was to Kyrgyzstan. If you've never heard of Kyrgyzstan, don't feel bad -- I hadn't either until a friend, who had read about it on Reddit, texted me a few Googled photos of the place. I remember thinking, "That's what Kyrgyzstan looks like?" before promptly booking one of the most satisfying trips of my life.
If you're in Kyrgyzstan, you're probably on top of a mountain. A range called Tian Shan ("Heaven Lake" in Mandarin Chinese) covers about 80% of the country, and most of it is at least 1,000 meters above sea level. Its geological features vary from peak to peak, but the landscape is tied together by its exquisite, swoon-inducing beauty -- an extraterrestrial vastness that really clears the brain.
The serene, lake-spotted mountain hikes are why people come here, and they're still seared in my memories. It's so damn pastoral and pristine that my mind has now permanently coupled these two adjectives with this one country. It's sometimes referred to as "the Switzerland of Central Asia," but I personally think the comparison sterilizes the nomadic spirit of Kyrgyzstan.
If you're an adventurous traveler who's desperate for total immersion in crushingly beautiful landscapes, who delights in exploring destinations that aren't all over your Instagram feed, who's down to push outside your comfort zone and encounter a welcoming culture that's nothing like back home, you need to book this trip ASAP.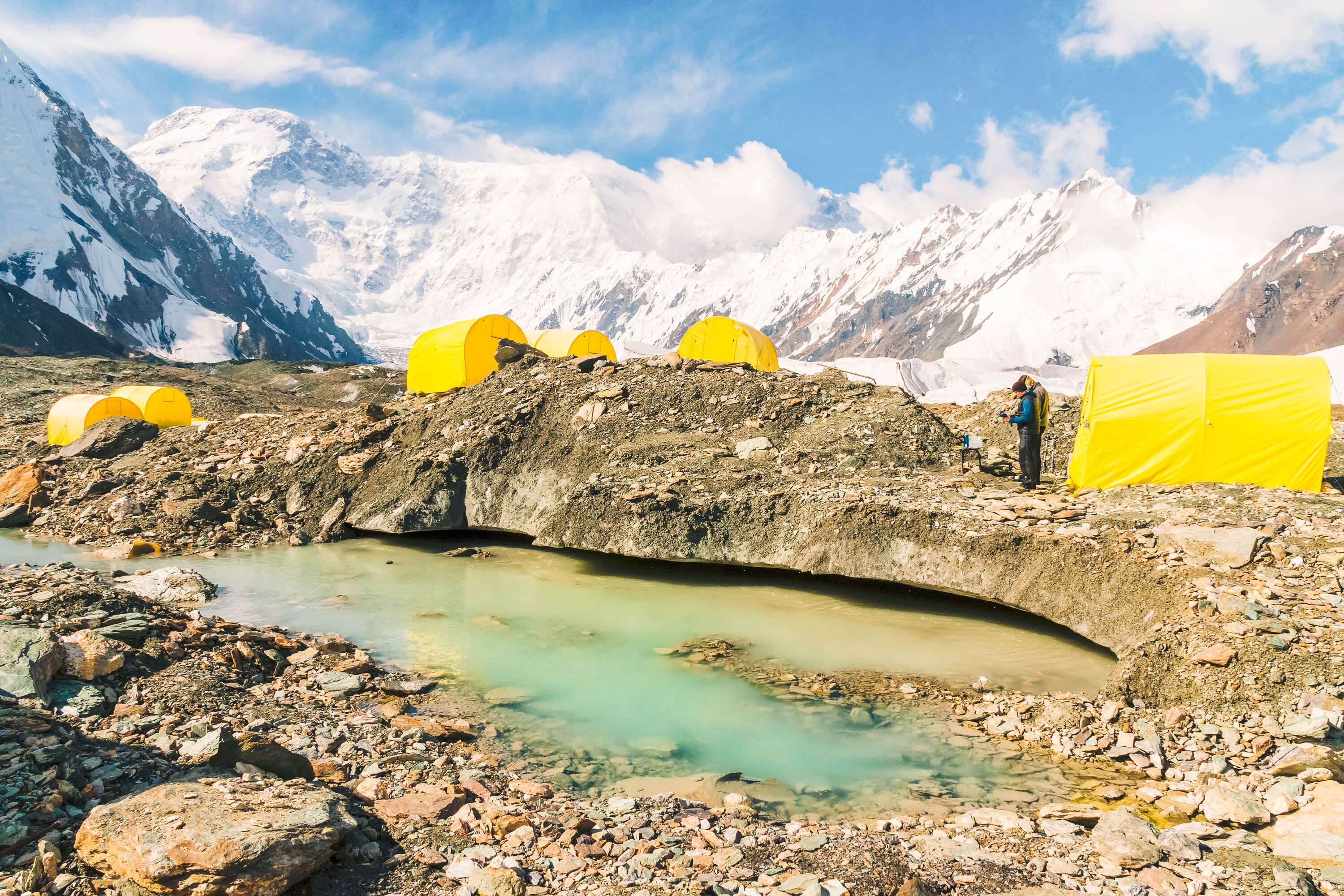 Kyrgyzstan is a place that rewards a challenge
Kyrgyzstan is sandwiched between Tajikistan, Uzbekistan, Kazakhstan, and China: countries and cultures I was super unfamiliar with. When I got to Manas International Airport, I was instantly pushed beyond my comfort zone by a lack of English-language signage. Outside, cab drivers offered rides in Russian and I groaned at my lack of linguistic preparation. Fortunately, my friend had arrived the day before and scheduled a cab for my arrival.
Kyrgyzstan was under Soviet rule until 1991; you'll still see signs of that era, like a hammer-and-sickle mosaic here and there and the occasional political monument. Many locals speak an equal mix of Kyrgyz and Russian, and maybe a few other Slavic languages. Definitely download a dictionary or learn a few essential words before visiting.
My nervousness quickly dissolved, though; in retrospect, I've learned there's huge reward in such curiosity leaps. This trip alone did more for widening my view of the world than all my European and South American excursions combined.
Traveling through Kyrgyzstan requires that you embrace (or at least tolerate) a "play it by ear" itinerary. Most of our trip was arranged through the country's various Community Based Tourism (CBT) centers, which serve as a one-stop-shop for visitors to get information and arrange transportation. Basically, you arrive in a city (like Bishkek, Osh, and Jalal-Abad), locate the CBT office, and with their help, arrange all travel and accommodations for the next day or week, right then and there. And so on and so forth when you get to the next city. Their personnel and recommendations were super reliable, so we never feared being stranded; we just couldn't do much in the way of pre-planning, due to their lacking web presence.
This trip alone did more for widening my view of the world than all my European and South American excursions combined.
Out in nature, too, there's just enough infrastructure and traces of trail so you can hike without feeling like you're the literal first person to ever head up the mountain -- but not much more than that. This might seem unsettling to some, but to me it lent the mountains their atmospheric, untouched quality. The peaks stand tall like unpolished crystals, and the rivers and sharp ridges often require a guide, or a horse, to safely navigate.
My travel companion and I learned this the hard way when we attempted our first trek to a place called Lake Kel-Suu, located near Naryn. We hired a driver to drop us off at the base of a mountain, where, with the help of Maps.Me (the unofficial map app that all travelers we ran into were using), we attempted a climb to an emerald alpine lake that sits miraculously undisturbed at the top of a mountain.
We started by crossing a deep, wide, and quiet valley. It was completely empty of people, but full of light, wild horses, and a river that was a pale blue color I've never before seen in water. It was unreal how pristine and romantic the whole place felt, especially so without any markers of human civilization.
This untroubled walk came to a halt when a miles-long river appeared perpendicular to our path. "The current is always stronger than it looks," an ambiguous voice of reason echoed in my ears. And so, we doubled back and re-attempted the trek on horseback, as the locals had originally suggested we do.
Once we reached the lake, though, it was worth it -- something I'd find myself saying over and over with regards to physically demanding excursions throughout the trip.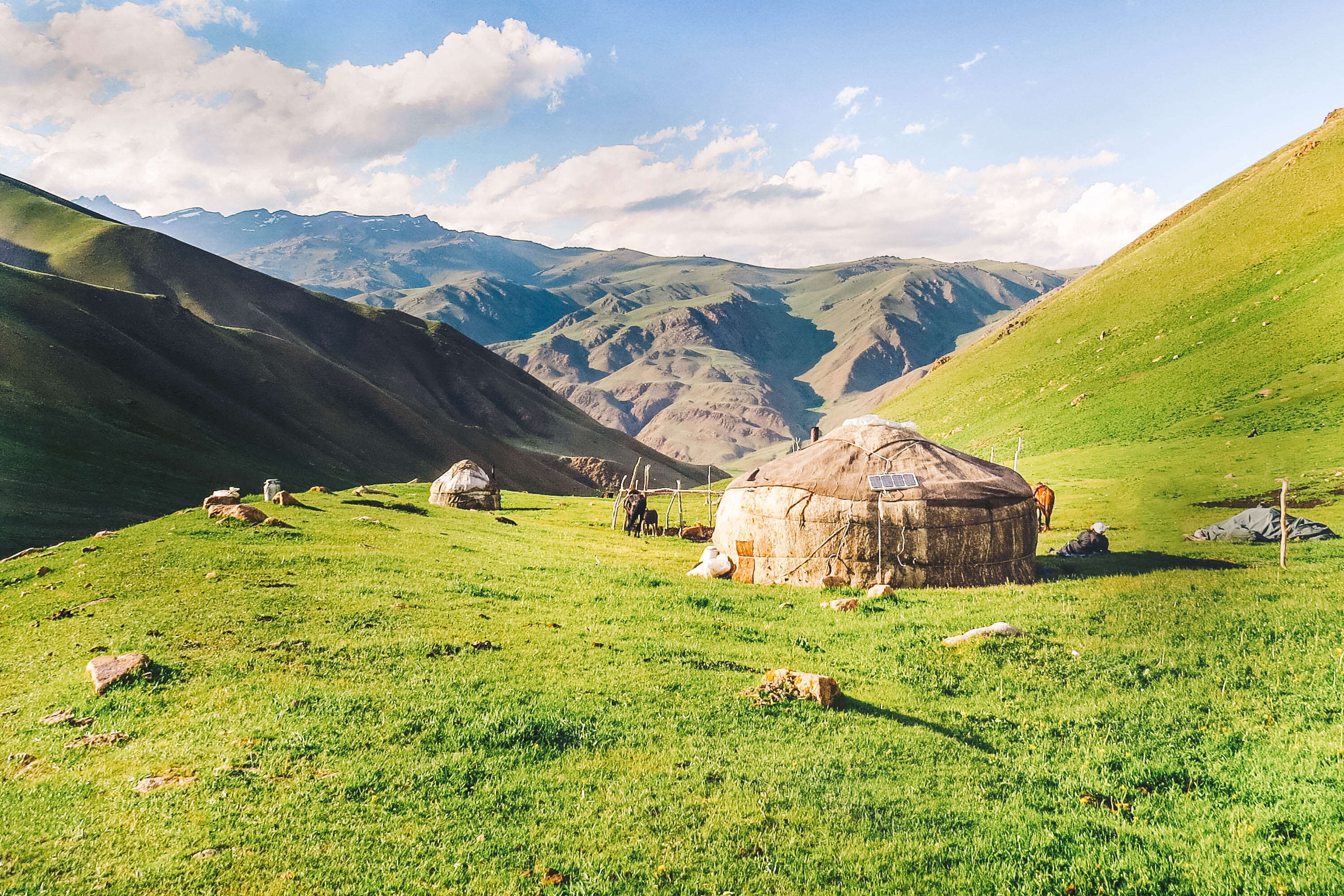 Get a taste of the nomadic life
The majority of Kyrgz live in rural areas, though the densest concentration is around the capital, Bishkek, as well as around the second largest city, Osh. And most embrace the nomadic life, a still pervasive lifestyle in the year 2020. So, when you see locals milk cows, or tending livestock, it's not just a show they put on for tourists, but an actual snapshot of everyday life. Another cool part of nomadic life: You'll probably see more wild eagles here than you will throughout your entire lifetime.
For a concentrated blast of nomadic traditions spiked with adrenaline, Kyrgyzstan is home of World Nomad Games, an international competition akin to the Olympics that got its start here in 2014. Sports like horse racing, belt wrestling, and Kok-boru -- in which horse riders fight for a goat carcass -- are unlike any athletic event you've ever been to. Compared to other international sporting events, this one is fairly new and not too crowded, so you can actually get pretty close to the action at all the games.
MORE:Dig deeper into the Nomad Games and Kyrgyzstan's adventure culture
You'll notice that horses aren't used for sporting events. They're very much part of the fabric of life here. They are essential to reaching the mountain yurts that you'll probably be staying in if you're here to hike. In Kyrgyzstan, the large, circular tents are lined with felt or skins and usually heated with dried cow dung-powered iron stoves. After a 12-mile hike up and down three dozen types of rocks, laying down in one of them feels like slipping on the world's softest fleece-lined leggings. They serve as a type of bed and breakfast, and often include two homemade meals a day.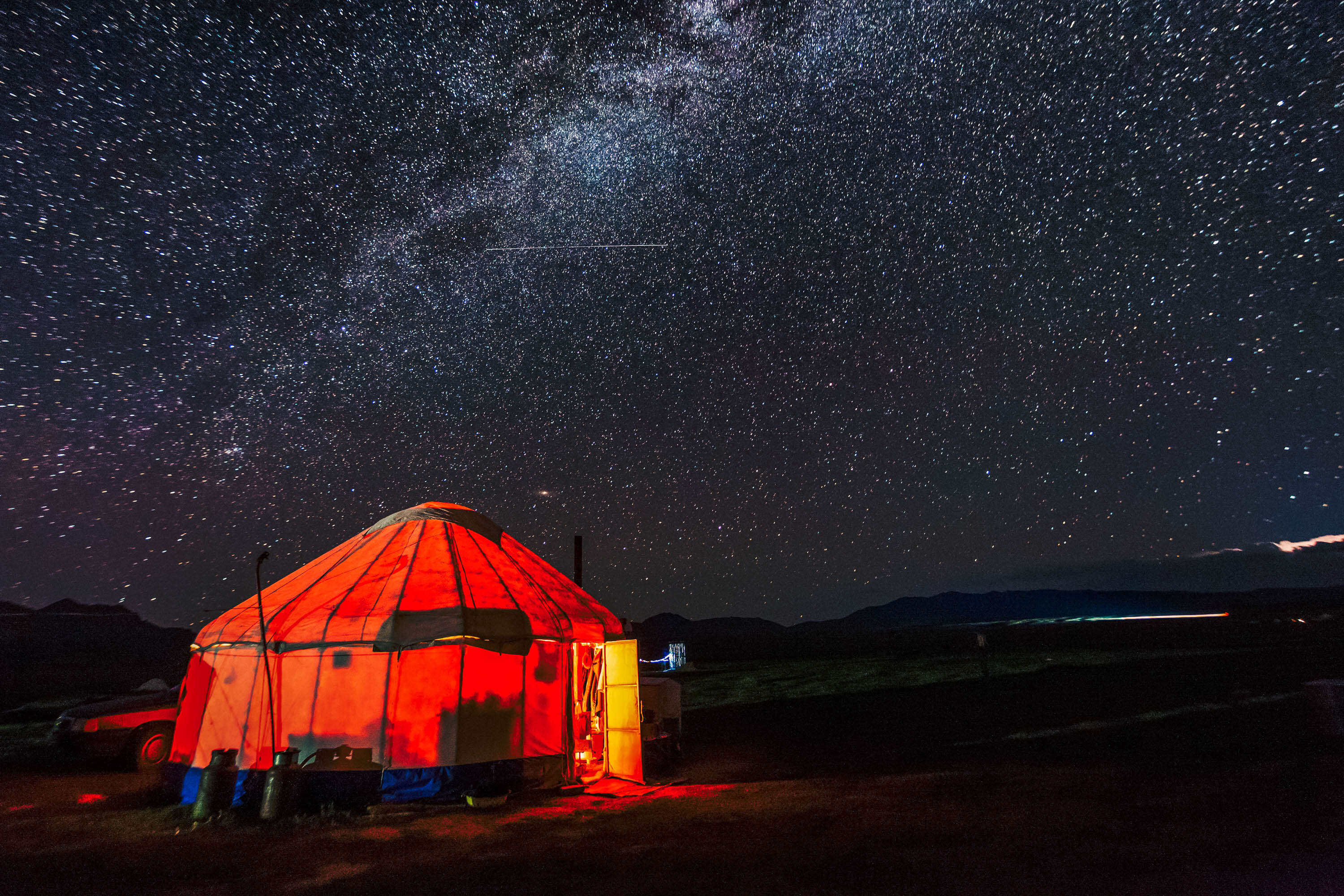 Speaking of food, I don't know how "land of milk and honey" entered my head, but my brain repeated it in loop while in Kyrgyzstan. It might have been the truly excessive amounts of home cooked bread, jams, and full pots (pots!) of freshly churned butter that we were fed in any locals-owned home or yurt. Or the tiny chocolates, fruits, and packaged sweets that our hosts showered us with at every stop. In any case, the Kyrgyz cuisine, full of variations on Laghman (pulled) noodles, gamey meats, and steamed dumplings, fueled our carb-starved muscles and made sure we came back home without a pound missing.
I like to think I'm a moderately well-traveled hiker. I've gone to Machu Picchu, done the Swiss Mountains, tried out the peaks of the Scottish Highlands, and have journeyed through Germany's Black Forest. And while all these destinations are stunning in their own right, they feel tiny -- in experience and intensity -- next to this Central Asian counterpart.
On day one of the Heights of Alay trek (a life-changing trek), I felt like I had been dropped in the center of a Middle Earth valley: The trek took me to the heights of a rocky mountain range that was rough and gravelly. But as clouds swam above me, blanketing my spiked path in shadows and light, I felt as if I were ascending a castle in the sky. Those kinds of feeling will follow you around Kyrgyzstan, whether you're clawing your way up a mountain or riding on horseback around a rolling valley. It's a country with limitless potential to catch you off guard in the most thrilling way possible.