Montreal was once described to me as a little piece of Europe in North America, which for a teenager obsessed with the movie Amélie and desperate to get the hell out of dodge, was all I needed to know. Certainly, Quebec's largest city has all the signifiers of Elsewhere, with the cobblestone streets, narrow alleys, and shop signs not written in English. But it was only once I'd visited a few times that I discovered Montreal has another side, separate from the tourist charms of the Old Town. This is a city of passionate people determined to find the perfect work-life balance, and kind enough to discuss it all with a nosey writer in a bar long after midnight.
Sure, Montreal is a glamorous city, but it's a practical one too. At 166 square miles, it looks a bit like a lobster on the map, with claws reaching out toward the major ports and a long skinny tail flapping north. Nearly two million people call it home. But don't get overwhelmed -- most of the interesting stuff is in the walkable city center, situated on an easily navigable grid. From the hottest restaurants and bars, to where the locals chill out -- here's everything you need to know when you go.
Recommended Video
Please Don't Hang Up: The Best BBQ & Barcade in Dog-Friendly Kansas City
Bonjour, hi!
Yes, Quebec is bilingual, and oui, it's required by law that French comes first on any menu or sign. Spiritually speaking, Saint Laurent Boulevard acts as a dividing line between the two camps, with English speakers to the west and French speakers to the east. However, as long as you're polite, people all over will happily bust out the English. If you do try to speak French, be advised that Montrealers often switch back and forth between languages even among themselves, so don't necessarily take it as a sign you've mixed up verb tenses again.
Learn how to pronounce the city name (in English and French)
Because Montreal is a bilingual city, there are two ways to pronounce its name. In English, it's Mun-tree-all, while Francophones call it Mon-real with a guttural "r" way back in your throat.
The best time to visit Montreal (weather edition)
Montreal has winters so cold that people take refuge for months at a time in the underground city (a network of tunnels beneath Downtown), and summers so hot you're in a near-constant sweat. For ultimate comfort, aim for a spring trip, when you can view the Montreal Echinacea (recently hybridized in honor of the city's 375th anniversary) or autumn, when the rewards include colorful leaves and fresh maple syrup.
Regardless of the season, you'll probably end up at a festival
The Quebecoise love a festival -- you'll be hard pressed to find a month in the Montreal social calendar without some kind of celebration. Like food? Hit up YUL Eat in early September. Mainstream music? Osheaga takes over Parc Jean Drapeau in early August. Indie Music? That would be Pop Montreal in mid-September. All-night art festivals? Come to Montreal en Lumiere in February.
Eat, drink, and dance in the Plateau neighborhood
This is where you'll find the bulk of the city's street art, notable coffee shops (Dispatch and Réplika), and vintage stores (Citizen Vintage and Annex are my faves). The brightly colored doors and terrifyingly steep stairways make this an Instagram hotspot too.
And then carry on in Mile End
Montreal has the second highest number of restaurants per capita in North America, so you'll find food pretty much everywhere -- but Mile End seems to have the highest concentration of trendy establishments. For a new take on old Quebec, plan a night out at open-plan Restaurant Manitoba, which offers up artfully plated twists on classic forest flavors.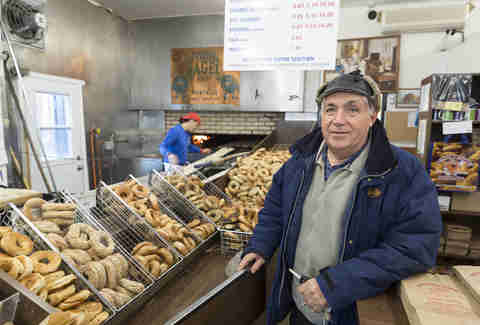 The bagel war is raging
Under no circumstances suggest that New York has better bagels. For residents of Mile End, it comes down to two bakeries -- Fairmount and St-Viateur Bagel. While devotees will passionately argue the perks of their chosen store, the fact is this: both institutions have been cranking out hot, delicious loops of bread 24 hours a day for nearly 100 years.
You don't have to go to La Banquise to stuff your face with poutine
You can't knock the iconic La Banquise (I mean, they're open 24/7), but there are other alternatives to get your fix of poutine -- a tourist favorite of potatoes, cheese, and gravy. Poutineville has several locations around the city (and customizable options), and then there's L'Gros Luxe in Mile End, a vegetarian's dream with multiple varieties and add-ons.  
But you DO have to go to the French food market
Even if you're a hardcore Francophile, you might not want to go all Julia and Jacques on your vacation. Still, take a walk through the produce-stuffed Jean Talon Market (open 7am-6pm every day). Grab a fresh-fruit sorbet at Havre aux Glaces, an authentic crepe at La Crêperie du Marché, and all the spices and tea you'll ever need at Épices de Cru.
Drinking culture is alive and well
During Prohibition, Montreal was a major bootlegging hub, thanks to the port's proximity to the US. That boozing spirit lives on today. The drinking age in Montreal is 18, so you'll see plenty of underage Americans making weekend trips (and bachelor parties. So many bachelor parties). This is a shot city, so expect to knock back a few, but there's a cocktail scene too -- order "The Montreal," a rose/orange mix of gin, whiskey, Aperol, and Suze liqueur.
You can even drink outside (sometimes)
Low ABV wine and beer can be bought in supermarkets, but for hard liquor you'll need to hit up the government-run store, SAQ (Société des alcools du Québec). Drinking in public is only allowed in parks, and only while consuming a meal. To get around this, many locals buy (and open) a bag of chips as proof that they're eating.
Make time for tea
Much is made about Montreal being French, but there's a huge Chinese influence too. Start in Chinatown and trace the tea shops up St. Laurent, stopping for a tasting at Camellia Sinensis along the way. If you've still got a thirst for knowledge about Montreal's Chinese history, take the dedicated tour with Tours de La Table.
The best places to stay in Montreal:
Hotels in Montreal average about $165 a night but vary by season, while apartments on Airbnb usually clock in under $100 dollars.
For romance stay by the Old Port. It's classic Montreal, and the place to go for strolls on the waterfront (with maple ice cream in hand) and moonlit rides on the Ferris wheel. Stay at the century-old Hotel Nelligan, and go for drinks at Coldroom -- a speakeasy-style cocktail bar with a 1920s vibe.
If you're on business, stick to Downtown/Place des Arts. It's not the liveliest area (except when the Jazz Fest comes to town in summer), but this is the best transit hub in the city. Check out the ultra-sleek, newly opened Hotel Monville for a high-tech stay, complete with a room service robot.
Public transport kinda rocks
There are four color-coded subway lines and multiple bus routes, which means that you'll never have to walk more than a few minutes to a station. One ride costs $3.25, but it might be savvy to grab a day pass for $10 or a week pass for $25.50 if you'll be traveling a lot. Just be sure to check the schedules -- the last train runs anytime between 12:30am and 1:30am, depending on which station you're at, and the day of the week.  
And it runs to the airport too
You can get to and from the airport without a pricey Uber (which can run up to $80 at peak times). You just need to pay for a day pass and then hop on the fittingly named 747 bus, which runs twice an hour in both directions. It hardly stops, and you'll be at the airport in roughly 40 minutes.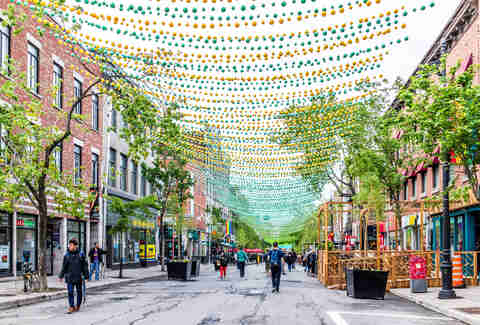 But walking and biking is encouraged
It's easy to walk around the central district, and if the hike from downtown to the Plateau is nothing if not a good workout. Bike lanes are abundant and drivers are generally very conscious of cyclists. You can hire a set of (two) wheels from Fitz & Follwell; also offer low-key tours that visit under-the-radar points of interest.  
The best place for passive sightseeing is the spa
But seriously though, why spend the day rushing around? From the hot tub at Bota Bota, a floating boat spa that's anchored in Montreal's Old Port, you can see a number of iconic city sights: the Farine Five Roses sign, the brutalist Habitat 67 building, and the biosphere from the 1967 World's Fair. And when you're done with your soak, good news -- Bota Bota also has a bar.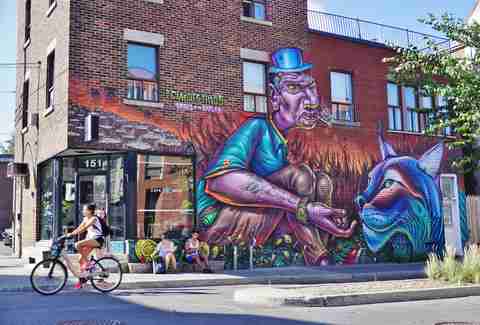 There's an ever-changing art scene
Montrealers love street art almost as much as they love their patron saint, Leonard Cohen -- so it's no surprise that there are not one but two murals dedicated to him. For the ultimate art experience, take a walk through the Plateau. Every year, the neighborhood hosts the Mural Festival, a week-long event in mid-July where artists around the world are invited to plaster blank walls with artwork that will remain for the rest of the year.
And a strong music heritage too
You've probably heard of Arcade Fire and Grimes. Great! Thanks to low rents and occasional government subsidies, Montreal is a natural incubator for musical talent -- and many people from around Canada move here to get their start. Load your soundtrack up with Blue Hawaii and Tess Roby (both reverb-heavy heartbreak pop), Cam MacLean (guitar pop/rock) Common Holly (folk), Jean-Michel Blais (piano instrumentals) and Guy Madonna (lo-fi pop/punk).  
There are live gigs everywhere
Around the Plateau and Mile End, it can seem like every venue is a music venue. For larger (and touring acts), check the schedules at the Fairmount Theater and Metropolis. But if you're hoping to catch newbies, go for basement shows at L'Escogriffe, or bar shows at O Patro Vys, and La Sala Rossa.
Just be sure to factor in taxes
If you happen to be earning American dollars, congrats -- the exchange rate is in your favor. However, keep in mind the tax on goods and services in Quebec is 9.975%, which makes the whole shopping thing a little bit less exciting.
Sign up here for our daily Thrillist email and subscribe here for our YouTube channel to get your fix of the best in food/drink/fun.