Experience Life as a Lighthouse Keeper 5 Miles Off the Washington Coast
The New Dungeness Lighthouse Keeper Program offers one of the most competitive stays in the country.
The thin strip of sand juts off the coast of Washington, five miles of sediment curving narrowly around the blue waters of Dungeness Bay. On its lonely tip stands New Dungeness Lighthouse. The 166-year-old lighthouse has helped countless ships navigate the Strait of Juan de Fuca, along the northern border of Washington's Olympic Peninsula, since 1857. You can visit the lighthouse from land, but you must be willing to hike. The journey involves a walk through Dungeness National Wildlife Refuge, then three hours out into the ocean along that long and narrow stretch of sand known as Dungeness Spit—and that doesn't include the return trip.
There's a way to skip the hike and catch a ride instead, but you'll still have to work for it. While the lighthouse's light was automated in 1976, its daily chores are handled by paying guests who book one-week stays in the keeper's quarters. These stays are popular, and you'll likely need to plan a year or two ahead to score a reservation, but the reward is considerable: a ride to the lighthouse and a week of sublime views.
The New Dungeness Light Station Association—a group of volunteers that keeps the whole thing running—is overseen by its sole official employee, General Manager Chad Kaiser. He lists the coming year's availability each December, and takes booking requests by email during a single minute in January. The year typically fills from the first flood of applicants, making it one of the hardest reservations to snag in the country, but cancellations do occur—and I can personally attest that this is how you can secure a last-minute booking (because that's what happened to me).
The majority of wannabe lighthouse keepers reserve the entire house, which allows up to eight guests across four bedrooms, but it's possible to take just a room or two and split the week's duties with unknown housemates, as I did. The journey begins with some planning (essentials like cleaning supplies and bathroom products are well stocked, but food is up to guests), then vehicle transport to the lighthouse with all the agreed-upon provisions. Vehicles only make the trip once a week when keepers come and go, at times dictated by tidal conditions. Transfer times vary widely and there's no negotiating with nature—as the proverb goes, time and tide wait for no man. Our late September arrival was at 11:30 pm, but winter sometimes sees transfers at 2:00 or 3:00 in the morning.
We made the drive in the dark and arrived late. As the outgoing keepers loaded their bags into the vehicle, our transfer driver delivered an oh-so-brief tour of the grounds, pointing out major equipment like the lawn mower (our new job), the irrigation system (also our new job), and a handful of other basics. It wasn't until I saw the property in daylight that I was able to fully take it in: the tall lighthouse surrounded by a shock of green grass amidst an epic expanse of sand and shrub. The lawn is easily explained—the product of a freshwater well that serves both the house and the grass—but still somewhat surreal.
The transfer driver's quick grounds tour was among the only guidance we received. If you want a house tour, you'll have to snag an outgoing keeper before they depart to ask for a walkthrough, though you won't really need it. And then of course there's the digital keeper's guide, which is distributed to all upcoming guests. This includes a list of duties, information about safety essentials, and a full house inventory (this part is long—there's even a juicer and a bread maker), but the rest can seem overly general if you're someone who likes to know exactly what you're in for.
"I let people struggle a little bit because I want them to be self-sufficient," explains Kaiser.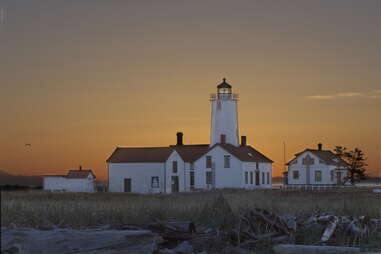 During your stay, you'll have cell access to Kaiser for emergencies, but not much else.
"If you're looking for something like a spoon or a lightbulb, you can call me, but don't," he advises with a smirk. "It's there, and you'll find it on your own if you keep looking." How does he know? He calls toward the end of the week to ask about house inventory, things that have broken, and anything else he needs to be aware of so drivers can come equipped during the next transfer.
The current keeper's house, built in 1904, is painted the same white and green as the lighthouse itself, and the best bedroom is the second-floor Tower room, painted light blue with large windows peering directly at the lighthouse. I occupied the first-floor Blake bedroom, named for the lighthouse's first keeper, Henry Blake. This meant I didn't have to share a bathroom with anyone (amazing) and it's also where the National Oceanic and Atmospheric Administration (NOAA) weather radio lives, so I held the responsibility of being the first to know of any emergencies.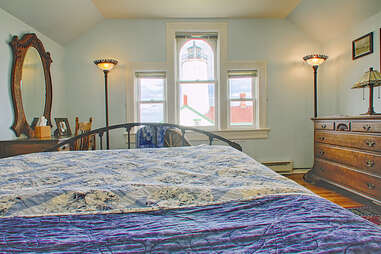 The house's true treasure is the yellow library nook on the second floor, complete with a charming dormer window and rocking chair—and stocked not just with traditional books, but also the daily logs from previous keepers. These were my greatest entertainment during my stay. Some keepers merely jotted down snoozy one-liners about the weather, while others provided pages and pages of personal anecdotes and quirky observations. Pouring through these in the evening with a glass of wine was something I looked forward to daily. The library also doubles well as a quiet office for remote work.
As for our duties, someone had to be up by 8:00 am to raise the flag each morning, and the rest of us were up and at 'em by 9:00 am, when the site opened to public tours. Guiding these tours is one of the most important—and by far most fun—of the chores associated with the program. You might suppose living so far out at sea with no road access would bring a monastic existence devoid of outside visitors, but you'd be wrong. The lighthouse welcomes around 10,000 intrepid wanderers annually, and 167 showed up during my stay. Being surrounded by nothing but nature is certainly calming and offers a tremendous personal recharge, but it's anything but truly isolated at the lighthouse.
The keeper's quarters stay private, but guests are welcomed to climb the full 74 steps of the tower, peruse the museum within, and visit the public restroom onsite (guess whose job it is to clean this).
Aside from working with guests, my group was also expected to monitor the sprinklers, mow the lawn once a week, and make sure signs and walkways stayed clean and tidy. We also had to keep the house in good shape, and eventually prepare it for the next group of keepers.
In the evenings, we lowered the flag and gave the museum and public spaces a light clean. Once the site closes to the public, keepers are still permitted to climb the tower and catch at least one golden sunset from the top, which is a heady experience to be sure.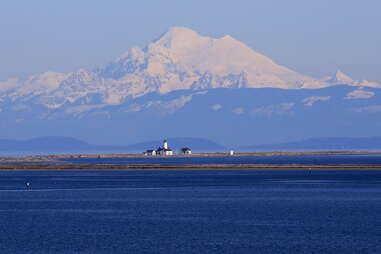 During my considerable downtime, I found myself lingering over serene sips of coffee by the sea, walking along the omnipresent shore, playing games with housemates, and toasting over leisurely dinners. If you want to write, read, or snooze, you'll find time to do that, too. More involved chores are available on a volunteer basis, so any given day can be almost as busy or as idle as you wish.
A week might not seem like a particularly long stay, but it's long enough to form a bond with the property, which will have been in the daily rhythms of your care for several sunrises and sunsets before your departure. By the time you're headed home, you find yourself part of an unexpected community—that lineage of lighthouse keepers, whose logs fill the library shelves, describing the time they spent here, too.