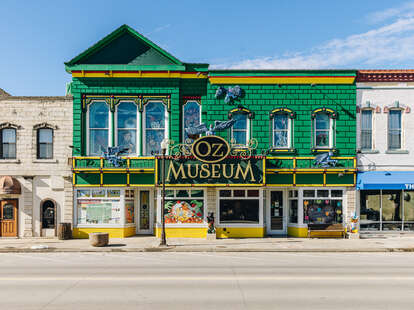 You think you know what's inside, but you have no idea.

| Photo by Cole Saladino for Thrillist
You think you know what's inside, but you have no idea.

| Photo by Cole Saladino for Thrillist
The Oz Museum Is Your One-Stop Shop for Movie Memorabilia
There's no place like Wamego, Kansas.
The façade of the building in downtown Wamego is a rich green, trimmed in a yellow that pops. Large picture windows give a glimpse of what's inside: a cartoon lion peeking out from one; Tin Man cheesing in another. But if that's enough to give it away, just take a gander at the sign in big gold letters, hanging like an oversized belt buckle: Oz Museum. Crawling around it are four life-sized flying monkey sculptures, gray and menacing, by Kansas artist Daniel E. Ney.
But that's not all: Behind you, on the other side of Lincoln Avenue, there's a yellow brick road—an actual yellow brick road, with its own matching gold sign (it says… "Yellow Brick Road"). The walls lining the walkway are painted with murals from The Wonderful Wizard of Oz, the L. Frank Baum book that became the movie: "True courage is facing danger when you are afraid," it says under an illustration of a sobbing cowardly lion, and "Toto did not really care he was in Kansas or the Land of Oz so long as Dorothy was with him," under a Good Witch tableau.
Just like in the book and movie, Toto the dog is ubiquitous in Wamego. You'll find a green 2-feet-tall statue of Dorothy's furry friend at the entrance to the yellow brick road, painted by artist Joyce Abernathy. That's Emerald City Toto. There are over 15 more #TotosAroundTown, by Kansas artists: there's a bookish one with glasses, a sporty one with a baseball jacket, one that appears to have a shoe fetish—everywhere from the train depot to railroad park and public library, and, yup, outside of the Oz Museum. Download a map or pick one up from the visitors bureau, and find them all.
The pops of emerald and yellow foreshadow what's to come. Standing on the street outside the museum, you're still in Kansas, in a throwback westward expansion town. The buildings date back to the mid-1800s, the color scheme less vintage sepia-toned, and more just neutral.
But on the other side of the museum door, it's Technicolor.
First thing's first: Why is Wamego so into The Wizard of Oz? They'd reply, "Why not?" Technically, anywhere in Kansas can lay claim to the tale: the book (and movie) just specify the state. And for sure, others do: In Sedan they have their own Yellow Brick Road—the world's longest, with its own Yellow Brick Road festival. In Liberal, Kansas you can visit an old farmhouse turned into Dorothy's House, plus a Land of Oz exhibit complete with animated displays and tour guides in Dorothy Gale cosplay.
Wamego's devotion to Oz happened almost by accident, thanks to the restoration of the historic 1893 Columbian theater, first built for vaudeville performances and to house art pieces from the 1893 Columbian Exposition and World's Fair (incidentally the same World's Fair whose White City inspired L. Frank Baum to create Oz's Emerald City). In deciding what they could display, Wamego native and Hallmark artist Todd Mancin's collection of Oz memorabilia came to mind. It had previously been on display at the Crown Center in Kansas City. "For one reason or another he collected a very impressive Wizard of Oz collection," says Clint Stueve, Executive Director of The Columbian Theater and Oz Museum. "And so when we opened the Columbian Theater we asked if he would be willing to display it here in his hometown."
The exhibit attracted 12,000 visitors that summer, crowding the town of just 4,000. Says Stueve, "It really inspired people to think of a bigger location, something more permanent that could really help develop the downtown area."
The Oz Museum opened in 2003. After five years on loan, Mancin's collection had to be returned, but in a stroke of luck, a Franciscan monk named Johnpaul Cafiero inquired about displaying his family collection, as he had no room for it at the monastery. "His grandmother had acquired a first edition book when she was young, and that was part of their family story," says Stueve. "As each of them contributed to the collection and it became this large trove of Oz artifacts, and unique pieces of history." They had hit the jackpot.
Today the museum has more than 2,000 rotating pieces on display, some Cafiero's, others donated. They've also begun acquiring their own for a permanent collection. They focused on items from the 1939 movie: notable pieces include Munchkin jackets, Glinda the Good Witch's broach, a Winkie Guard Spear, and the vaudeville costume of Olga C. Nardone, thought to be one of the smallest Munchkins. "We also have some accounting documents from MGM's books from the '39 film, which may not be exciting for everybody, but I was really excited about," says Stueve. There's also a flying monkey prop, one of which is also in Cafiero's collection. "I believe there's only four in existence, so now two of them are in the museum."
The rest of the artifacts run the gamut, from influences to offshoots like The Wiz and Wicked. In the gift shop, before you even enter the museum, you're greeted by a gigantic 8-foot-tall tin man—with a heart. "It was originally developed by the MGM Grand Casino as they were working with Roger Baum, a descendent of Frank Baum and also a children's author in his own right," says Stueve. "He did book signings at the MGM Grand, so when he was done, they gifted it to him." The gigantic (and kind of sinister!) Tin Man is also signed. Under Baum's signature it says: "Toto Too."
Inside, walk along (another) yellow brick road and pass by mannequins of all the characters in tableaus, a visitor favorite. There's a screening room with the movie on loop, collectible Barbie dolls of the characters, and a Swarovski 50th anniversary edition of the ruby slippers and random items like the passport of Ray Bolger, who played the scarecrow in the 1939 movie.
The museum collaborated with historians for an astounding level of detail and accuracy. A display on author L. Frank Baum includes information about his mother-in-law, feminist Mathilda Joslyn Gage, an example of the women in his life that made their way into the book's plot (there are no strong father figures in Oz but plenty of strong women—including villains).
If you're into the technical side of things, you'll find a fascinating display on how the special effects were achieved in the movie. The tornado, for example, was 35 feet tall and made of muslin connected to the top and bottom of a stage. The images in the crystal ball were front-projected, and the 'Surrender Dorothy' skywriting was created in a tank of liquid using black ink. The spinning farmhouse was actually a 3-foot-tall model (okay, sure, you can kinda tell with that one).
There's also behind-the-scenes Hollywood gossip, things like Shirley Temple was actually the first choice for Dorothy in the film, Frank Morgan (who played five characters) brought a miniature bar in a suitcase to work every day, and Toto was actually a female cairn terrier named Terry, who later changed her name to Toto. And though Terry/Toto got paid the least of all the main characters, it was still more than the Munchkins.
After the Oz museum was established, Wamego took the concept and ran. The town is a fully immersive Oz experience at this point: Besides the museum, the yellow brick road, and those #TotosAroundTown, there's Toto's TacOz! ("The Best Cal-Mex on the Yellow Brick Road"), an Emerald Door salon, and the Oz Winery with its free samples of (pretty good!) wines with names like Squished Witch, Flying Monkey, Run Toto Run, and yes, okay, Yellow Brick Road.
In the fall, the town throws OztoberFEST, with a costume contest, Toto look-alike contest, barbecue challenge, Classic Car Show, and more. This year, it's October 1. And in past years there's been a Wicked-themed marathon. "My wife ran in the very first Wicked marathon," says Stueve. "She sprayed her shoes with adhesive and put red glitter all over them. After 26 miles there wasn't a lot of glitter left."
But no Wizard of Oz immersion would be complete without experiencing the tornado that catapulted Dorothy from Kansas into Technicolor.
Yup, Wamego has a custom green tornado machine, found in the Oz Museum gift shop. For just $2 you, too, can feel the force of 78.9 mph winds. But before you step in and get whisked away, remember the magic phrase. You know the one.
Vanita Salisbury is Thrillist's Senior Travel Writer. She will admit that she was too scared to try the tornado machine.