Inside the great "Trembling Giant," millions of leaves quiver at the slightest breeze, rustling in unison. The soundscape is unlike anything else: These woods don't just have an energy. They hum. The closest comparison is a steady rain, the kind that giddily drowns out all the reasons you needed to get away in the first place.
And herein is the magic of Pando—an all-encompassing, soul-soothing sense of interconnectedness that may only be found in this massive, single-tree forest in southern Utah.
Pando's on the list of Earth's most impressive and beautiful botanical wonders. And each autumn, its golden canopy and stark white stems glitter against crisp blue skies. The result is a kaleidoscope of color that has lured in-the-know visitors to the Beehive State for decades for a chance to camp in and around one of the largest living organisms on the planet.
How this ancient "Trembling Giant" came to be
According to Friends of Pando, somewhere between 9,000 and 12,000 years ago a single seed germinated in Utah's Fishlake National Forest and birthed the unimaginable: the world's largest, heaviest, and now oldest known organism.
Pando is a quaking aspen colony. As far as colonies go, aspens are pretty common—there are tons stretching from Alaska to Mexico. But what makes Pando so special is its immense underground root system that spans an astounding 106 acres. That's a lot of land for a single tree. And if that wow factor isn't impressive enough, Pando weighs over 13 million pounds (even more when wet), making it the heaviest lifeform ever known.
Here's a painless Plant 101 version of how Pando got so dang big: Aspens regenerate themselves by cloning and suckering. In other words, they're constantly spawning genetically identical stems and pushing them up some 80 feet above the soil. Because Pando has been doing this since at least the last Ice Age, it has more than 47,000 stems, and each one helps to feed the entire entity.
This kind of growth makes aspen groves especially resilient to natural disasters like forest fires, because their main life force is protected underground. And keeping Pando alive is a big deal for its devotees, as this particular patch of land doesn't have formal protections like other forests. From its vigorous roots to its heart-shaped leaves, Pando has long been a metaphor for eternity, harmony, and endurance.
Pando translates to "I spread" in Latin, but not just because it creates tons of aspen babies. Each Pando branch carries the vibrations of rustling leaves rumbling deep into its root system. Sort of like a symbolic whisper reminding us humans that strength starts from within, it's a place where both the community and individuals flourish by coming together.
How to get to Pando
Salt Lake City is your best starting point, whether you're flying or driving in. Renting a car at SLC Airport is super straightforward, and Fishlake Forest, Pando's homeland, is just three hours south of Utah's capital.
Plug "Pando Aspen Tree" into the GPS and you're off on a mostly straight shot until you reach a handful of turn-offs toward the end of your journey. Pando straddles State Route 25, the scenic byway that borders the popular Fish Lake (Utah's largest), and there are a few spots along the highway where you can park and roam around the grove. (Pando is denser on the west side but more accessible by car on the east, so take your pick.)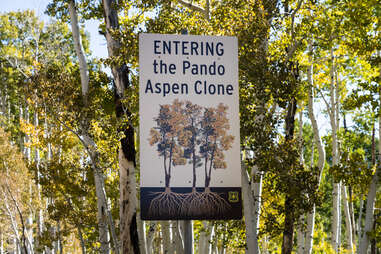 Soon you'll see an official sign for Pando, and shortly afterward, a dirt road marked FR 1483 will pop up on the right. Here you'll find a once-in-a-lifetime chance to cruise through a mega-organism. Later, you can follow this path all the way to the water.
And if you're after more sweeping views, veer off UT-25 at FR-046, a.k.a. Mytoge Mountain Road. It's dotted with stunning lookout points brilliantly showcasing Pando's warmest hues.
Experience fall foliage within a mega-organism
Pando is more than worth visiting any time of year, but as summer turns to fall, a prismatic yellow aura surrounds the forest. And because Pando is a single being, the leaves light up in sync, enhancing that feeling of Earthly unity with an ambient glow. It's no wonder so many artists flock here for inspiration.
Fishlake National Forest sits at an elevation of over 8,800 feet, so color change occurs early in the season. Peak leaf-popping has slight variations, but optimal tree-gazing generally hits mid-September through the first week of October. And Pando looks especially brilliant late in the day, when the sunset reflects off the lake in shades of shimmering gold.
Camp and hike in and around Pando
Though a bit off-the-beaten-path, the area around Pando is, in fact, developed, as well as outfitted with plenty of options for camping and hiking. There are a handful of state run campgrounds on the western bank of Fish Lake, but only Doctor Creek offers an up-close-and-personal Pando encounter. Here you can pitch your tent directly on top of Pando's roots for a truly grounding autumnal experience. If a rustic lodge is more your speed, Fish Lake Resorts is stocked with homey group cabins and an outdoorsy vibe.
Lakeshore National Recreation Trail circles Fish Lake and the trailhead is perched just west of Doctor Creek Campground. You can thru-hike all 20 miles of the Lakeshore Loop, traversing some high-altitude peaks for prime autumnal scenery, or take your time and conquer it in sections. Sections three and four are the most challenging, but bring the biggest reward. There are long switchbacks as you climb Mytoge Mountain, giving way to a rocky outcrop with awesome Pando-ramic vistas.