Mexico's Gorgeous, Gritty Beach Town You Should Party in ASAP
Puerto Vallarta will hit you right in the gut.
I mean that both good and bad. It's a city that captivated me the first time I visited nearly five years ago. Of all the cities I've been to in Mexico (and I've been to a lot, having lived in the country and visited more than 60 times), it is the one that has burrowed deepest into my heart.
Let's real talk for a second, though: Puerto Vallarta is kind of a shit show. It's a little rough around the edges, and a little chaotic. But in all honesty, that's what I love most about it. There is a high concentration of tourists -- the population is around 250,000, but the city sees 2 million tourists every year. The infrastructure is working hard to keep up, but it's not quite there yet. That said, tourists, locals, and expats all hang together in a way that is far more genuine than anywhere else I've been in Mexico.
This is paradise for night crawlers -- the dance parties get going as early as 8pm, and quit as late (or early) as 5am. Yet PV also rewards with its breathtaking, scruffy beauty: Terracotta roofs top white-washed buildings, which scatter up from the bay into the misty, mountain jungle around the city. It's a beautiful contrast of clay, white, green, and blue, mixed with the explosive purple jacaranda blossoms that arch over the cobblestone streets.
No, it does not have the most beautiful beaches in Mexico -- or at least, not right in front of you. You have to know where to find them, but they definitely exist. And when you do find them, you typically have them all to yourself. You'll only see that side of Puerto Vallarta if you're doing it right -- here's how.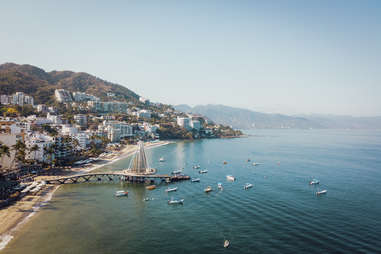 The best time to visit Puerto Vallarta, other than literally any time
Puerto Vallarta is in a geographical sweet spot -- it's on the Bay of Banderas (the second largest bay in the world), sheltered by the Sierra Madre Occidental mountain range, protected from the threat of hurricanes. It's in the north of the country, so temperatures stay mild a majority of the year, but visit between January and April for the very best weather. You can visit in the summer (when everything is a fraction of the price), but prepare for the sky to open up Shawshank Redemption-style multiple times a day.
New Year's Eve is a massive party, so avoid it if you want to stay low-key. Same with Easter and Semana Santa (Holy Week, which begins Palm Sunday). The city will be gridlocked, first by Mexicans on vacation, and then by sloppy, loud gringos on Spring Break. Unless of course you are a sloppy, loud gringo, in which case knock yourself out.
Which neighborhoods to hit (and which to avoid)
Coming from the airport into downtown, you'll pass the ritzy Marina, where the cruise ships and yachts dock. The slips are surrounded by high-end condos, touristy restaurants, overpriced shopping, and tour operators. Keep moving.
You'll then pass the Hotel Zone, which is a strip of all-inclusive resorts along the northern beaches of PV. This area also has a few new-ish shopping malls and a Food Park. Keeeep moving.
And then you'll hit Cinco de Diciembre. This neighborhood is a solid blend of locals and expats, extending from the beach up the hillsides. It'll be your first encounter with PV's red-tiled roofs, cobblestone streets, and purple jacaranda trees.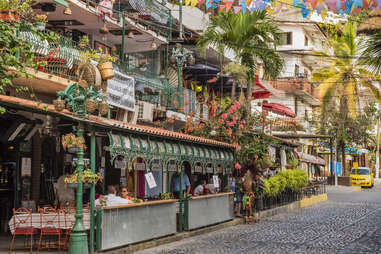 Next you come to Centro. This is where the Malecon (boardwalk) begins, and it's a must-see lined with yummy restaurants, street performers, shopping, and nightlife. It's also a front-row seat for Puerto Vallarta's spectacular sunsets, which are followed by a regular fireworks show around 9:15 - 9:30pm, every single night. Keep in mind, on weekends and holidays the Malecon is a bit of a hot mess thanks to the party bars (one of which celebrates Mardi Gras on a weekly basis for no apparent reason).
South of the Río Cuale is the Zona Romántica, PV's LGBT district. It's also the oldest and best-preserved section of the city with beautiful historic streets and buildings. Nightlife here is pulsating, with the highest concentration of bars and restaurants beloved by tourists and the city's substantial gay population.
The best things to do in Puerto Vallarta
Hit up a beach club. There's the super fancy (like, infinity-pool-on-the-beach fancy) Mantamar Beach Club, which is technically an LGBT club, but I'm none of those letters and I fit in just fine. You'll pay top-dollar for this adults-only experience (around $80 per person for the day), but you'll get swanky cabanas, excellent food, impeccable service, and a private section of sand un-pestered by beach vendors hawking luchador masks and pipes. For something a little cheaper and more central, a day of lazing and lunching at Mango's Beach Club will cost you around $30.
Of course, you absolutely do not have to pay to enjoy the beach in Puerto Vallarta. If you're staying downtown, you can lay out on public spots like Playa Los Camarones and Playa Los Muertos.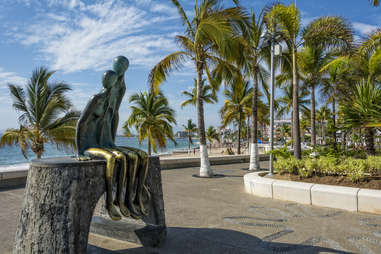 After you've thoroughly baked yourself in the sun, take some time to experience Puerto Vallarta's art scene. The entire Malecon is lined with a rotating showcase of art and impressive sculptures, and there are several small galleries owned by local artists in the city center. Every Wednesday at 6 pm an art walk will take you through some of the coolest galleries and public works.
Foodies can also join Vallarta Food Tours, a solid excuse to go nuts eating all the street food you can handle in some of the city's more local spots. Or there's Vallarta Adventures, which offers guided outdoorsy trips whale watching, zip-lining, or exploring the area's smaller mountain towns.
Some of the area's best beaches are just outside of town
South of town you'll find spectacular beachfront on Playa Mismaloya, Playa Gemelas, and Playa Las Animas. Accessible only by boat, Las Animas is home to a frenetic stretch of beach bars and restaurants. It's a great place to spend the day happily flitting between the sand and a frozen margarita. You can hire a water taxi to take you there, via one of the many boat operators at Los Muertos Pier in the Zona Romántica. Or, DIY -- take the orange line bus from Zona Romántica to Boca de Tomatlan, which will run you about 8 pesos (40 cents) for the 20-minute ride. From there, a water taxi to Playa Las Animas is around 50 pesos ($2.50).
If you're feeling adventurous or just want to skip the boat, there's a secret hike from Boca de Tomatlan to Las Animas, which passes by several private coves and beaches along the way. It takes an hour and a half, and you'll hardly see a soul along the route.
If you want something even more remote, consider going farther south to Yelapa, a quiet beach community with far fewer beach bars than Las Animas and waterfall hikes nearby.
To the north of Puerto Vallarta is the state of Nayarit. Here you'll find bohemian beach towns like Bucerias, La Cruz de Huanacaxtle, Sayulita and San Pancho, with a growing stock of boutique hotels, yoga retreats, and galleries. The crowd swings a little more Lululemon these days, but they are still semi-quiet communities with authentic Mexican culture.
Everywhere you should be eating and drinking
PV has such a large international community that you'll find lots of other cuisines that are just as good as the local food. But let's start with Mexican, because that's what you'll want first. Street food is on almost every corner. Wander around Cinco de Diciembre or the Zona Romántica and you're sure to find a food truck selling everything from tortas and tacos, to shrimp burgers and quesadillas the size of your head. My personal favorites: El Carboncito and Tacos El Moreno.
If you'd rather a sit-down meal, you can line up with the rest of the world at Pancho's Takos. Yes, the quesadillas al pastor are absolutely worth the wait… but you will be waiting a long, long time, especially late-night when the bars start to close. For killer home-cooked Mexican and a mind-blowing breakfast go to La Chula. The best fish tacos in this seafood-centric coastal city are at Joe Jack's.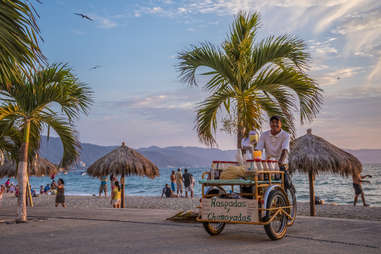 Head to Los Muertos Brewing Company to suck down a frosty pils and snack on their homemade pizzas. If ou want something a little less sports bar, a little more trattoria, visit Florios, which has delicious brick-oven pizzas, homemade pastas, and a delicious wine list.
If it's date night, 116 Pulpito is a hole-in-the-wall-sized tapas restaurant, with a friendly staff and excellent cocktails. Or splurge at Tre Piatti, which has fantastic homemade Italian cuisine and Ulises -- one of the best cocktail-makers in Puerto Vallarta.
When the sun goes down…
… Puerto Vallarta heats up. The craft brewery trend has trickled down here -- we already mentioned Los Muertos Brewing, which has two locations. If you're in the mood for something mellow, stick to Centro and hit up Bar Morelos, which draws a local, laid-back crowd. In Cinco de Diciembre, you get late-night DJs at the famous El Solar, which is an offshoot of the neighboring Barracuda Bar; both serve amazing seafood and are right on the sand. Unless you're 18 and making bad life choices, avoid Senor Frog's, as well as Zoo Bar, Mandala, and La Vaquita (there's a swing there -- enough said).
For all-night parties, you'll want Mr. Flamingo, an open-air spot popular with the LGBT community but also completely non-discriminatory. At 7pm it's a chill, sunset happy-hour bar, but it flips into full-on party mode by 7:30, spills out into the streets, and doesn't lose momentum until around 3am. Afterwards, head next door to Paco's Ranch, which is as ridiculous and raunchy as it sounds. You've been warned.
Puerto Vallarta is a 24-hour city if you know where to look -- even in the downtime between 5am and 9am, you can always find a spot along the Malecon for breakfast.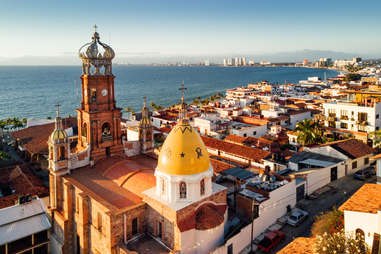 Where to stay when you're all danced out
Come 5am you're going to need somewhere to sleep. Airbnb is alive and well in Puerto Vallarta, so find an apartment if you want to kick it like a local. If you aren't renting a car, you'll want to stick to the Zona Romántica, Centro, or Cinco de Diciembre, just to avoid taxi fees.
Or you can go boutique and stay at the family-owned Hotel Petit Mercedes in the Zona Romántica. It's one block from the beach and has a courtyard swimming pool and beautiful sunset views from the terrace. Another boutique option is Rivera del Rio, which is almost camouflaged among the houses near the Río Cuale. The motif here is oddball elegance, with a lobby on an open balcony overlooking the street. Inside, it's got an air of M.C. Escher, with narrow staircases, secret rooms, and eight unique suites. The best part of the hotel is the pool deck, with a Roman-style hot tub that overlooks the entire Zona Romántica.
If you're more into traditional all-inclusives, you can certainly take your pick in the Hotel Zone. My favorite is Villa Premiere, a small resort that is both on the beach and walking distance to downtown. Two other solid but more expensive options are Grand Fiesta Americana and Hotel Mousai, each about 10 minutes in a taxi from downtown.
Meagan is a travel writer living and breathing in NYC. But if you give her a plane ticket today, she will be somewhere else tomorrow. She like tacos, music and making lists. But travel is her life.