Relive Summer Camp at This Restorative Maine Retreat
Pines, pancakes, and musical theater productions await at Quisisana Resort.
A long winding road weaves its way into the pines. It's a Saturday in July and for two hours my kids have been asking about water skiing, about last year's performance of Shrek, and about giant pancakes and crisp morning waffles to come. We're en route to Quisisana Resort in Central Lovell, Maine for the second year in a row, one blissful week in a Wi-Fi-free cabin in the woods.
Open since 1947, Quisisana is an all-inclusive, seven-day retreat in Maine's Lakes Region. Owned by Sam and Nathalie Orans, the 40-cottage property sits on bright blue Lake Kezar, from which you can see the outline of New Hampshire's White Mountains. A week here is meant to be restorative. Guests stay in tidy, one-to-three-bedroom pine-clad cabins outfitted with air conditioning, front porches, and (in some cases) fireplaces, but devoid of televisions or unnecessary digital distractions. Our own cottage, Fantasia, boasts two bedrooms, a sizable living room, and a view of the lake in all its permutations: morning fog, midday cerulean blue, and evening sunset in hazy oranges and pinks, which we watch from rocking chairs on the porch.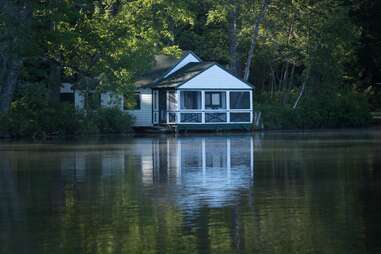 Each day at Quisisana—Quisi, among friends—is slow, but slow can be rapturous when you're summering in Maine. My kids like to play a round or two of Skee-Ball (no loose change required) in the game room after breakfast before heading down to the waterfront. The weather is rainy this week, but the water is glassy, too, and we spend mid-mornings coaxing both of my boys onto tiny fiberglass water skis. Up at the lodge, anyone is free to grab a board game, a copy of the New York Times crossword, or a paperback on loan, in case time feels endless. But for us, it always feels too short here.
At Quisi, it's not unusual to encounter guests who have come back year after year. In our second summer, we begin to recognize faces, places, stories. A couple from outside of Philadelphia. An avid water-skier from New Jersey. We run into one another throughout the day as we swim to the raft, walk through the property's wooded trails in search of blueberries, or stroll through the manicured perennial gardens near the tennis courts.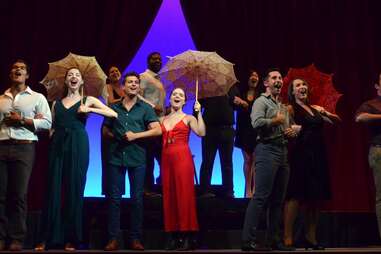 Guests are assigned the same table in the large dining room for each meal of their stay, staffed by the same team of servers, who are almost certain to be performers in the evening's de rigueur performances. Quisisana's classically trained staff performs musicals, operas, instrumental concerts, and musical revues, with performances each slated to a specific night or matinee of the week; this year, one highlight included an epic trip to England, via Harvey Fierstein's clever, rollicking Kinky Boots.
Breakfast is served in the dining room between 8 and 9:15, and it's an a la carte affair. Executive Chef Andrew Vogel is now spending his second summer in this position, but has worked at Quisisana for six total summers, and even met his wife here in 2013, when she worked the garde manger station in the kitchen and sang musical theater at night. He serves up large-as-a-plate pancakes, a recipe that dates back to the 1980s, which one of my children prefers to order with chocolate chips.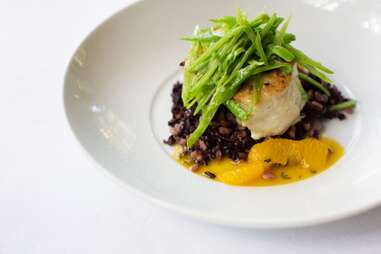 "I can give you the Quisisana pancake recipe off the back of my hand right now," quips Vogel. Keeping some culinary traditions of this classic resort intact, he explains, is essential to its DNA, but he also likes to mix things up. "We're not losing the identity," Vogel says. "But you can also unexpectedly get a plate of bone marrow on Friday night." Last year, in fact, I did get one of those memorable plates, served with a wild Maine blueberry and bacon jam.
To announce lunch and dinner, rotating members of the dining room staff ring a chime, and guests collect themselves from beach chairs down at the lake, or from their front porches. Meals build with a quiet intensity as the week progresses. Each morning, guests choose from a set menu of appetizers, entrees, and desserts to enjoy later in the day: lobster risotto on Saturday night, seared duck breast and duck leg confit on Wednesday, pistachio-crusted lamb saddle on Friday.
"The menu itself is intentionally designed," Vogel says. "It kind of starts and slowly keeps building—the wow factor, the presentation, the technique and cooking—so that by the time you make it to Friday night, that menu is intentional."
An evening cocktail hour on the porch—an open-air space that seems to float among the towering pines—allows for casual mingling. Tuesday night is an informal party, with appetizers. On Wednesday, guests enjoy cheese and charcuterie. But for me, the highlight is Thursday, when Vogel assembles a pre-dinner raw bar featuring Mere Point, Johns River, Waverider, Flying Point, and Norumbega oysters, all local to Maine.
On our last evening, an amuse bouche (chicken liver mousse beneath a layer of burnt honey gelée and pickled Maine blueberries) arrives with a crisp baguette crostini. The final dessert, a chocolate hazelnut dacquoise, layered with coffee crémeux and served with a chocolate pine cone filled with dark chocolate mousse, is a luxurious parting gift from pastry chef Shannon Mahoney, a bittersweet adieu from this perfectly relaxing place.
Have we taken any photos of the food during our stay at Quisisana? Of the lake? Of the setting sun? Not really. Or, at least, not many. After a week without cell service, we've long forgotten about likes and posts and re-posts. There will be time for that soon enough, when we're back in the real world. But for now, with our week in Maine coming to a close, it's enough just to sit back and reflect on another experience among the Quisisana pines.