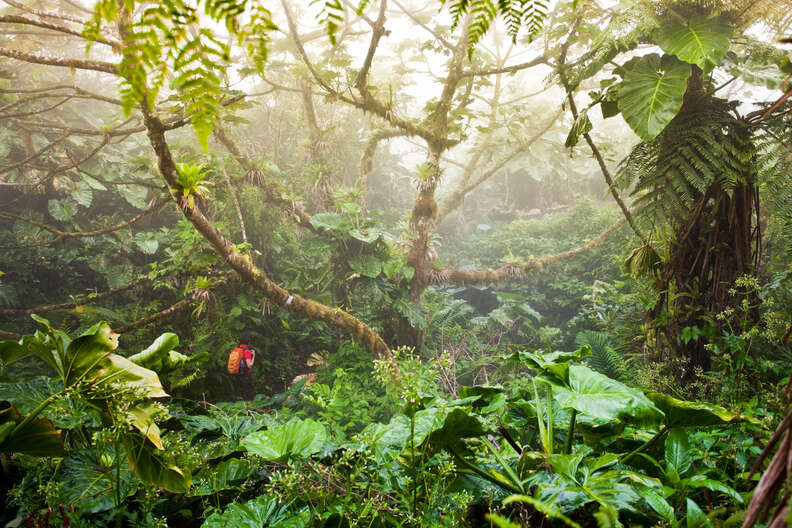 Saba comes at you like a beast emerging from the mist. From the front row of our Twin Otter propeller plane we saw the clouds on the horizon dissolve into the Caribbean sunset. From behind them emerged a giant black rock: a volcano in the distance, daring anyone to try and land.
And that landing is nothing to mess with. On approach, our small plane skirted the cliffs along the island's coast. We passengers watched waves crashing below as a short runway came into view, jutting out like a stick to a drowning swimmer. A gust of wind rocked the plane, right, then left, sending us slamming into the bulkheads. Just as quickly, the plane veered back toward the cliffs, then settled back on course as seagulls glided through the pink horizon. The runway, carved from a lava field at the base of the rock, looked hilariously short, too short-- wait, there's no way we can actually land on …
THUNK. The plane touched down and the pilots jammed on the brakes as if they'd just just remembered an intersection had a red light camera. An alarm sounded. Maybe this is it, I thought. Maybe this is the one time in the 50-plus-year history of the Juancho E Yrausquin Airport something goes wrong on one of these little death boxes, and we go careening down into the lava boulders.
The plane rumbled and shook and skidded to the scariest of stops at the rear end of the runway. We turned and rolled back towards the terminal. "We'd like to be the first to welcome you to Saba," the pilot said. All 30 of us onboard exhaled and laughed like we'd just narrowly missed stepping out in front of a bus. The adrenaline was tangible.
It was an intense introduction to a place that seems like a world unto itself, a collection of European-style villages carved into a dormant volcano, where every street corner leads to a new jaw-dropping view of mountains, jungle, and sea. Though Saba is only a 20-minute flight from St. Maarten, you'll feel totally removed from real life. And yet, once there, you'll be perfectly at ease.
A slice of Europe set on a tropical volcano
The Dutch-Caribbean island is only 5 square miles, known best for that insane 1,300-foot runway, the shortest in commercial aviation. The airport and seaport date back only to the 1960s; prior to that, everything that came onto the island had to be hauled up a cliffside staircase by man or mule. Essentially, everyone on the island was living in a 12-story walkup, which meant cars and large-scale construction were slow in coming.
What resulted was an island of villages with narrow, stone-walled streets reminiscent of those in the mountains of Europe. The houses along those streets are white with red roofs and green trim, like someone took Dubrovnik and put it between the Pitons in St. Lucia. It's not a theme town; Saba doesn't try to look European. But its remote location and terrain caused it to develop slower than the rest of the Caribbean, and it's resulted in a Caribbean Alps with a tropical breeze.
The main road from the airport is called The Road (Sabans aren't big on flashy names, and on an island this small, there's pretty much only one of everything). It's a stone-lined highway that winds along cliffs, past sweeping hillsides and waves smashing on lava rocks.
The first village along The Road is Windwardside, where a tall church steeple stands next to the town's square. Villagers gather at Bizzy B's Bakery eating pastries and sipping coffee. Just down the street sits a stretch of bars and restaurants, a supermarket that would be called a bodega in most cities, and a couple of hotels that look down through the jungle and out into the Caribbean.
Continue through Windwardside and you'll find oceanside hills topped by small houses overlooking the coast. It could be Scotland or Ireland, if climate change got into seriously high gear. Further along is The Bottom, Saba's capital. It's a steep collection of red roofs and white walls funneling into a space between two mountains called the Gap, and out onto the seaport. This is where The Road ends. If you drive this stretch without listening to Drake and Boyz II Men in that order, you are wrong.
A small town you never want to leave
Though you can see St. Eustatius and St. Maarten in the distance, Saba feels like another dimension. Like a glass dome was set over the island where everything that happens outside just doesn't matter. A Truman Show in the tropics, if you will.
Much of this is thanks to the intoxicating scenery. Some of it also stems from the feeling of being simultaneously on a mountaintop and out at sea. But a larger part comes from feeling immediately at home once you set foot on the island, like the people there are your family now.
Saba combines the charm of small-town life with the warming smiles of the Caribbean, just 30 minutes south of San Juan, Puerto Rico. The island has fewer than 2,000 inhabitants, about a quarter of whom attend the local medical school. It's a place where everyone is on a first-name basis, where your taxi driver is also married to the bakery owner, and might jokingly tell you to never eat there. The guy working from a desk in the front of the grocery store also runs the jewelry store and rents out vacation homes. After a weekend you'll know half the island by a degree of separation, and people will know you by name even before you meet them. Says Donna Cain, a taxi driver and tour guide who moved here from Florida: "The place just kind of absorbs you."
Of course it's 2018, and Saba has Wi-Fi and cell service. But if you're bold enough to leave your phone and laptop in your bag, you'll be hard pressed to find a developed place that feels more disconnected.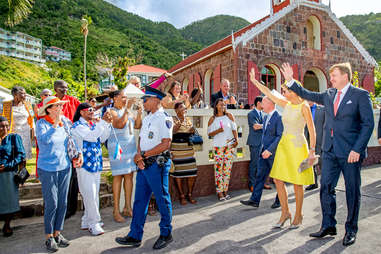 Unspoiled diving and hiking to the top of the Netherlands
Diving is a big attraction here. Reefs full of sharks, tarpon, grouper, and colorful tropical fish surround the island, yet you'll find the most striking dives are along the pinnacles. Those are the peaks of underwater volcanic mountains whose faces are home to abundant marine life. Because Saba is so far-removed, even on a busy winter weekend you'll rarely see another boat nearby. The unspoiled sites feel much more like a window into nature.
Saba is also home to the highest point in the Kingdom of the Netherlands, the 2,910-foot Mt. Scenery. (There's that creative Saban naming again.) The hourlong hike up is a manageable 1,064-step climb with stairs and guardrails. Looking down from the summit on all of the Netherlands somewhere thousands of miles away, for a brief moment you feel like it's your kingdom. Although if it were, you'd have done the climb in heels, as the Dutch queen once did.
Saba is relaxing enough you don't need a beach. But if you're from somewhere landlocked place and want a place to sit on the shore the closest thing is Wells Bay, a rock flat that extends out into the sea. The road down to it is so steep it's difficult to stand when you get out of the car, yet somehow hosts the Hell's Gate triathlon every year. The grade makes the Ironman course in Kona look like a boardwalk.
Where to stay in Saba
Hotels aren't abundant. There are under 200 rooms on the entire island and a smattering of guest cottages and vacation rentals. The three largest are Juliana's, Scout's Place, and the luxe Queen's Gardens Resort. Every room and swimming pool on Saba has a perfectly framed water view; the restaurant at Queen's Gardens even has a treehouse table where you can enjoy your lunch with a glass of white wine whilst overlooking the Bottom.
There's nothing even resembling a chain here -- even the island's lone gas station at the seaport and is independently owned. Restaurants sling fresh seafood and jerk chicken in small, intimate spaces. Nothing feels busy here. The streets stay calmingly empty, with nary a traffic circle or stoplight in sight.
There is nothing quite like Saba in the Caribbean, or, really anywhere. The islands dotted with villages in the Mediterranean lack Saba's tropical foliage and year-round weather. The French Caribbean, often cited as the most European place outside the continent, don't have quite the scenery you'll find here. This little island known mostly for its harrowing runway is haven of beauty and disconnection, yet with modern conveniences and good food. It allows you to escape reality in a way no other Caribbean island can. All you have to do is stick the landing.
Sign up here for our daily Thrillist email and subscribe here for our YouTube channel to get your fix of the best in food/drink/fun.
Matt Meltzer is a contributing writer to Thrillist who got absolutely no work done on Saba. Follow him on Instagram @meltrez1.