Tech Capital San Jose May Be One of the Most Under-Appreciated Cities in America
Silicon Valley is actually kinda cool?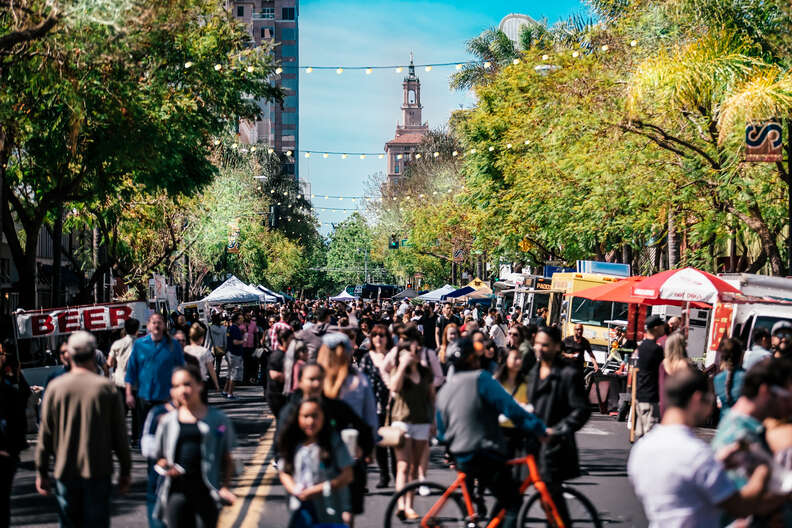 Subzero Festival

| Visit San José California
Subzero Festival

| Visit San José California
Nobody ever shits on San Jose. And that might be its problem.
It's never been the butt of jokes, like a Cleveland or a Jacksonville. It's never had a river catch on fire or smelled like a pulp mill. At first, this might seem like a good thing. But when you're trying to get people to pay attention to your city, sometimes you need a bad rap so famous, contradicting it gets people talking.
At least you do if you're San Jose. Because nobody really loves San Jose either. It's not a creative darling like a Portland or an Austin. Nobody ever comes back from a weekend in San Jose raving about its live music or its quirky little brunch spots. San Jose is just… San Jose. A place people go to do business and go home.
And that is selling the place short. San Jose embodies everything that makes California great -- world-class wineries, outdoor recreation, fascinating cultural diversity, and a creative class that's influencing the world in big ways. People just seem to forget it's there. This is why California's third largest city might be the most under-appreciated not only in the state, but in the entire country.
The capital of Silicon Valley isn't San Francisco
Both in geography and in reputation, San Jose sits in an unfortunate middle ground between grit and glamour. While sexy San Francisco to the northwest and working class Oakland to the northeast grab all the attention of the traveling public, San Jose on the south end of San Francisco Bay is overlooked.
"We are so big, but people in San Jose are so humble," says Frances Wong, communications director at Visit San Jose. "That doesn't make for the easiest place to promote."
People call it "Silicon Valley," but most Americans associate that with San Francisco, even though it's 50 minutes from San Jose (and more like two hours on a bad day).The city that brought us the holy trinity of technology – Google, Apple, and Facebook – never gets credit for it.
Indeed, prior to spending the better part of a week in San Jose, I had no idea it had a Michelin-starred restaurant. Or a winery that competed in the now-famous Judgment of Paris. Or was closer to the beach than anywhere else in the Bay Area. But it doesn't take long to figure out.
World-class wine country that's a destination for experts
My first sunny morning in San Jose I wound up the hills of Cupertino -- America's only city made famous by a weather app -- to Ridge Vineyards. It's a name wine enthusiasts might recognize from the 1976 Judgment of Paris -- that historic wine tasting pitting California's nascent wine industry against France's biggest names -- and 2006's thirtieth anniversary and tasting.
It's a sprawling hilltop property overlooking Silicon Valley, where you'll stroll among stately rows of grapes with views of the Apple spaceship-like headquarters in the distance. The scene is an odd blend of the region's history, fragrant, earthy agriculture with a view towards the literal mothership of American technology.
After touring the sunny hills, I made my way into Ridge's rustic wood tasting room, where my fellow tasters were a sommelier from North Carolina and an older man from southern California who seemed to know more about wine than he did about his own kids. They had both made specific trips to this winery as a wine-tasting bucket list experience.
The woman from North Carolina told me she was coming here before Napa.
"This is first on my list," she said. "I had to see Ridge before I went and turned into a wine tourist."
Just down the hills in Los Gatos, I toured Testarossa's old monastic winery, including the wine caves buried in the mountains. On the winery's tasting patio, set under eucalyptus trees, a central-casting collection of California beautiful people sat outside in sundresses and shorts enjoying wine in the sunshine.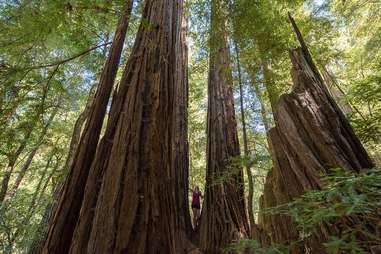 Nature worth exploring
Further into the Santa Cruz mountains you'll find Castle Rock and Portola Redwoods State Parks, where you can frolic in the California woods like you were John Muir, camping, hiking, fighting, and generally enjoying the always-perfect weather. Because San Jose isn't on the bay, it's considerably warmer than San Francisco and Oakland; what it lacks in waterfront views it makes up for in sunshine. Though if you want water, it's a short drive down Route 17 to Santa Cruz, making lazy days at the boardwalk easy if you're in town for a weekend.
Tech tourism is more an education than sightseeing
Without traffic, Silicon Valley is only about 15 minutes from San Jose, which has made tech tourism a startup industry of its own out here.
The idea of touring around the headquarters of the world's leading tech companies seems really cool, until you realize you can't exactly go see where all the Google is made, or taste samples of the latest Facebook. Tech tourism is basically driving around a lot of nondescript suburban office parks that, if they were in Texas, would all house insurance companies. Beyond taking a selfie at the famous Google dessert sculpture park, there's not a whole lot to see.
Skip it. Instead, seek out people like Sharon Treager, whose tour is an education in tech more than sightseeing.
In the few hours I was on her tour I learned how the tech world ended up based to San Jose. How Hewlett and Packard started their oscilloscope-making company in a Palo Alto garage, or how William Shockley came here after World War II to make transistors out of Silicon. Shockley brought some of the best minds in the business with him to Shockley Semiconductor, eight of whom left the company and started what would become Intel. I learned Moore's law, a computing term observing that the number of transistors (and processing speed) in a dense integrated circuit doubles about every two years. It has not only held true, but that growth is now exponential.
The tour includes a stop at the Computer History Museum which tells the chronologically-brief but developmentally-long story of technology in America. I walked through a mockup of the cavernous rooms that held the first supercomputer way back in the relative stone age of the 1950s, and learned how MP3s were invented. I got a hint of nostalgia looking at old Commodores and Macintoshes.
The tour was a blunt reminder that in less than 75 years, we've gone from running on human brains to the brink of full-blown artificial intelligence. It makes you both excited and a little scared for the future, but it also shows you how much the city of San Jose has changed the world.
International enclaves make San Jose a worthy culinary destination
Though the adjacent wine, nature, and technology of San Jose get recognition, the city's most-overlooked aspect is its diversity. Like most cities in California, San Jose is rooted in agriculture -- Santa Clara Valley, where San Jose is the largest city, was originally dubbed "The Valley of Heart's Delight," where nearly everything could grow, and westward-migrating farmers could make a new life.
In the early part of the 20th century, the region drew Italian immigrants in droves, with soil and climate similar to their home country. A century later, San Jose has some of the best Italian food in America, boastinan outpost of Original Joe's, and a hyper-authentic al-fresco dining experience one gets at Palermo.
San Jose is also teeming with little international enclaves. Little Saigon is home to one of the largest Vietnamese communities in the world outside Vietnam. Not far from there you'll wander into Japantown, its wide streets filled with little Japanese restaurants and bakeries selling mochi early in the morning. The neighborhood is also home to the Japanese American Museum, which features in-depth and harrowing accounts of the World War II internment camps.
About ten minutes away from here, you'll find Little Portugal, home to Michelin-rated Adega. This family-run Portuguese restaurant is a perfect example of how San Jose excels so far under the radar. It's helmed by chefs David Costa and Jessica Carreira, serving refined Portuguese dishes -- think a bounty of seafood, from arroz de mariscos, croquettes, and an ever-changing selection of fresh fish.
Little Portugal is anchored by this unassuming spot, where a five-course tasting menu runs a reasonable $120. (Don't skip out on the award-winning wine list, which boasts what may arguably be the country's largest selection of Portuguese wines.) The restaurant is bustling, sure, but there's no fine dining pretension -- you'd never know it was one of the most acclaimed restaurants in California. The decor feels rustic and authentic. Waiters wear denim. Tables are simple.
Spots like Adega help prove that San Jose can do anything San Francisco can, even if nobody knows about it. The city is a hard place to describe physically -- I've been many times and spent a week at the downtown Fairmont and still can't picture the skyline. But it does encompass everything that is great about California without throngs of tourists mucking it up.
Granted, it would be hard to tell someone to go to San Jose ahead of San Francisco. It doesn't have the sweeping bay views or the steep hills or the gold rush history. Or even major league baseball. But you have to give the city its due. Whether it's technology, fine wine, gourmet food, or authentic cultural experiences, San Jose does it as well as anywhere. And though it may not have a bad rap to overcome or a nation of writers in love with its streets, it's fantastic in its own San Jose way. We just need the reminder it's there.