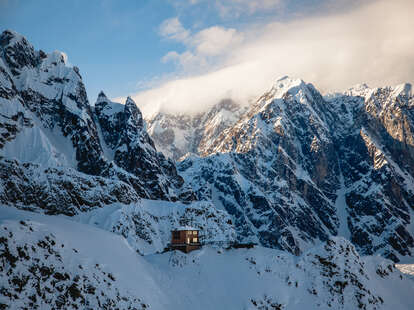 Sip among the mountains.

| Photo courtesy of Sheldon Chalet
Sip among the mountains.

| Photo courtesy of Sheldon Chalet
The tagline for Matanuska-Susitna, Alaska's Sheldon Chalet is, "Experience grand." It registers as a rarity in the realm of marketing: an understatement. Because in truth, you've never seen anything on the colossal scale of this ultra-luxe property.
It's a five-bedroom mountain house perched atop one of the world's largest glacial fields—with ice measuring up to 6,000 feet deep—under the shadow of North America's tallest peak. Hidden high in the heart of Denali National Park, you can only reach the place by air transfer. And you can only stay here on a three night minimum, full-room buyout, which will currently cost you somewhere in the neighborhood of $100,000. More like, "Experience one hundred grand," amiright?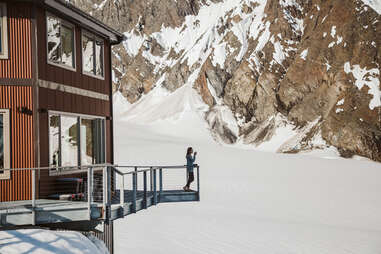 So, yeah, expectations are elevated in an environment like this. Since there's absolutely no way the scenery is going to let you down, it places a lot of pressure on the staff to ensure that hospitality follows suit. To wit, guests typically enter via the main room of the lodge (after alighting on the adjoining helipad) and find the mother of all seafood towers waiting for them. It's overflowing with caviar, king crab, caribou, and a whole bunch more alliterative delights. All of it is presided over by a chef who is something of a legend in these parts, a man who simply goes by Delicious Dave.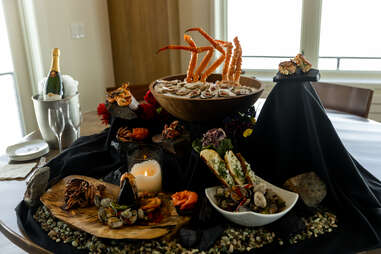 As masterful as Delicious Dave is at fashioning gourmet cuisine at high altitudes, he would never claim to be a mixologist. And these days, it doesn't matter if your luxury lodge is atop a glacier or on the surface of the moon—you're going to need some stellar cocktails. That's where Ryan Sheldon comes in, the property's official experience director, and, as you may have noticed, a person who bears the same last name as the lodge itself.
Of course, that's no coincidence. Robert Sheldon, Ryan's father, designed and built the chalet. His own father, Don—AKA Ryan's grandfather—was a legendary Alaskan bush pilot who helped map out the area's majestic terrain. Back in 1966, in tandem with his cartographical pursuits, the elder Sheldon built a homestead atop the nunatak on which the hotel now sits.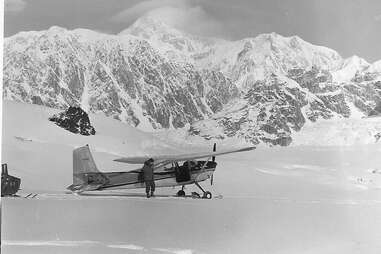 Today, Ryan carries on the family tradition as a pioneer in his own right, albeit one of flavor formulation. Sure, he can make you one helluva Manhattan. But he seems happier fashioning clever concoctions you won't find anywhere else, spirited adventures that utilize gin infused with Alaskan spruce tips and garnishes formed out of candied pine needles.
"There really is no set drink menu," explains Sheldon. "When clients book their experience with us, they are able to request various cocktails, wines, beers, and we're happy to source it all for them. But when there are no specific requests, we take great pleasure in crafting menus around each guest's tastes."
It was thanks to one of these freeform explorations that Sheldon was able to conjure up one of the property's newest signatures. Inspired by his family's roots, he created a wondrous, wintery riff on the ever-popular Espresso Martini that combines Creme de Cacao, espresso, and vodka alongside several dashes of rhubarb bitters. It lives on as the Termination Dust.
"Rhubarb holds a special place in my heart, as we used to harvest it every summer growing up and still do today," he says. "Not only is it commonly incorporated into delicious desserts, but it also represents Alaska's tenacity: a hardy and useful stalk that grows against all odds in one of the world's harshest climates."
Sheldon's palate is informed by his status as a self-styled wine aficionado with a penchant for Burgundy pinots, Rhone style blends, Chablis, and stateside selections from Paso Robles from producers like Booker and Saxum. He's eager to mine balance and structure in his cocktails, and in the Termination Dust, it's achieved through the interplay of roasted bitterness and creamy sweetness. The drink is served over ice in a rocks glass under a layer of white froth meant to evoke the first snowfall of the season—or, as Alaskan locals know it, termination dust, a phenomenon that marks the end of warm weather and sustained sunlight.

"The drinks program at the Sheldon Chalet is meant to reflect the creativity of our staff and surroundings while ensuring the integrity of the experience," adds Sheldon. "We exist as one of the world's most remote destinations, only accessible by air, atop the only privately owned nunatak in Denali National Park. Flying in all of our produce can prove to be challenging, so sometimes we add a touch of mountain magic."
This last bit rings especially true when it comes to cocktailing. According to Sheldon, the Chalet's staff will often break off small pieces of glacier ice to chill their drinks as an alternative to the less-inspiring freezer-made ice. On the flipside, it also means they can easily run out of standard garnishes. Sheldon is quick to point out that the nearest grocery store stocking Luxardo cherries is 100 miles away—perhaps that's the perfect excuse to experiment with a new sort of embellishment, like, say, candied spruce tips.
But what's a missing cherry when you've got a front row seat to the aurora as it dances down from the northern horizon, awash in luminescent greens and purples? At this bar worth traveling for, boozy creativity is merely what happens when you're busy experiencing the grand.
Brad Japhe is a freelance journalist with a wicked case of the get-up-and-gos. He's usually found at the junction of food, booze, and travel. Follow him on Instagram.