Experience One of the Best Stays in India at This Stunning Desert Hotel
Sleep in luxury in Rajasthan's Golden City.
Photo courtesy of Suryagarh Jaisalmer
Photo courtesy of Suryagarh Jaisalmer
The welcome begins at the airport, with cold towels and soft drinks. Orange-turbaned chauffeurs whisk me half an hour down the road through the dry and dusty Indian city of Jaisalmer. A couple of camel riders appear, bearing bright flags, an escort that ushers me through a set of gates in stately procession. On the other side, the spectacle continues with a shower of rose petals, thumping drum beats, and dancers in long skirts whirling to the mesmerizing voices of manganiyar singers (a local community of Sufi musicians). I've arrived at Suryagarh, a luxury hotel unlike any other.
Popular tourist destinations in the northwest Indian state of Rajasthan are identified by the most prominent color of the houses and buildings. If Jaipur is pink and Jodhpur blue, then Jaisalmer, at the edge of the sprawling Thar Desert, is India's golden city, all sand and stone, earth and dust.
Jaisalmer's beating heart is the UNESCO-listed 12th century fort known as Sonar Kila ("golden fort") for its yellow sandstone that gleams in the desert sun. And Suryagarh, less than nine miles away, seems to rise up from the same desert sand. Fittingly, its name translates to "fort of the sun."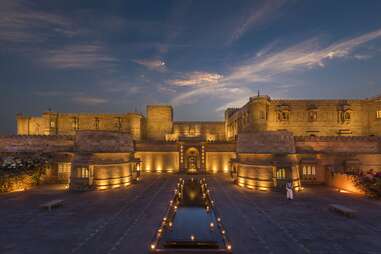 The hotel takes direct inspiration from Sonar Kila, explains Siddharth Yadav, Vice President at The MRS Group, which owns Suryagarh. It borrows architectural elements such as high ceilings, layered arches, open courtyards, and liberal use of the same yellow sandstone.
"We have also taken care to mirror the vegetation of the desert," Yadav elaborates. Indeed, to sweep eyes across the property is to see straggly native trees, like khejri and ker, which tend to grow well in arid lands.
To awaken in Suryagarh is an experience. I trade the blare of my alarm clock for the mellifluous notes of a local singer who performs in the main courtyard, head covered by one end of her diaphanous cotton shawl. Music is a constant motif through my stay here, with regular evening concerts by talented folk singers from around the area.
Breakfast is served in one of the narrow corridors flanking the central courtyard, with peacocks, dogs, and donkeys looking on. Western staples like eggs, toast, and parfait jostle with Indian fare, including Rajasthani dishes like mirchi vada (green chili fritters) and kachori (fried lentil pies).
This meal is my first indication that Suryagarh takes its food seriously, but certainly not the last. "One of our chefs is a trained halwai," says Yadav, referring to traditional sweet-makers with the pride one usually reserves for Le Cordon Bleu master chefs. It is no surprise then that instead of chocolates, delectable Indian sweets like laddu and barfi are placed in the rooms.
A lot of guest experiences revolve around food here. The hotel has two restaurants—Nosh for all-day dining and the Legend of Marwar for regional fine cuisine—and the Draksh bar for drinks and small bites. And then there are other curated meals, such as the Suryagarh Signature Thali, a multi-course feast where the food just keeps coming, and Dinner on the Dunes, conceptualized as a nod to Jaisalmer's past as a pitstop on the Silk Road. This latter feast features a comfortable dining setup, where you can sink into colorful cushions against a stunning desert sunset. One sips wine or cocktails while food is prepared onsite by Suryagarh's chefs and served with an accompaniment of live folk music.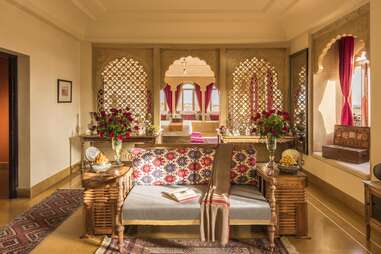 With food taking up so much time and energy, it is tempting to spend days and nights snoozing in my suite, which comes with a small sitting area and separate sleeping and dressing spaces, the latter adjoining a large bathroom. There are also plenty of reading nooks with plush armchairs, and window corners with cushioned seats, sunlight filtering through stained glass panels. There might be no reason to leave, if not for the desert.
For those who wish to explore the surrounding area, the hotel offers various guided experiences that focus on the history of the Silk Route, the Thar Desert, and the temples and traditions of the people of Jaisalmer. You can go birdwatching in the nearby Desert National Park, or even step out for a spooky midnight adventure, tracking restless spirits and learning more about the supernatural stories of this lonely landscape.
After a hot excursion in the desert, I find it is only right to unwind with a massage at the Rait spa. Named after the ubiquitous desert sand, the spa also offers therapies using sand and salt, placing heated poultices placed on aching muscles for welcome relief. You can also relax in the hotel's swimming pool or seek casual recreation in the billiards room.
By the end of my stay, I feel truly comfortable in this desert property—pleasantly full, thoroughly rested, and mentally engaged. And that, of course, is the point. "What we offer here is homestyle service," explains Yadav. "Everyone on the staff is here to help you as much as they can and make you feel like you are home."