The Surprisingly Weird Things That Make Sweden Amazing to Visit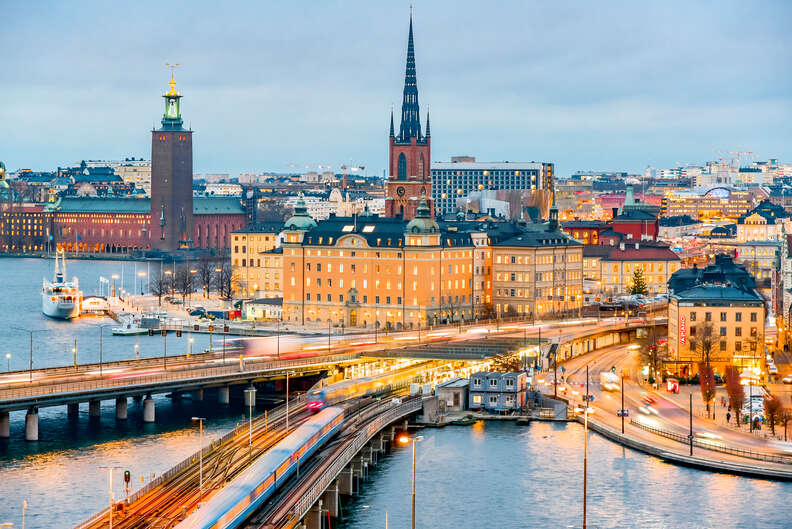 stockholm, sweden

| monotoomono/Shutterstock.com
stockholm, sweden

| monotoomono/Shutterstock.com
Americans chiefly know Sweden as heavily taxed, partial to yellow-on-blue, and strangely great at both death metal and sassy English-language pop music. But don't sleep on the low-key badass country that gave us a multi-continental Viking empire and, eventually, the Cardigans' "Lovefool." The quirky Swedes pay new parents to stay home with their kids, export their wheat at 80 proof, and legally permit you to walk through pretty much anyone's yard, so long as you're checking out nature. Leave it to a people descended from Vikings, after all, to welcome explorers.
Daydream about moving there if you like (you're not the only one; more on that below). Or go for a visit, any time of year. It won't necessarily be cheap, but then, where else could you run across all-white moose?
Progressive politics make it feel like Vermont on steroids
I managed to wangle a chopper ride over Stockholm this summer. From the air, certain things stood out: lots of grass, lakes, and above-ground backyard pools. (Who woulda thought?) But what really makes an impression is the endless parade of wind turbines. Sweden has gone all-in with green energy -- and I found out later the country plans to run entirely on sustainable resources by 2040.
This is a great place to visit if you find western Massachusetts stiflingly right-wing. Sure, the taxes are high, but hey -- they buy you health care, education, and three-month mandatory paternity leave. (I love the idea of someone saying, "No! You cannot come to work today. Go back to your baby.") Sweden also ranks high for gender equality and LGBTQ rights, and was the first nation in the world to ban the smacking of children. If you want to experience a Western democracy where people's lives are nonetheless really different from most Americans', Sweden makes a fascinating trip.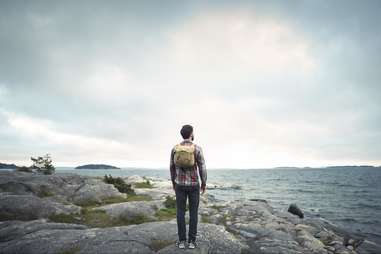 The coolest law in Sweden? You're free to wander private property.
So, about that wander-around law. It's called the Right of Public Access, and it pretty much says you're free to roam and enjoy nature on both public and private lands, so long as you're not a dick about it. This give-and-take respect for nature may be why I didn't see much trash tossed around -- and why no one yelled at me when I walked between a few vacation homes while strolling down to the beach. I was also told that private roads are virtually non-existent. Just keep a reasonable distance from a garden or private residence and you're in good shape. (For a more official description and fine print, check in with the Swedish Environmental Protection Agency.)
The safaris here find wolves and moose
The Right of Public Access comes in handy for Wild Sweden's Marcus Eldh, who operates a Moose Safari in Skinnskatteberg. If you're going to be hiking in nature -- and if you come this far, you're pretty much obliged to venture into the wild -- you could do worse than to join a safari that usually sees at least a dozen moose (mooses? meese?) on summer treks.
"I was backpacking in southeast Asia and inspired by orangutan trekking guides in the jungles of Sumatra," Eldh says. "I came back home and asked if there was anything exotic in Sweden to see." As it turned out, tourists were eager to check out bears, wolves, and, yeah, mooseses. (Canada may wince, but Sweden has more moose per square mile than any other county in the world.)
The five-hour tour includes campfires, a full exploration of the wilderness, and a chance to see other animals -- including boar, foxes, and wolves. Just don't expect to catch sight of the elusive white moose on your Sweden trip, unless you're absolutely hellbent on it. "Those are four hours west on the Norwegian border," Eldh told me. "And there are only about 150 of them."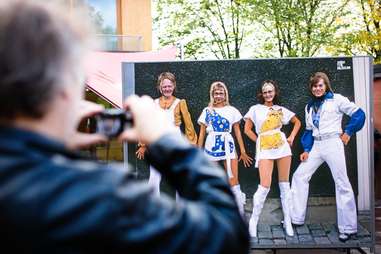 The ABBA museum does not mess around
Don't wait till you win your Nobel to visit Stockholm. Built on 14 islands connected by 57 bridges, it's known for restaurants, bars, museums, and some amazing architecture that's been around forever. It's also home to perhaps the country's most Swedish attraction. It's ABBA: The Museum, which I had explained to me by a dude named Erik at my hotel bar.
"You get to sing with Abba," he said. And yes, it's true -- sorta. You get to grab a mic and sing along to the group's hit singles karaoke-style while 3-D computer-generated avatars of the band members dance in the background.
Also, there's a telephone that only rings when one of the four band members calls the number. And a self-playing piano is remotely connected to another piano in the home of member Benny Andersson. It plays when he plays. Sounds nuts, right? But if you're going to name a thing ABBA: The Museum it better be at least as cool as Spaceballs: The Flamethrower.
"Does everybody in Sweden love ABBA?" I asked Erik.
"They're popular, but we get sick of hearing about them," he said. Then he asked: "So you're American?"
"Yes."
"How would you like being asked about Michael Jackson all the time?"
Point taken.
Fika is your new favorite coffee break
If you're spending any time in Sweden, get familiar with the fika. It's a daily coffee break that usually includes pastries, cakes, or sandwiches. A central part of the Swedish lifestyle, fikas tend to be social gatherings at home or work. Something, maybe, about those 23 hours of darkness in the wintertime drives people to take their cuppa joe at approximately battering-ram strength.
"Swedes drink a lot of coffee," Elke Tagesson told me. "It's much stronger here than in the US."
Tagesson is a 26-year-old American who moved to Sweden and learned the language before finding work at Café Husaren -- one of the most famous attractions in Sweden's second city, Gothenburg. The joint is an intimate grab-and-go dining spot with chandeliers that hang from a glass ceiling. The display shelves include sandwiches, cakes, and big whompin' cinnamon buns that he sells by the hundreds during the summer.
Like another f-word, fika can be used as both a noun and a verb. In fact you can fika your brains out by taking a fika tour in the west Sweden coffee town of Alingsas.
The far north digs on truly weird hotels
Sweden's a big country -- the size of California, behind only France and Spain as the largest in the European Union. The south enjoys breezy weather, a grass-covered countryside, and sandy beaches. The north, called Lapland, enjoys freezing its ass off.
It's cold enough to support an entire resort made out of ice and snow. Found in the remote village of Jukkasjarvi, the appropriately named Icehotel is rebuilt in a new form every winter. Pretty much everything in your suite is made of ice, including the bed, although you'll be kept warm with a thermal sleeping bag and reindeer hides.
Kent Lindvall owns and operates another equally weird hotel in the northern region. Treehotel is a collection of cabins in Harads that are suspended up to 6 meters off the ground with views of the Lule River. "You've got bathrooms, Wi-Fi, and everything you'd need," he said. "It's another kind of luxury, where you're in a quiet place and connected to nature."
Put your camera away for the Northern Lights
Lapland is one of the best places in the world to catch sight of the Northern Lights -- also known as the Aurora Borealis -- the world's most dazzling IMAX acid trip, fed by solar particles colliding with the earth's atmosphere.
Tour operator Marcus Eldh is used to watching people flip out when they see the aurorae. "It's just a green shimmering light close to the horizon," he said. "But then whoa -- it bursts out and suddenly it's green, red, yellow, and blue just above your head. People get really excited. They say. 'Where's my camera? Can you take a photo?' I tell them, 'Just watch! You can have photos from our website.'"
Sweden's biggest agricultural export is Absolut vodka
In Ahus, down near Malmö, you're likely to notice the Absolut Elyx distillery -- a century-old brick structure alongside a canal near the Baltic Sea. "It's incredibly cool," said Jonas Tahlin, the CEO of Absolut Elyx. "It's a completely computer-free zone where the production is done by hand in a copper still from 1921 that very few people in the world know how to operate." The copper, he told me after a tour of the facility, removes unwanted trace compounds without the need to put the vodka through charcoal -- a process that he says leaves vodka "dead," lacking odor or flavor.
Local farmers actually rely on Absolut to buy most of their wheat -- with the Rabbelof estate providing the entire crop to make Absolut Elyx. Add it all up and Absolut is Sweden's largest agricultural export.
What do Swedes eat? More crayfish than you'd expect.
What should you down besides vodka and cinnamon buns? You better get a taste for pickled herring. It's ubiquitous. I got my first bite of it during a smorgasbord at Kippers Kallare, a historic restaurant in Kristianstad where the food was served in an outdoor courtyard.
The Swedes are also big on smoked salmon, cheese, bread, and soups. Despite the buffet-style format, smorgasbords can be divided into multiple courses. Dishes during the second half of the meal tend to include even more fish, potatoes, meatballs, and possibly reindeer or elk.
The Swedes also dig on crayfish boils at summer parties known as kräftskivas -- which also feature goofy hats and lots of booze. Crayfish can be messy to handle, since you break 'em open with your bare hands. Score extra points by sucking out the juice first.
In the summertime, Swedes are 24-hour party people
So what's the best thing about Sweden? How about this -- you can party in full daylight round the clock -- although it depends on where you are and when you plan to party. The country enjoys long daylight hours during the summer months; the northern edge will get 24-hour daylight in mid-summer. Even in Stockholm, further south, it was an experience to see the sun just starting to set after one of my dinners wrapped up around 10pm. I also happened to be awake around 4am when the sun rose again. (There's something about extended daylight, vodka, and crayfish that makes you want to stay up as late as possible.)
Marcus Eldh from the Moose Safari said these crazy fluctuations affect the Swedish lifestyle -- no matter where you live. "In the summer, people are out mowing their lawns late in the evening," he said. "They'll stop to talk -- and sit down for a beer. In the winter, you don't see your neighbor. They just park their car in the garage and go into their house. The next time you see them is when they take the car and leave again."
How to move to Sweden: Get yourself hired
Yeah, Sweden's pretty awesome. But if you want to move here, your best bet is getting a job, especially one on the labor shortage list. Companies such as Ikea, Ericsson, and Spotify are all based in Sweden -- clearly a country where innovation is valued. While Elke Tagesson was able to score a job at Café Husaren, she had the advantage of dual citizenship, thanks to her father's Swedish nationality.
"It was easier for me to come into the system," she pointed out. "It's quite hard for other people to get jobs. But after getting one, everything is a piece of cake. If I was working in a cafe in the US, I'd have to get a second job to support myself. The quality of life here is really fantastic."
I can vouch that it's a life and and culture worth exploring. More questions can be answered by visiting the webpage for the Swedish Migration Agency.
Sign up here for our daily Thrillist email and subscribe here for our YouTube channel to get your fix of the best in food/drink/fun.

Based in Las Vegas, Rob Kachelriess has been writing for Thrillist for more than four years. His work has also appeared in Travel + Leisure, Vegas Seven, David Magazine, Vegas Magazine, and Luxury Estates International's seasonal publication. He enjoyed the vodka, pickled herring, and cinnamon buns equally. Follow him on Twitter @rkachelries.